The economic structure of Tsarychanska ATC consists of crop production, berry growing, cattle and pig breeding, as well as milk, dairy products and food production.
There are 164 enterprises, institutions and organizations on the territory of the community, among them in the agricultural sector – 57 enterprises, processing and services sector – 107 enterprises.
The uniqueness of the community is the activity of the alcoholic-non-alcoholic plant "Dnepr". It is an enterprise with a half-century history, the main activity of which is concentrated on the production of alcoholic and non-alcoholic beverages. ABK "Dnepr" produces the author's alcoholic drink TM "Al Capone", traditional ordinary cognac TM "First Ukrainian", natural grape wines TM "La Cantina" and the flagship of the company is a line of vodkas and tinctures TM "Petrykivska".
A worthy place is given to mineral natural healing-table waters TM "Tsarychanska", TM "Petrykivska", TM "Crystal". Today the company does not stop creating new products: cider "Bravo" TM, tinctures on herbs "Gelbe bitter" and "Rubin bitter", cognac TM "Napoleon Charles Louis". ABK "Dnepr" is an innovative classic in alcoholіс and non-alcoholіс production. The company is actively building up a distribution network and already has its representative office in China.
The processing industry of the community is represented by PJSC "Tsarychanka mineral water plant", PJSC "Prydniprovskyi" Tsarychansky dairy integrated factory.
Tsarychanska ATC is an attractive area for the development of recreational areas, this is facilitated by the availability of natural resources: the deposit of healing mineral water "Tsarychanska", the deposit of therapeutic mud and the Oril river. The community also has a network of nature reserves, which is represented by two natural reserves zones – the tract "Leliia" near the village of Turove (40 ha) and lake"Dovhe" near the village of Babaikivka (22 ha). The distance from industrial centers and available resources allow the community to develop such directions as cycling, camping, water tourism.
Community enterprises in the field of crop growing: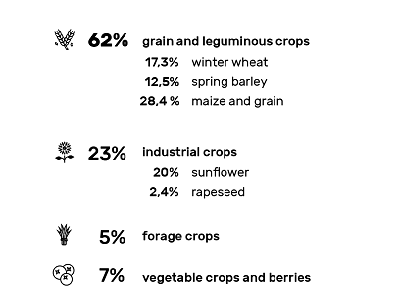 The priority directions of the community development are::
processing of agricultural products;
livestock industry,
warehousing services,
recreational areas and tourism.
The community offers 67 hectares of vacant land plots to start agricultural production and processing of agricultural products.
We invite you to read more about the community's proposals in the Investment Profile of the community by reference.
More news and current DIA materials are available on the Facebook page and on our Telegram channel.