«European Map of Ukraine. Rating of European integration of Regions»  – a unique study prepared by analysts at the New Europe Center in collaboration with Government Office for Coordination on European and Euro-Atlantic Integration. Ranking of Ukrainian regions is based on compliance with indicators, which most clearly reflect the dynamics of rapprochement of individual regions of the country with the EU.
«European Map is the first comprehensive study of Ukraine's progress towards European integration. Overall assessment was carried out in eight sectors on 34 indicators. According to a specially developed methodology, thousands of figures were processed by NEC analysts.  Most of the data will be published for the first time, based on verbal and written requests to the authorities (primarily to the regional state administrations).
New Europe Center has also prepared an appropriate infographic of Dnipropetrovsk region.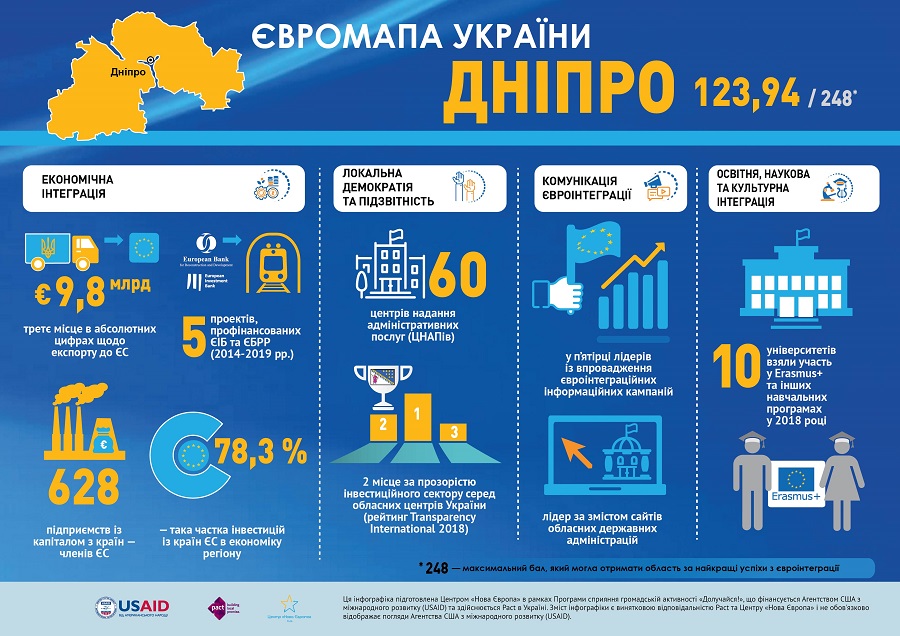 The full PDF version of the study is available by reference. 
Source www.neweurope.org.ua.