Israel is one of the most powerful importers in the world and the first country in the Middle East, with which Ukraine signed the Free Trade Agreement. The Agreement is aimed at bilateral liberalization and elimination of trade barriers between Ukraine and Israel.
Since the entry into force, the Agreement will open new opportunities for Ukrainian producers and exporters. In particular, Israel will cancel import duties for about 80% of Ukrainian industrial products and about 9% of agricultural products. At the same time, about 70% of import duties on Israeli industrial products and almost 7% of agricultural products will be canceled by Ukraine. Exporters and producers who use imported components during processing or refurbish equipment for their productions will benefit from it.
In future, the economic impact of the Agreement between Ukraine and Israel will strengthen the application of the provisions of the Regional Convention on pan-Euro-Mediterranean preferential rules of origin: Ukrainian producers will be able to import commodity and materials from Israel, recycle them in Ukraine and export at a preferential duties rate to the EU. Alternatively, use European commodity for the finished products supply to Israel. This is the so-called diagonal cumulative impact that is used in the network of free trade agreements of the European Union. Such a format will create additional incentives for placing production with high added value in Ukraine.
Israel is a special partner of Ukraine in the Middle East. It should be noted that the dynamics of bilateral relations between Ukraine and Israel is higher than with all other countries of the Middle East, Africa and even some of the European Union member states. Today, Israel buys more Ukrainian products than it sells to Ukraine: every year exports of goods from Ukraine exceed imports from Israel by an average of $ 300-400 million. Perhaps this trend will be sustainable in future.
Considering the possibilities of a long-term partnership, the Dnipropetrovsk Investment Agency (DIA) analyzed the foreign economic relations of Dnipropetrovsk region with Israel over the past year.
Total trade turnover (goods and services) of the Dnipropetrovsk region with Israel in 2018 amounted to $146.7 million and compared to 2017, it increased by $ 14 million or by 12.2%.
Exports of goods from the region amounted to $ 115 million, and increased compared with 2017 by $19.7 million or 17.1%. At the same time, Israeli imports increased by 86% or $ 24 million amounted to $28 million. The trade surplus in favor of Dnipropetrovsk region amounted to $86.9 million.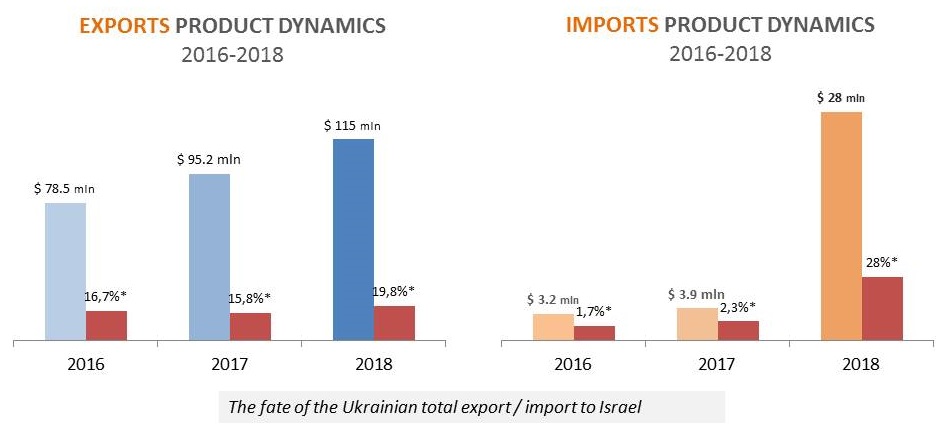 Ferrous metals (5.8% of global imports of Israel) and its products, grain crops, machinery and mechanisms, as well as tanning extracts are in the top 10 types of products exported from the region.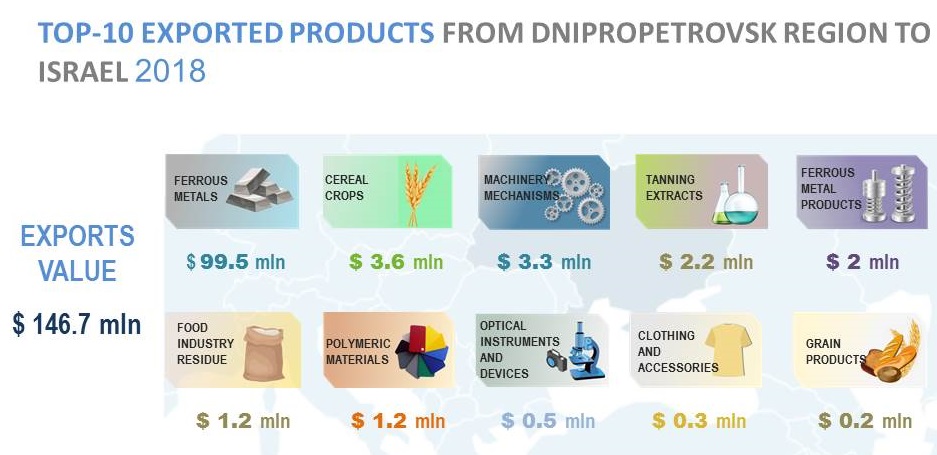 Exports of non-precious metals, tools, cutlery, glass and glass products were started from Dnipropetrovsk region in 2018

The record growth in exports to Israel over the last year showed aluminum and its products (exports increased by 355 times), electric machines (increased by 14 times), non-precious metals products (increased by 9 times).

Mineral fuels, petroleum and products of its distillation; machinery and mechanisms ( increased by 3 times), as well as printed products are among the TOP-5 commodity groups imported by Dnipropetrovsk region's businessmen from Israel.

In 2018, imports of new goods from Israel to Dnipropetrovsk region began, such as: mineral fuels, petroleum and products of its distillation; sugar and sugar confectionery, non-precious metals, natural or cultured pearls, precious or semi-precious stones, cocoa and its products, etc.

The record growth in imports from Israel during the past year showed edible fruits and nuts (exports increased by 220 times), non-precious metal products (increased by73 times), paper and cardboard (increased by 8 times), various chemical products (increased by 7 times).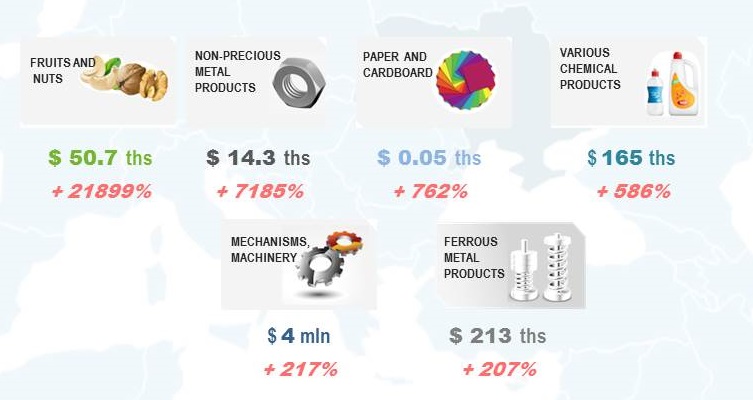 Due to high consumption, open market environment to new technologies, as well as unified time zone, the absence of visas and good air connections Israel is a perspective market for Ukrainian businesses. According to the research, the food industry (confectionery, bakery, chocolate and cookies) and furniture are among the prospective goods for export to Israel. Business in Israel is built on small enterprises, which may become potential partners of Ukrainian producers.
Emphasizing the fact that SMEs are the mainstay of the economy and the stumbling block f a sustainable economic growth model, the Trade Mission to Israel will be held from 24 to 26 June 2019 for SMEs in the agro-sector, food and beverage producers.