In the context of Russia's military aggression against Ukraine, Canada has proven to be a reliable partner and friend of our country, providing relevant and timely support.
Canada was the first to impose an embargo on Russian oil. The state also joined the sanctions against Russia, which were imposed by the G7 countries. In addition, it imposed sanctions on almost 50 enterprises of the Russian defense sector and more than 200 individuals.
Canadian banks stopped transactions with Russian banks, as well as agreements with them, almost immediately after the Russian occupation forces entered Ukraine.
Dozens of doctors, paramedics and nurses came from Canada to help Ukrainians wounded in the war. For refugees in need, registration, humanitarian and financial support, and employment have been greatly simplified in Canada. To strengthen Ukraine's defense, Canada has donated about 5,000 grenade launchers, tens of thousands of ammunition, several howitzers, high-precision shells, armored vehicles, detailed satellite images and much more military equipment to Ukraine.
Since the start of the war in Ukraine, Canada has provided C$131 mln in military aid and C$245 mln in humanitarian aid. The country's budget for 2022 provides for another C$500 mln in defense assistance to Ukraine and a billion dollars in loans to Ukraine through the International Monetary Fund. Earlier, Canada directly provided Ukraine with long-term loans of C$620 mln.
In addition, Canada will provide C$25 mln to the World Food Program to address food security in Ukraine from its contribution of C$100 mln to humanitarian aid in the region. In this context, Canada is preparing to send cargo ships to Eastern Europe to help export Ukrainian grain. As part of this, Canada will assist Ukraine in obtaining additional equipment for phytosanitary control, which will speed up the passage of all necessary examinations before the export of agricultural products.
Already in May, the Government of Canada decided to provide С$10 mln in support of human rights, civil society and demining in Ukraine. In particular, up to С$1.15 mln was provided for digital emergency support to civil society in Ukraine and С$2 mln for the HALO Trust for emergency response to demining.
In early May, Canada abolished all tariffs on Ukrainian goods for a year, and announced the development of a new simplified and effective mechanism for exporting Ukrainian grain to support global food security.
Analysis of the foreign economic relations between Dnipropetrovsk region and Canada also demonstrates a high level of partnership. There are 6 Canadian companies in the region, which have invested $23.5 mln in the region's economy. Over the last year, Canada has increased its exports 3.5 times and increased its imports of its own goods to Dnipropetrovsk region by 65.8%.
According to the results of 2021, the volume of exports of goods from the Dnipropetrovsk region amounted to $25.3 mln (15.8% of the volume of Ukraine to Canada). Among the goods in demand from Canadian consumers are parts for railway locomotives, ferrous metals, copper and copper products etc.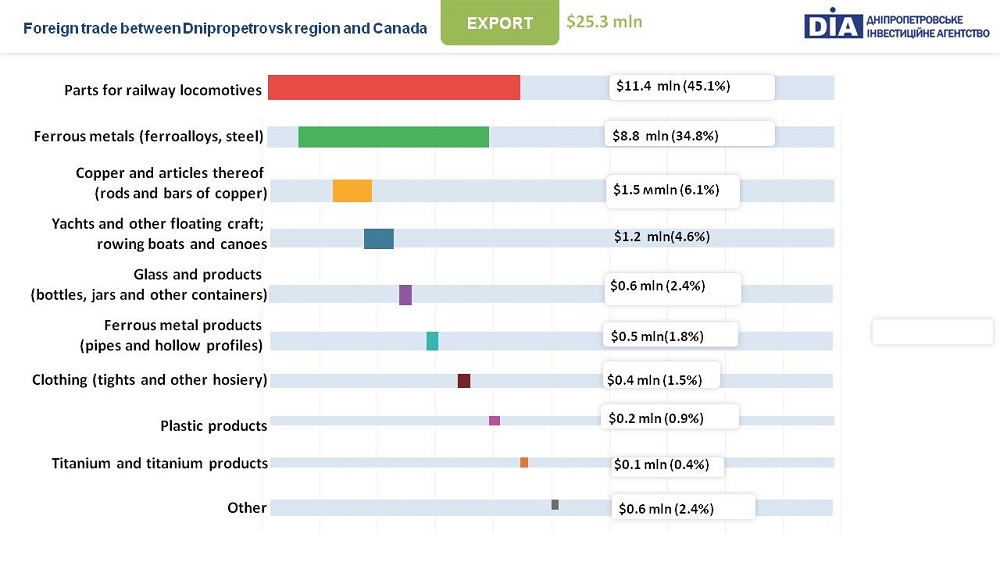 Export operations were carried out by 34 enterprises from Dnipropetrovsk region.
The main exporting companies are enterprises of the metallurgical complex, mechanical engineering and processing industry.
TOP-5 exporting companies (ranking by volume of export products):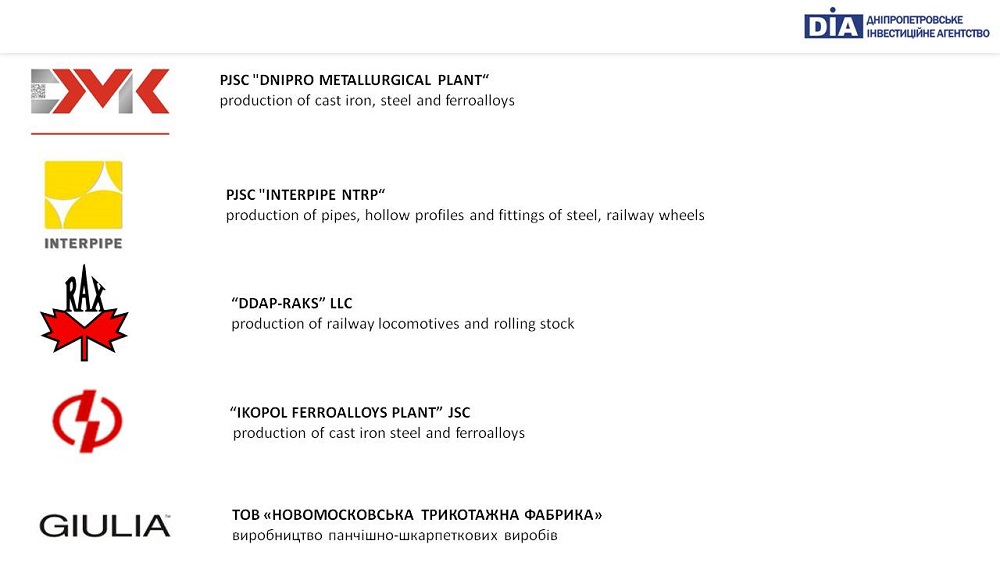 Imports of goods from Canada to Dnipropetrovsk region amounted to $15.4 mln (5.9% of Ukraine's imports from Canada) and increased compared to 2020 by 65.8%. Dnipropetrovsk region mostly bought products of animal origin, optical devices, machines, equipment and more.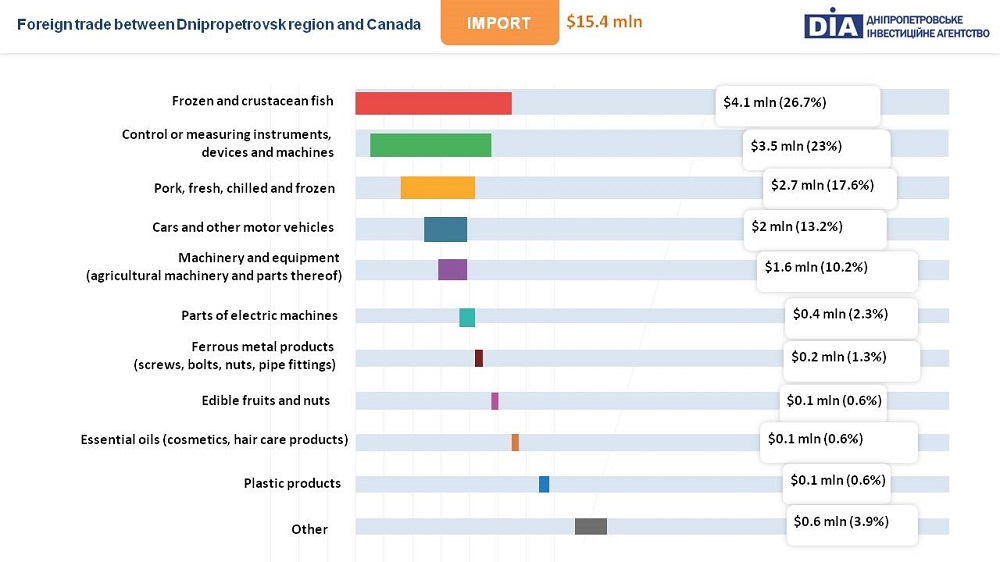 Import operations were carried out by 83 importer companies.
TOP-5 importers' enterprises (ranking by volume of imported products):
Among the promising areas for export to Canada are metallurgical products, equipment for railway locomotives, boats, organic products of the agro-industrial sector and light industry products from natural materials.