Estonia, together with other Baltic countries, has been and remains a reliable partner of Ukraine. In support of our state, Estonia transfers a significant part of its own weapons and funds, relevant humanitarian aid, and most importantly provides the necessary political support.
On April 13, the President of Estonia, together with the leaders of Poland, Lithuania and Latvia, visited Kyiv and met with the President of Ukraine, thus demonstrating his solidarity with the people of Ukraine.
The Estonian government was one of the first to support Ukraine in granting EU candidate status and was in solidarity with the initiative to exclude Russia from SWIFT. In the transport sector, Estonia has joined a coalition of countries that have closed their airspace to the aggressor country, and as part of sanctions approved by the European Union, Russian ships have been banned from entering Estonian ports. At the same time, in order to speed up aid, Estonia has agreed to allow humanitarian goods to enter Ukraine on an unauthorized basis.
The Estonian government later decided in principle that the country would stop importing Russian gas by the end of 2022. It was recently noted that a complete ban on private individuals importing sanctioned goods from Russia will come into force in Estonia on July 10.
In addition to important political decisions, Estonia has supported Ukraine in the humanitarian sphere. At the beginning of the hostilities, the Estonian authorities sent a humanitarian aid party to Ukraine. It included everything necessary for setting up a tent camp. Also, Estonia sent humanitarian aid to Ukraine to ensure the smooth operation of electricity systems.
As part of the "For Ukraine" initiative, €5.9 million in donations to support our country has been raised through large organizations. As of today, about 35,000 Ukrainian refugees have found refuge in Estonia. They were provided with the necessary living conditions, medical care and financial support.
The Estonian Department of Consumer Protection and Technical Supervision (TTJA) has restricted access to several dozen propaganda sites of the aggressor's country. In Tallinn, on the main square of the country, Freedom Square, a crowded rally-concert was held, gathered on the initiative of diaspora Ukrainian and Estonian non-profit organizations. The population of Estonia has never been so cohesive. More than 30,000 people came to the rally in support of Ukraine.
The popular Taheke magazine, published in Estonia for children aged 5-10, has published a special issue in Ukrainian, which will be provided free of charge by Ukrainian children from families who have come to the country through schools and kindergartens.
A Freedom Park dedicated to the struggle of Ukrainians for the freedom of their country was opened in the Estonian city of Tirva.
Estonia has also provided significant military assistance to our country. In March 2022, Estonia transferred about 120 FGM-148 Javelin missiles, anti-aircraft and other ammunition, 25,000 dry rations, medical equipment and personal equipment worth more than €200 mln. And already in April – anti-tank mines, recoilless anti-tank guns, infantry weapons, disposable grenade launchers, hand grenade launchers and anti-tank missiles, trailed howitzers 122-mm D-30 caliber, helmets, ballistic vests, communications, drones, night vision devices, laser rangefinders, equipment and protective clothing against chemical attacks for another €220 miln. 
And all this is a significant part of Estonia's own defense budget, and among all the countries that support our state, Estonia has provided the greatest assistance in relation to its own GDP.
The development of mutually beneficial trade and economic cooperation also remains an important priority of the two countries.
The analysis of export and import operations of the Dnipropetrovsk region with Estonia demonstrates a high level of partnership, as this country is an important trade and investment partner of the region. There are 24 Estonian companies operating in the region, which have invested $27.6 mln in the region's economy.
According to the results of 2021, the volume of exports of goods from Dnipropetrovsk region increased 2.4 times ($10.4 mln), which amounted to 6.2% of Ukraine's volume to Estonia. Among the goods that are most in demand among Estonian consumers are ferrous metals and products, paper and cardboard, machines and mechanisms, etc.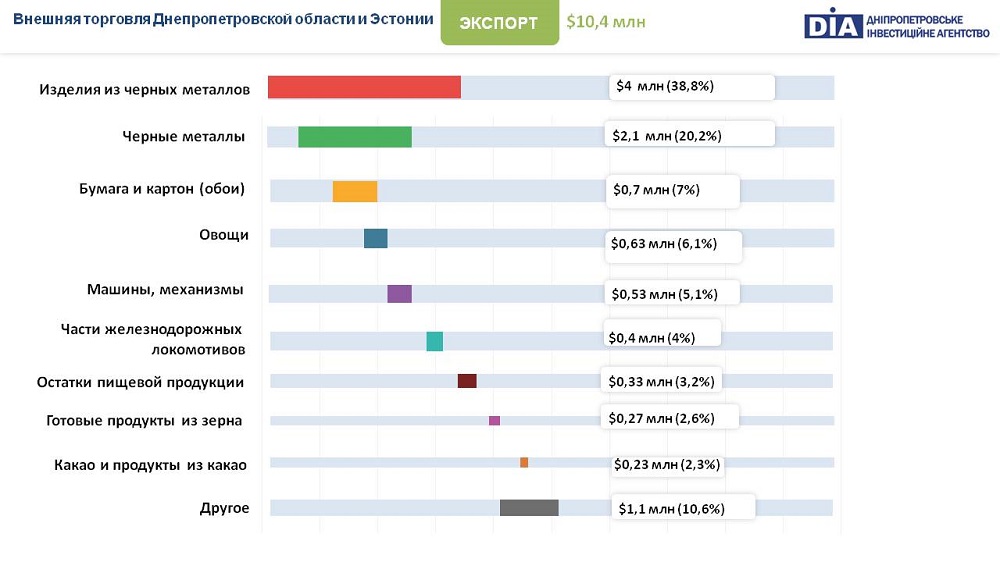 Export operations were carried out by 59 enterprises from Dnipropetrovsk region.
The main exporting companies are enterprises of the metallurgical complex and processing industry.
TOP-5 exporting enterprises (ranking by the volume of exported products):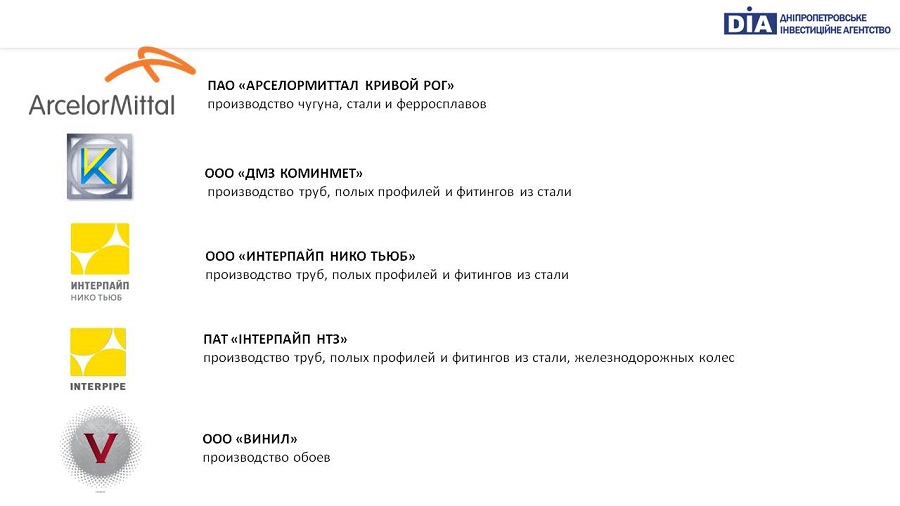 Imports of goods from Estonia to Dnipropetrovsk region amounted to $37.5 mln (2.1% of Ukraine's imports from Estonia) and decreased compared to 2020 by 45.6%. Dnipropetrovsk region mostly bought machinery and equipment, cotton wool, fish and crustaceans, perfumes, medicines, etc.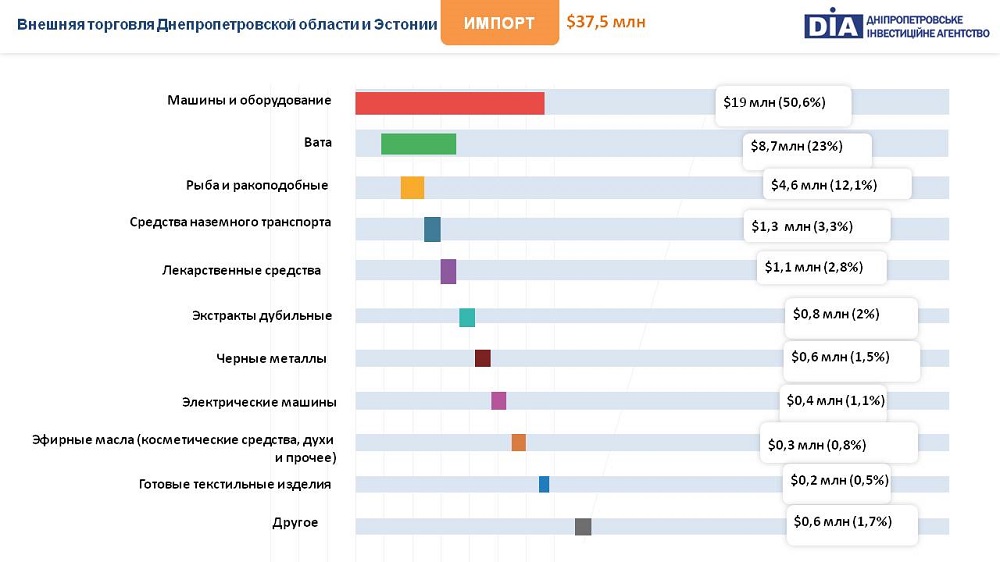 Import operations were carried out by 68 importing companies.
TOP-5 importers' enterprises (ranking by volume of imported products):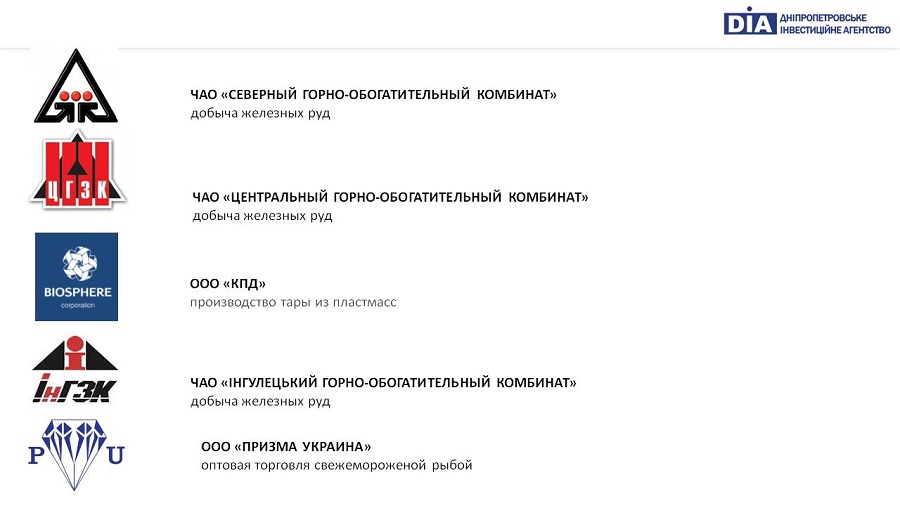 Among the promising areas for export to Estonia are the products of the metallurgical complex, equipment for railway locomotives, organic products of the agro-industrial sector and light industry products made of natural materials.