Since the beginning of Russia's military aggression, France has shown support for Ukraine and has been one of the main initiators of sanctions against Russia, as well as reducing dependence on Russian energy resources and limiting the activities of global companies in the aggressor country.
Since the beginning of the large-scale invasion to Ukraine by Russian troops, France has allocated €1.6 billion in support of Ukraine.
In addition, the French government has frozen assets of the Central Bank of Russia for €22 billion and funds of Russian oligarchs for €800 million, and one of the largest French banks, CreditAgricole, has suspended its activities in Russia. Michlen, one of the world's largest tire manufacturers, has also suspended its operations in Russia. The airspace over France was closed for Russian aircraft.
On February 25, the world-famous Eiffel Tower shone the colors of the Ukrainian flag.
In the first days of the full-scale Russian invasion, France sent Ukraine €100 million of humanitarian aid: medicines, respirators, tents, blankets, etc. In addition, Ukraine received 11 fire trucks, 16 ambulances and more than 800 tons of equipment, including medical equipment.
In mid-April, gendarmes arrived in Ukraine from France to assist their Ukrainian counterparts in investigating Russian war crimes in Kiev region. Later, French Foreign Minister Catherine Colonna arrived in Ukraine and visited Bucha to personally inspect the sites of Russian war crimes and support Ukraine.
Predicting the catastrophic consequences of Russian military aggression, including on Ukraine's food security, France mobilized from the beginning of the conflict. The Crisis Support Center of the Ministry of Europe and Foreign Affairs sent 31 tons of vegetable seeds to the Ukrainian population. This aid includes seeds of beets, carrots, cabbage, cauliflower, onions, cucumbers, zucchinis, tomatoes, etc. These seeds were sown on more than 9.5 thousand hectares of agricultural land, which will allow collecting up to 260 thousand tons of harvest. To support the country's food security through assistance to the agricultural sector, France also sent almost 600 tons of seed potatoes to Ukrainian producers between April and May 2022.
France has already transferred €100 million in military aid to Ukraine and intends to continue deliveries. As part of military support to the AFU, several dozen powerful Caesar anti-tank missiles, Milan anti-tank missiles, tens of thousands of defense equipment, optically electronic weapons equipment, hundreds of thousands of ammunition and weapons systems were handed over.
On June 16, French President Emmanuel Macron visited Ukraine for the first time since the war began, together with the leaders of Romania, Italy and Germany. The French president, accompanied by other European leaders, visited Irpen, a devastated Ukrainian city, where he saw the consequences of Russia's military aggression. Macron noted the heroism of Ukrainians and confirmed the support of France for Ukraine. During the meeting, Macron stated that France will provide additional SAU Caesar artillery units and is ready to continue helping Ukraine in the fight against Russian aggression. "European support for Ukraine should be such that it really must be felt – that we are defending Europe together," President Macron said frankly.
Since the start of the war, France has sheltered about 100,000 Ukrainians on its territory, where they can work, get housing and free medical care.
The well-known French satirical magazine Charlie Hebdo recently published a "Ukrainian" issue, featuring works by Ukrainian cartoonists. The publication notes that the money received from the sale of this issue will be donated to the Armed Forces of Ukraine and the territorial defense of Odessa.
The development of mutually beneficial trade and economic cooperation remains a top priority for the two countries.
Analysis of export and import operations between Dnipropetrovsk region and France demonstrates a high level of partnership, as the state is one of the key trade and investment partners of the region. There are 14 French companies active in the region, which have invested $21.7 mln in the economy of the region. France ranks 10th among exporters of Dnipropetrovsk region and 4th in imports of goods among EU countries.
According to the results in 2021 the volume of exports from Dnipropetrovsk region has doubled ($111.9 million), which amounted to 12.5% of Ukraine's exports to France. Among the goods that are in greatest demand among French consumers are vegetable oils, iron ores, ferrous metals and products, etc.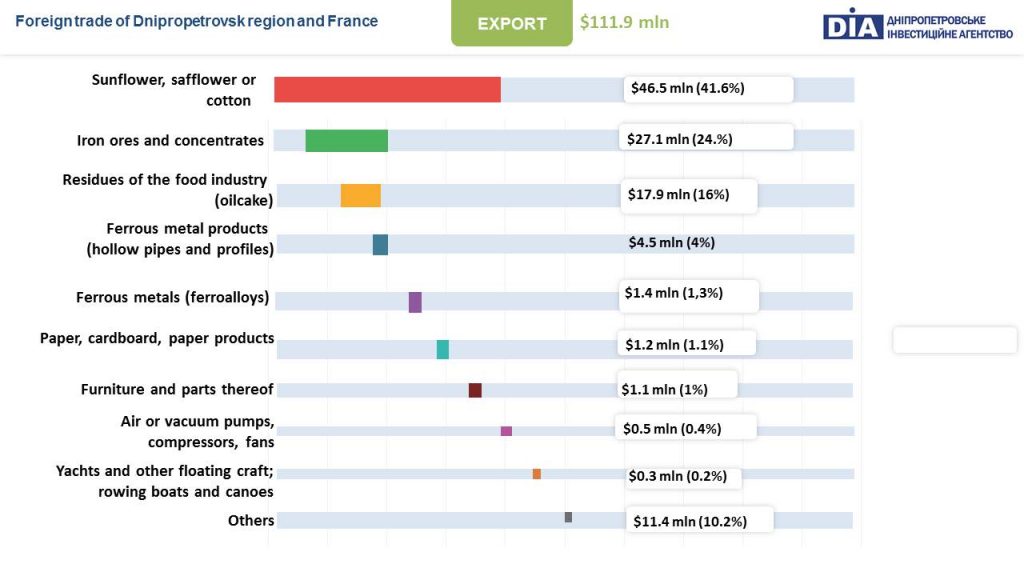 Export operations were carried out by 71 companies from Dnipropetrovsk region.
The main exporting companies are enterprises of the mining and metallurgical complex, agro-industrial complex and processing industry.
TOP-5 exporting companies (ranking by the volume of exported products):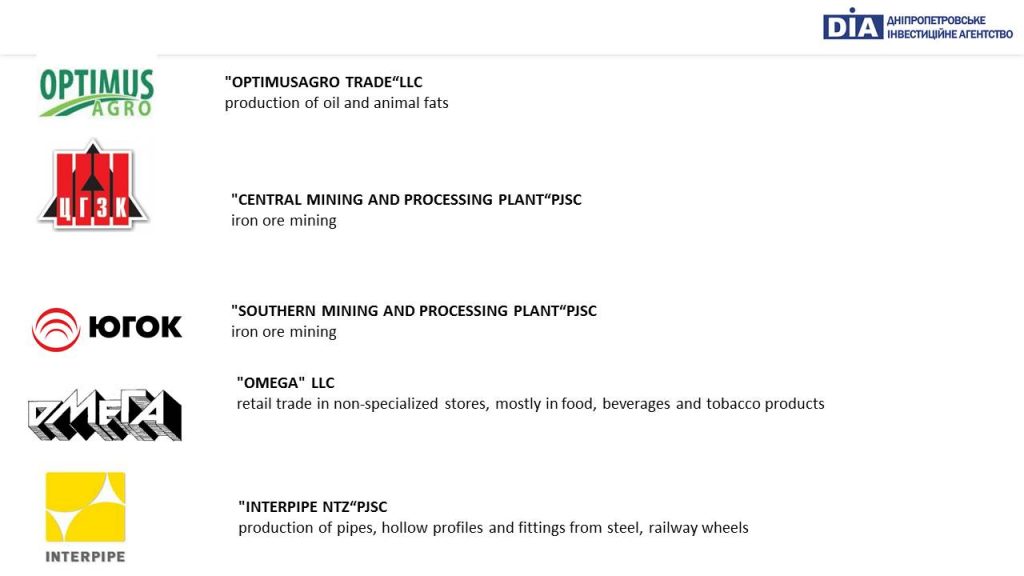 Imports of goods from France to Dnipropetrovsk region amounted to $122 million (6.9% of Ukraine's imports from France) and increased by 37% compared to 2020. Dnipropetrovsk region bought more machinery and equipment, medicines, perfume, alcoholic beverages and other.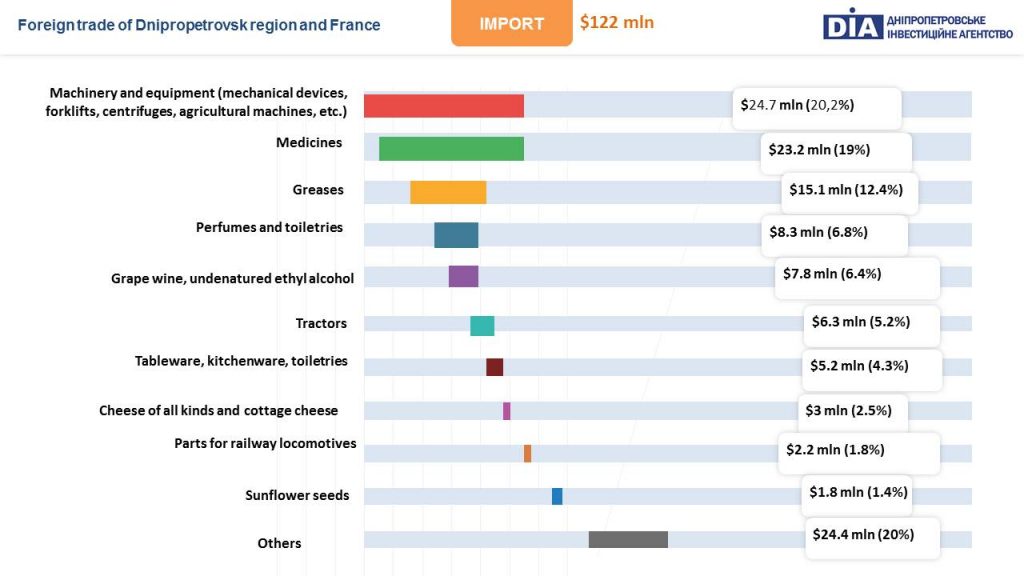 Import operations were carried out by 265 importer enterprises.
TOP-5 importers (ranking by the volume of imported products):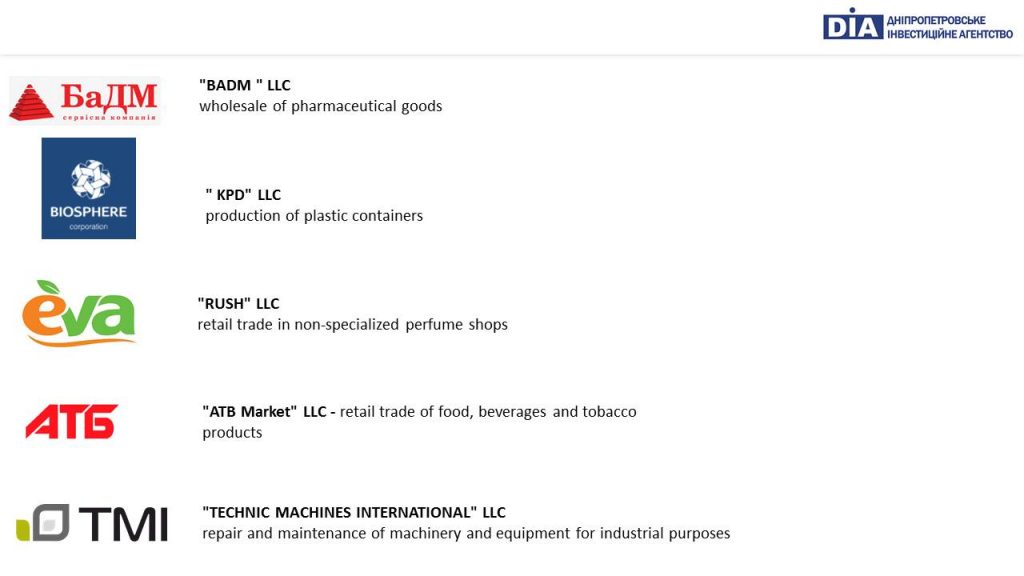 Among the potential directions for export to France are the products of the mining and metallurgical complex, equipment for railway locomotives, organic products of the agricultural sector and light industry goods made of natural materials.