The EU is the largest trading partner, a stable and reliable investor, and in the conditions of war, a significant economic and humanitarian donor for Ukraine and the region in particular. Since the beginning of Russian aggression, the EU has mobilized nearly €4.1 bln for Ukraine's overall economic, social and financial sustainability in the form of extraordinary macrofinancial assistance, budget support, emergency assistance, crisis response and humanitarian aid.
The EU has extended its support to the Ukrainian economy and the financial viability of the banking sector, supporting the functioning of the Ukrainian government and its ability to cover basic expenses. During the period March-May 2022, €1.2 bln of macrofinancial assistance was allocated to Ukraine. The EU is also providing an additional €120 million in grant aid to support the development of the state and ensure its viability.
The EU has allocated €243 mln for humanitarian aid programs to support civilians affected by Russia's military aggression against Ukraine, of which €230 mln has been allocated to Ukraine and €13 mln to Moldova to help people escaping the aggression. This humanitarian aid from the EU provides food, water, medical services, shelter and assistance in the basic needs of these people.
An additional €330 mln will go to an emergency aid program aimed at ensuring access to basic goods and services such as education, health care and food. At the same time, it helps to protect the population, both internally displaced persons and host communities, as well as to support small and medium-sized enterprises and agriculture. Another important goal is to rebuild small civilian infrastructure, ensure energy security and strengthen cybersecurity, media freedom and actions to prevent disinformation.
The European Commission has established Civil Protection Logistic Centers in Poland, Romania, and Slovakia in order to provide essential assistance to Ukraine as quickly as possible. These centers will accumulate and distribute assistance provided under the Civilian Protection Mechanism. The EU continues to help neighbouring countries that have already received more than 5 mln displaced persons from Ukraine.
Through the EU Civil Protection Mechanism, Ukraine has received more than 30,000 tons of humanitarian aid from 29 countries – 27 EU member states, Norway and Turkey. Among these are vital goods: medicine, food and shelter items, as well as strategic equipment.
The European Investment Bank has approved emergency aid to Ukraine in the amount of €668 mln. In turn, the EBRD announced a €2 bln "sustainable package" for Ukraine and the countries hosting Ukrainian refugees.
On May 24, the Council of the European Union agreed on a temporary trade liberalization regime with Ukraine. The approved regulations include a complete suspension of import duties on manufactured goods, a system of entry prices for fruits and vegetables, as well as anti-dumping duties and protective measures on steel imports for one year.
The commission has outlined a plan of action to create a "Solidarity Pathways" to ensure that Ukraine can export grain as well as import needed goods, from humanitarian aid to animal feed and fertilizer.
In the energy sector, Ukraine's power grid has been synchronized with the EU. The EU will continue to support Ukraine in the energy sector by providing reverse flows of gas to the country. Ukraine will also be able to benefit from the joint purchase of European gas, liquefied natural gas and hydrogen.
In order to strengthen Ukraine's defence capabilities, the European Union has provided €1.5 bln for military equipment for the Armed Forces of Ukraine. On May 24, the European Council approved a fourth tranche of €500 mln in aid for Ukraine, which will allow the EU to support the Ukrainian army with weapons.
The EU is traditionally an outstanding investment and trade partner of Dnipropetrovsk region. There are 630 companies with foreign investments of the EU countries operating in the region, which have invested $4983.1 mln in the region's economy (93.9% of the total volume of foreign direct investments in the region).
According to the results of 2021, the volume of goods exports from Dnipropetrovsk region increased 2 times ($4082.1 mln), which amounted to 15.2% of Ukraine's volume to the EU. Among the goods in demand from European consumers are ores, slags, ferrous metals and ferrous metal products, fats and vegetable oils, etc.
Exports of the following products increased significantly:
grain crops 2.8 times ($17.8 mln);
edible fruits and nuts 2.4 times ($2.1 mln);
vegetables twice ($2.5 mln);
fats and oils 2.5 times ($174.7 mln);
organic chemical compounds 3 times ($1.8 mln);
land vehicles 2.1 times ($3.3 mln);
fertilizers 3.6 times ($83.2 mln);
copper and copper products 91.6 times ($2.3 mn).
Poland has become a leader among EU member states that are consumers of Ukrainian goods. Exports to this country increased by almost 66.4% compared to 2020 and amounted to $885.3 mln, which is 21.7% of total exports from the region.
The Czech Republic took second place among European consumers of the region's products. Exports to the country increased 2.5 times compared to last year. Exports amounted to $514.8 mln.
In third place among consumers in the region is Italy. Exports to the country increased 2.6 times and amounted to $434.8 mln.
Exports of goods to Bulgaria, Greece, Estonia, Spain, Lithuania, Malta, the Netherlands, Portugal, Slovakia, Finland and Cyprus increased significantly.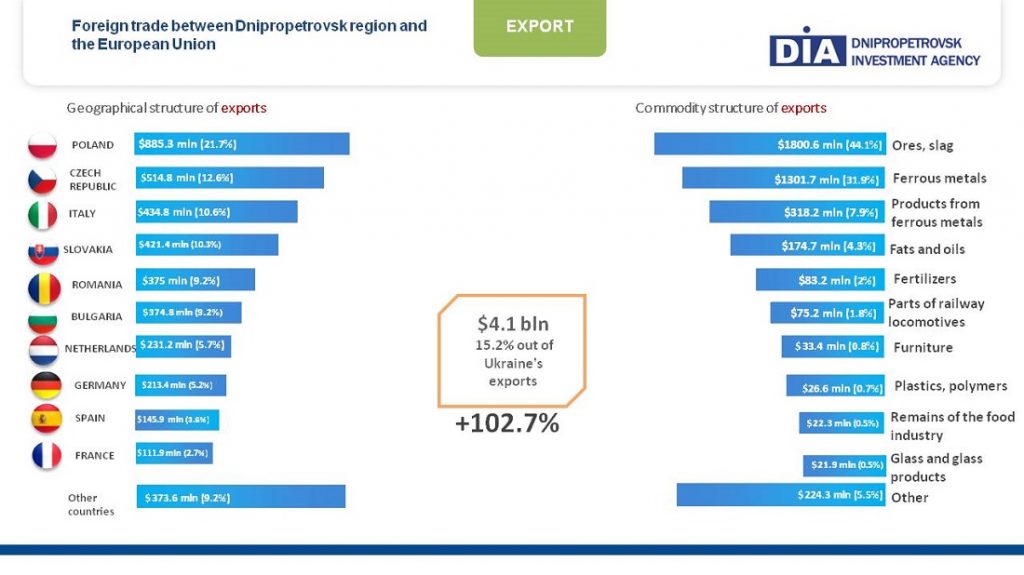 Export operations were carried out by 679 enterprises from Dnipropetrovsk region to EU countries.
The most important exporting companies: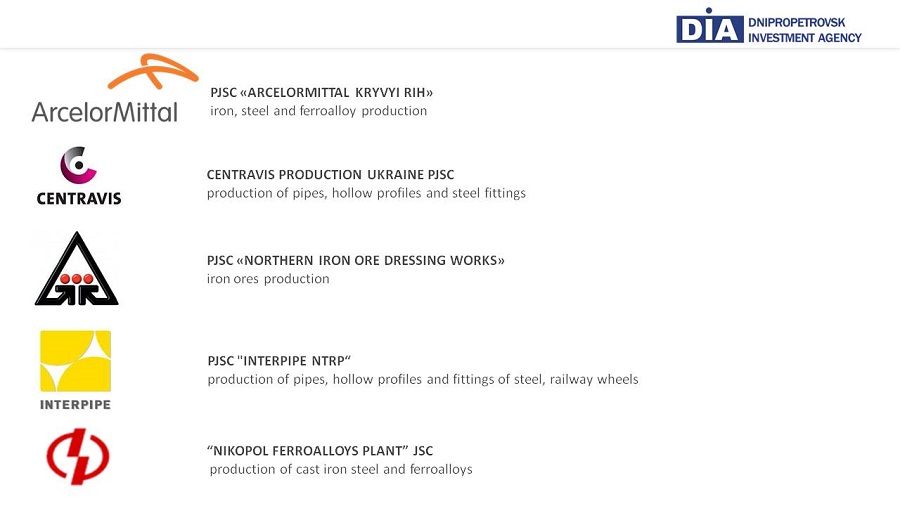 Imports of goods from the EU in 2021 amounted to $1,897.1 mln (6.6% of Ukraine's imports) and increased by 19.8% compared to last year. Dnipropetrovsk region mostly bought pharmaceutical products, machinery and equipment, plastics and polymers, etc.
Compared to 2020, imports increased significantly, in particular:
fertilizers 2.3 times ($12.4 mln);
natural and artificial fur 82 times ($5.7 thousand);
copper and copper products 6.7 times ($5.3 mln);
aircraft 6 times ($0.4 mln);
photographic and cinematographic goods 14 times ($0.3 mln).
Among the countries of the world, the products of which the Dnipropetrovsk region bought the most, Germany is leading with positive dynamics (an increase of 27.5%) with $402.8 mln. In second place is Poland, whose imports of goods increased by 24.1% and amounted to $298.3 mln. In third place is Italy, imports amounted to $189.7 mln and increased by 27% compared to 2020.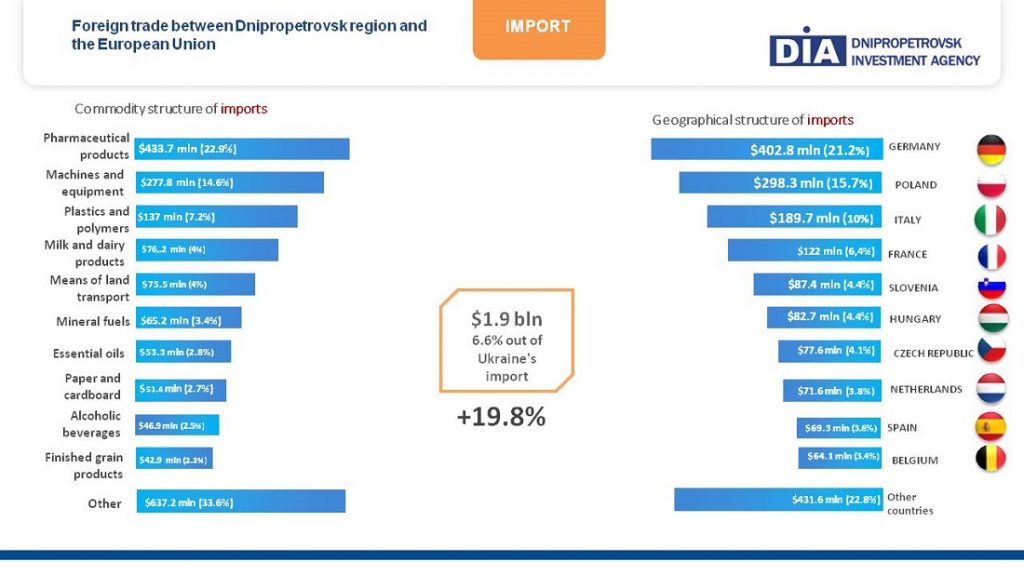 Import operations were carried out by 1608 importers.
TOP-5 importers: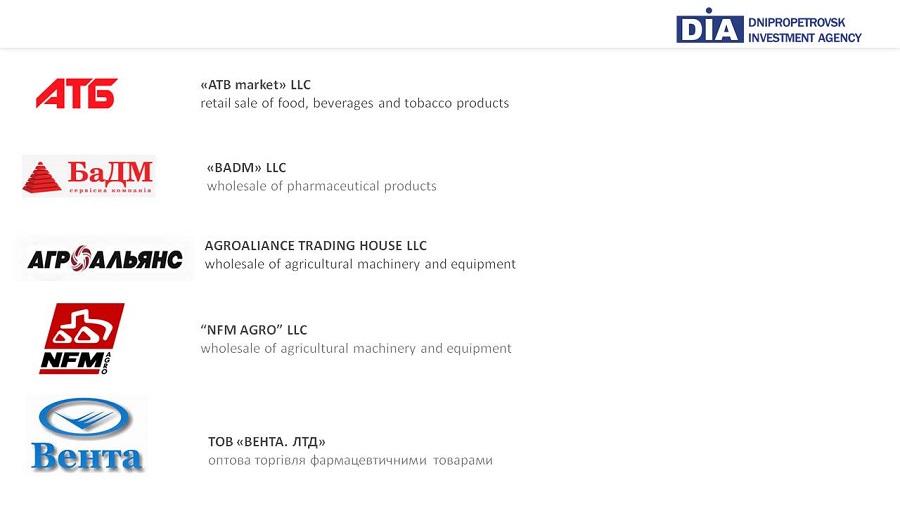 Among the promising areas for export to the EU are the products of the mining and metallurgical complex, equipment for railway locomotives, organic products of the agro-industrial sector and light industry products from natural materials.