Turkey provides the necessary support to Ukraine and is taking many important diplomatic steps to end the war. Almost immediately after February 24, Ankara officially condemned the Russian invasion and became one of the main mediators in the Moscow-Kiev peace talks.
Since the beginning of the large-scale invasion by Russian troops in Ukraine, 100 truckloads of humanitarian aid have been sent from Turkey. This volume was collected by Ukrainian society, diplomats, and Turkish benefactors. Medical supplies worth a total of $50 million have also been provided.
Turkey has actively joined to support Ukrainian orphans by helping to resettle parentless children. Now almost 800 little Ukrainians have found temporary shelter under the peaceful and hospitable skies of Turkey. A total of 70 thousand of our citizens are temporarily staying on the territory of the country.
At the end of February, Turkey closed the Bosporus and Dardanelles straits, which made it possible to limit the passage of a huge Mediterranean squadron of ships of the Russian Northern, Baltic and Pacific fleets. This step made it impossible to reinforce the Black Sea Fleet of the aggressor country for a large-scale attack on Ukraine from the sea. The airspace was also closed to Russian military and civil aircraft.
Turkey is not limited only to humanitarian aid. Since the start of the war, under bilateral contracts, it has supplied Ukraine with combat drones, ammunition, military equipment, body armor and helmets worth $59 million. Turkey also donated a Bayraktar drone to Lithuania for further transfer to the Ukrainian military.
Among the important directions of cooperation with Turkey in the economic sphere is the production of equipment for the processing of agricultural products, production and supply of petroleum products to Ukraine, cooperation in the field of military-industrial complex and renewable energy.    
Ukraine has recently been playing an increasingly important role for Turkey. Last year Turkey became the largest foreign investor in our country with the volume of investments of $4.5 billion. About 700 Turkish companies are doing business in Ukraine.
Analysis of export and import operations of Dnipropetrovsk region with Turkey also demonstrates a high level of partnership relations, because this state is one of the key trade and investment partners of the region. There are 47 Turkish companies operating in the region, which have invested $4.9 million in the economy of the region. Turkey ranks 3rd among exporters from Dnipropetrovsk region and occupies 5th place for imports of goods among the countries of the world.
According to the results of 2021 the volume of exports from Dnipropetrovsk region increased by 92% ($625.9 million), which amounted to 15.1% of Ukraine's volume to Turkey. Among the goods that are in most demand among Turkish consumers are ferrous metals and articles thereof, grain crops, fats and vegetable oils, etc.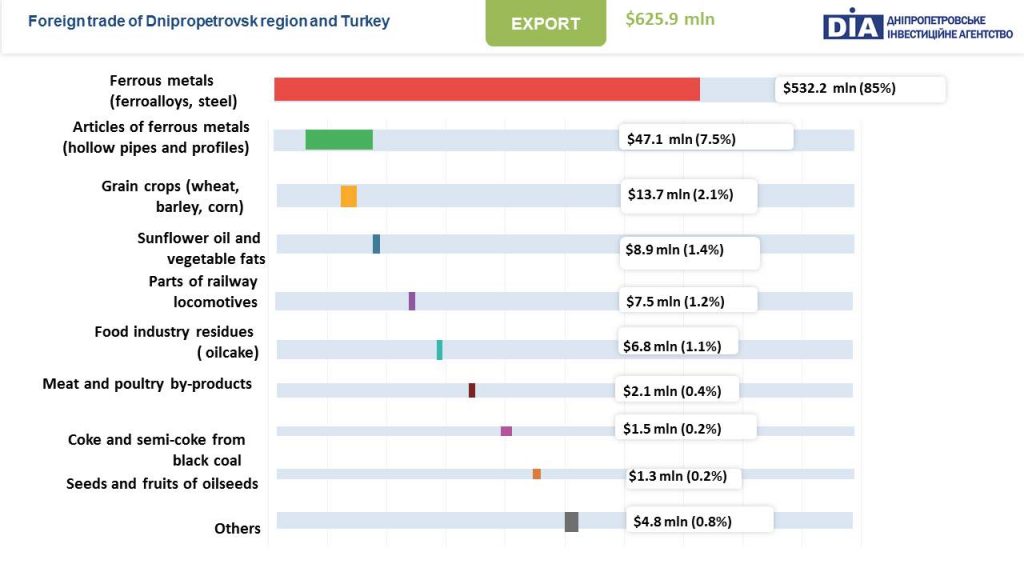 Export operations were carried out by 97 companies from Dnipropetrovsk region.
The main exporting companies are enterprises of the metallurgical complex, agro-industrial complex and processing industry.
The TOP-5 exporters (ranking by export volume):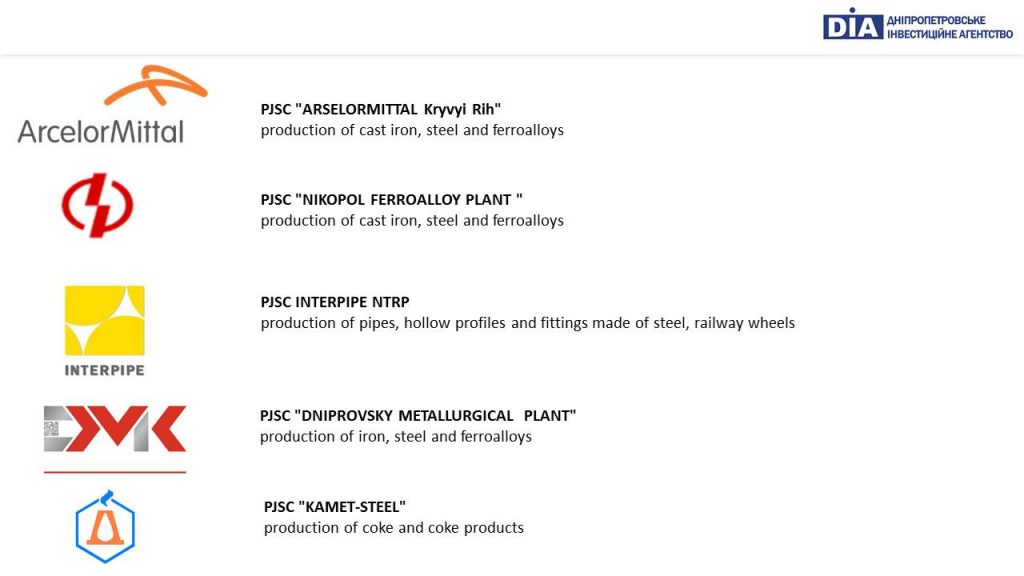 Imports of goods from Turkey to Dnipropetrovsk region amounted to $246.1 million (7.6% of Ukraine's imports from Turkey) and increased by 3.7% compared to 2020. Dnipropetrovsk region bought more ferrous metals, machinery, equipment, plastic products and others.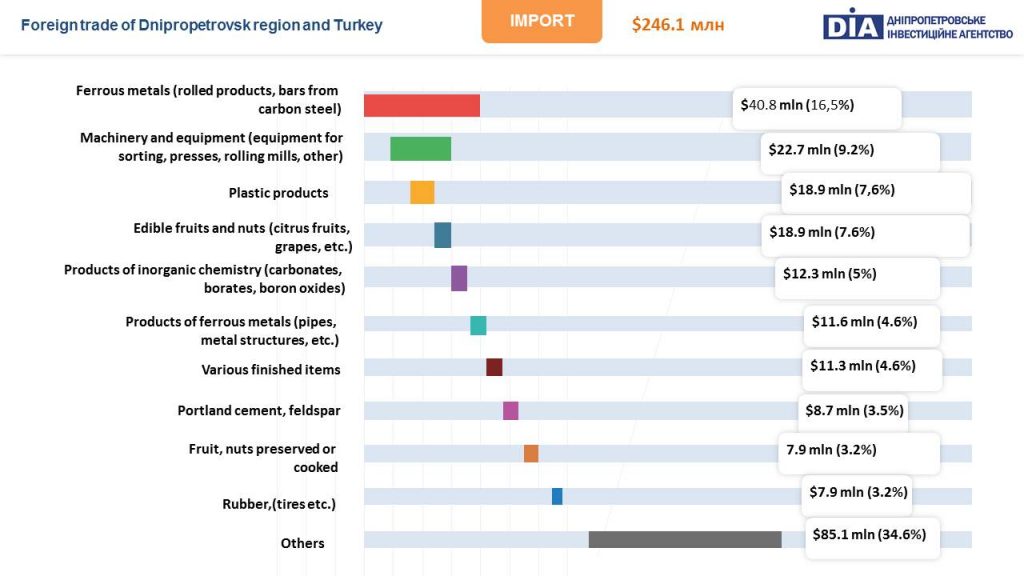 Import operations were carried out by 504 importer enterprises.
The TOP-5 importers (ranking by import volume):