Lithuania, together with the other Baltic states, has been and remains a reliable partner of Ukraine. In support of our state, Lithuania transfers a significant part of its own weapons and military means, humanitarian and financial aid.
Lithuania confirmed its readiness to provide all possible assistance to Ukraine in preparation for the upcoming EU accession negotiation process as recommended by the European Commission. Lithuanian President Gitanas Nauseda paid a visit to Kiev on The Day of Ukrainian Statehood. From the rostrum of the Ukrainian parliament, he said that Lithuania would strive to start negotiations on Ukraine's accession to the European Union as soon as possible.
Partnerships within the framework of the "Lublin Triangle" initiative (Ukraine, Lithuania, Poland) are being formed in the political, economic and public spheres for a new quality of relations in the conditions of hybrid security threats. The "Lublin Triangle" format serves to bring to life the concept of strengthening dialogue between the countries, supporting Ukraine's integration into the European Union and NATO, and jointly countering Russian aggression in Ukraine. As an example, the Prosecutor General of Ukraine signed an agreement with Lithuanian Prosecutor General Nida Grunskienė and Polish Prosecutor General and Minister of Justice Zbigniew Zebro to create a joint investigation team to investigate Russian aggression and war crimes in Ukraine.
Lithuania expelled the Russian ambassador from the country and closed the consulate in Klaipeda. The decision to downgrade the diplomatic mission with Russia was taken by the Lithuanian Ministry of Foreign Affairs. The country also declared four Russians persona non grata, this decision was taken in solidarity with Ukraine suffering from the Russian aggression. Lithuania banned Russian Orthodox Church Patriarch Kirill from entering the country because of his support for the Russian invasion of Ukraine.
More than 35,000 Ukrainian refugees have moved to Lithuania since the start of the war. In their new place they are looking for housing, schools, kindergartens and jobs. Local authorities, non-profit organizations and people who care about them are helping them. According to the information portal Delfi, Lithuanian companies offered more than seven thousand vacancies to refugees through the employment service, and more than a thousand and a half Ukrainians are already employed.
The first Ukrainian center for citizens forced to leave Ukraine because of Russia's full-scale military invasion was opened in Vilnius. The cultural center was created on the initiative of the first ladies of the two countries, Olena Zelenska and Diana Nausėdienė. The premises were provided by Vytautas Magnus University. According to the plan, the Ukrainian center will become a place of education, vocational guidance, psychological help, and recreation for children, youth, and adults.
The "HELP UKRAINE" Charity Fund was created to help and support the people of Ukraine. During the first month of work, the Foundation organized collection warehouses for humanitarian aid in Lithuania and Poland and a distribution warehouse in Ukraine. More than 50 tons of medicines, hygiene products, food and warm clothes were delivered to military personnel and local communities.
Taking into account the Russian military aggression against Ukraine and the damage to Ukrainian cities, the Vilnius City Municipality, with the assistance of the Honorary Consul of the Republic of Lithuania in Dnipro, handed over to our city medical supplies, medicines and hygiene products, with a total weight of 1083 kg and a value of €22,610.5. "These medicines are, without exaggeration, extremely important. The war has been going on for five months, so the need for such aid remains urgent, Dnipropetrovsk region has been and will remain an outpost of eastern Ukraine," said Vitaly Pivniak, Honorary Consul of the Republic of Lithuania in Dnipro.
The Lithuanian government has approved a €10 million aid package to help Ukraine with urgent reconstruction work. This state aid is funds for critical infrastructure, basic needs and basic services that will be provided to the National Bank of Ukraine.
Lithuania has already transferred to Ukraine Stinger air defense systems, anti-tank weapons, body armor and helmets, 120-mm mortars, small arms, ammunition, thermal imagers, drones, anti-drones, surveillance radars, and 20 tracked armored vehicles for sappers. In total, Lithuania's military aid to Ukraine amounts to about €123 million.
In May, Lithuania announced a fundraiser to purchase a Bayraktar drone for Ukraine. The Lithuanians raised €5 million in 3.5 days. Then Turkey decided to give the combat drone to Ukraine for free, and the money raised was used to buy ammunition for the drone and six modern EOS C VTOL drones.
A large Lithuanian paper and wood industry group Grigeo a.s., which has production facilities in Ukraine, will transfer four anti-drone systems manufactured in Lithuania to the Ukrainian army at a cost of €60,000.
The Lithuanian army is also considering sending 10 instructors to Great Britain, which intends to conduct three-week basic military training for 10,000 Ukrainian soldiers over the next three months.
The development of mutually beneficial trade and economic cooperation remains an important priority for the two countries.
The analysis of export and import operations between Dnipropetrovsk region and Lithuania demonstrates a high level of partnership, as the state is an important trade and investment partner of the region. 9 Lithuanian companies operate on the territory of the region, which have invested $2 million in the economy of the region.
According to the results of 2021, the volume of exports from Dnipropetrovsk region increased by 3 times ($72.6 million), which amounted to 12.6% of Ukraine's volume to Lithuania. Among the goods that are in greatest demand among Lithuanian consumers are ferrous metals and products made of them, plastics and polymers, knitwear, etc.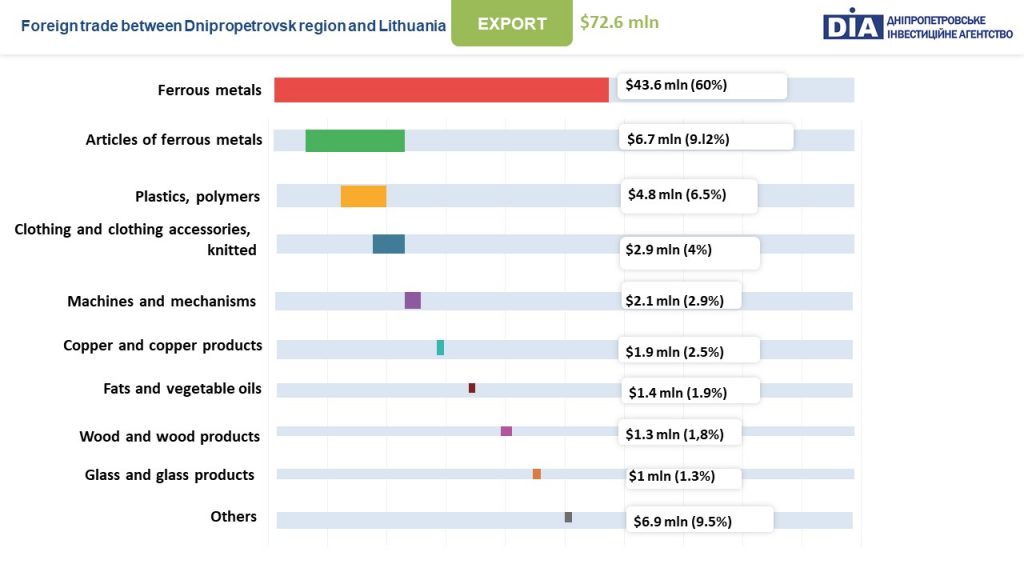 Export operations were carried out by 144 companies from Dnipropetrovsk region.
The main exporters are enterprises of metallurgical complex, agro-industrial complex and processing industry
TOP-5 exporting companies (ranking by the volume of exported products):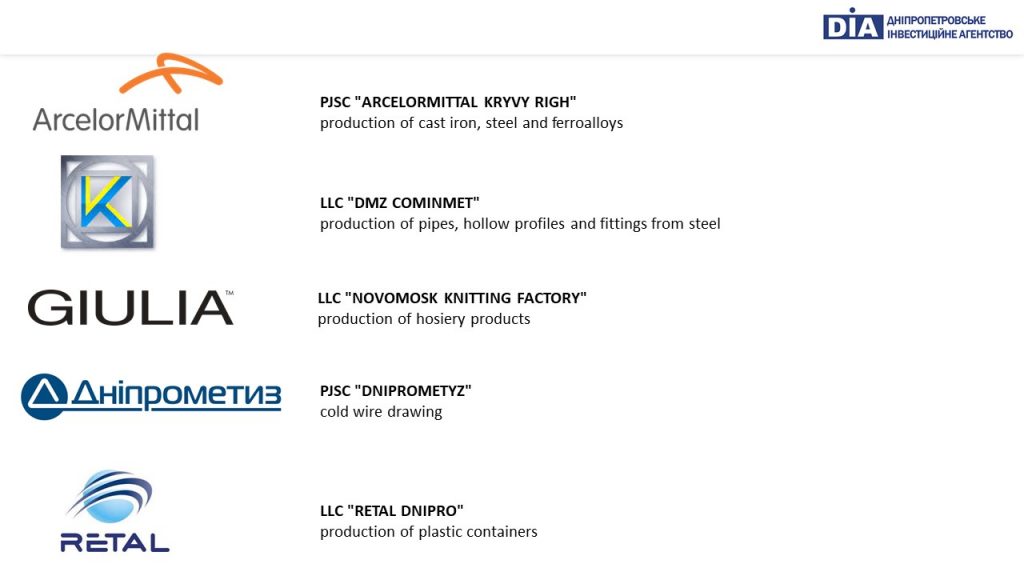 Imports of goods from Lithuania to Dnipropetrovsk region amounted to $56.2 million (4.4% of Ukraine's imports from Lithuania) and increased by 20% compared to 2020. Dnipropetrovsk region traditionally bought plastics, polymer products, electrical machinery, fertilizers, milk and dairy products.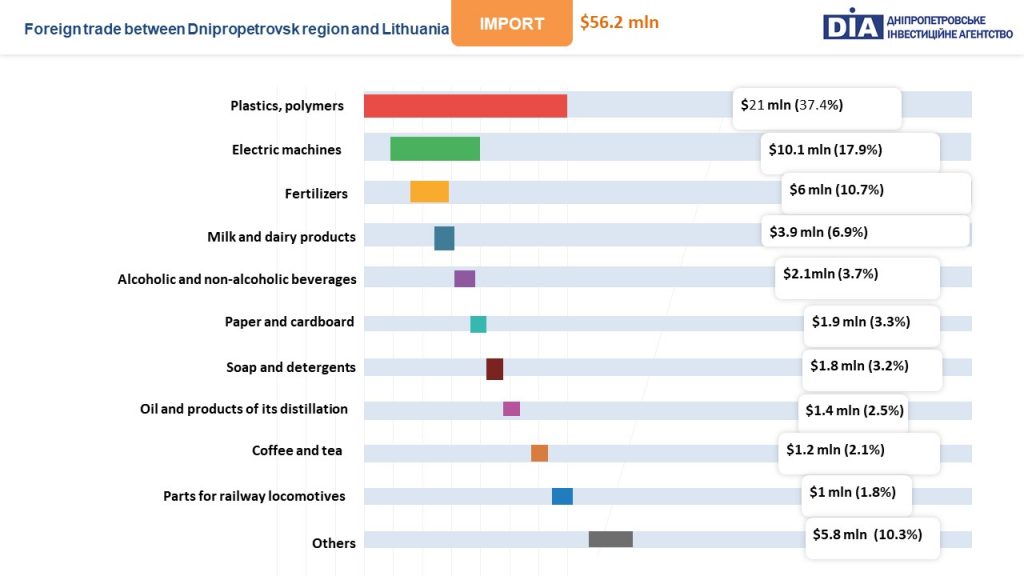 Import operations were carried out by 100 importer enterprises.
TOP-5 importing enterprises (ranking by the volume of imported products):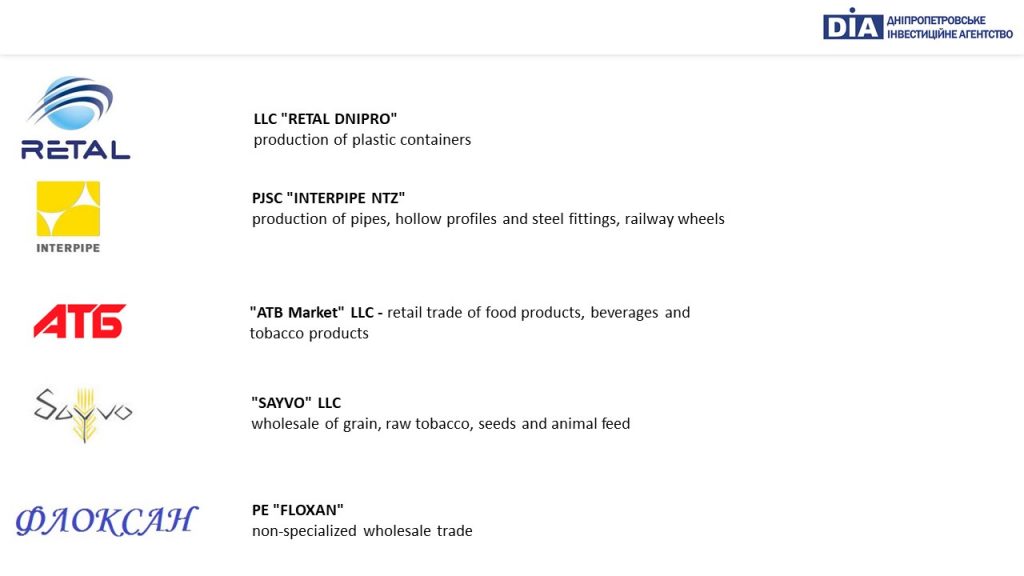 Among the promising areas for export to Lithuania are products of the metallurgical complex, plastics, polymers, organic products of the agricultural sector and light industry goods made of natural materials.