The United States of America is the largest and most consistent donor of economic and humanitarian development of Ukraine. U.S. support became especially urgent and tangible during the last two months, under the conditions of Russia's military aggression against Ukraine. During the war, the U.S. transferred $3.4 billion in military aid to our state, consisting of tactical drones, artillery and rocket systems. In order to ensure an uninterrupted supply of military equipment and weapons, the U.S. Congress agreed to a Lend-Lease program for Ukraine. According to State Department spokesman Ned Price, Washington's ability to deliver weapons to Ukraine remains "inexhaustible". This is evidenced by the regularity of military deliveries.
In addition, U.S. President Joe Biden asked Congress for $33 billion in additional aid to Ukraine, of which $20.4 billion was for weapons, ammunition and other military aid to Ukraine and its allies in Europe. Also, $8.5 billion is for direct economic aid to Ukraine, countering Russian disinformation and supporting small and medium-sized businesses. $3 billion is for humanitarian and food aid.
Economic Support for SMEs
USAID Competitive Economy Ukraine has been working in Ukraine since 1992, assisting the country's democratic reforms and integration into Western political and economic security institutions. USAID promotes a competitive economy in the country where small and medium-sized enterprises are free to realize their potential.
Despite the difficult economic situation in the country due to Russia's military aggression, USAID continues to implement a number of contests and initiatives to support SMEs:
The United States is one of Dnipropetrovsk region's outstanding investment and trade partner. On the territory of our region there are 42 companies with U.S. investment that have invested $5 million in the region's economy. The U.S. is among the top five exporters of goods from Dnipropetrovsk region and ranks 6th in imports of goods among the world' countries.
In 2021 the volume of exports from Dnipropetrovsk region increased 2.3 times ($440.9 million), which accounted for 27.2% of Ukraine in the U.S. Among the goods that are in the greatest demand of American consumers are ferrous metals and their products, parts of aircraft and railway locomotives, etc.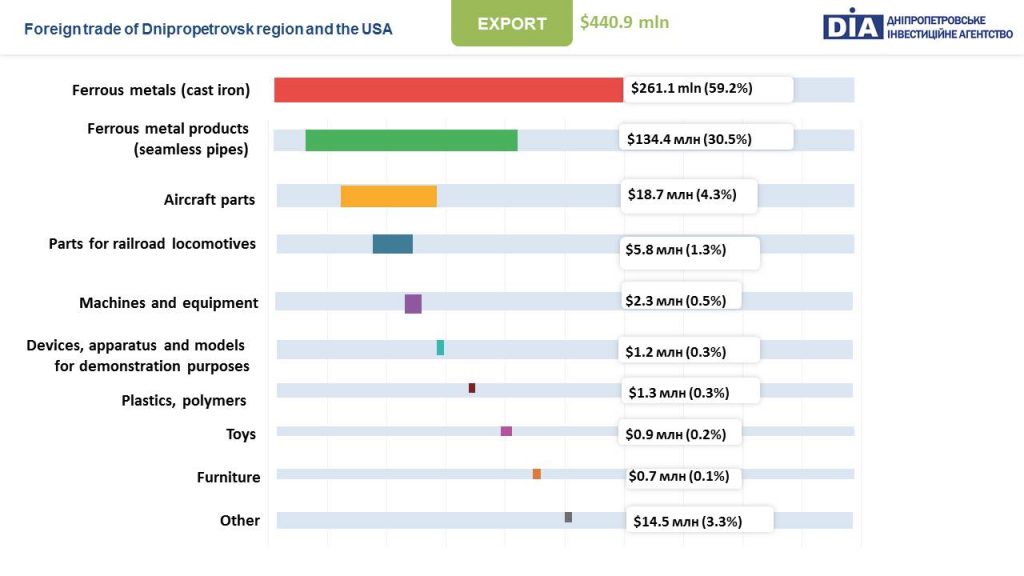 Export operations were carried out by 84 companies from Dnipropetrovsk region.
The main exporting companies are enterprises of the mining and metallurgical complex, machine building and processing industry.
TOP-5 exporting companies (ranking by volume of export products):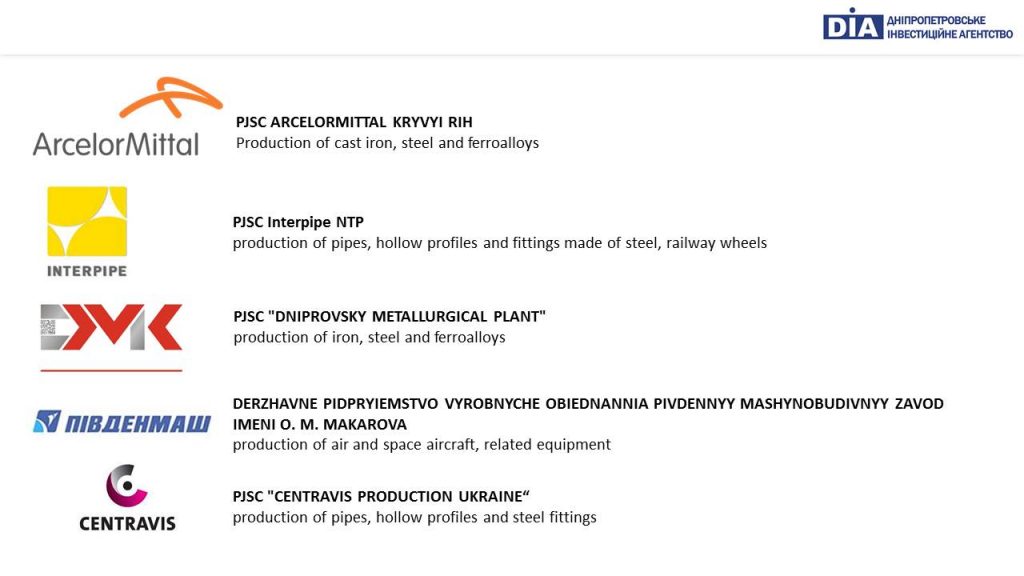 Imports of goods from the U.S. to Dnipropetrovsk region amounted to $225.4 million (6.8% of Ukraine's imports is from the U.S.) and increased by 16% compared to 2020. Dnipropetrovsk region most purchased land transport, mineral fuels, machinery and equipment, medicines and other.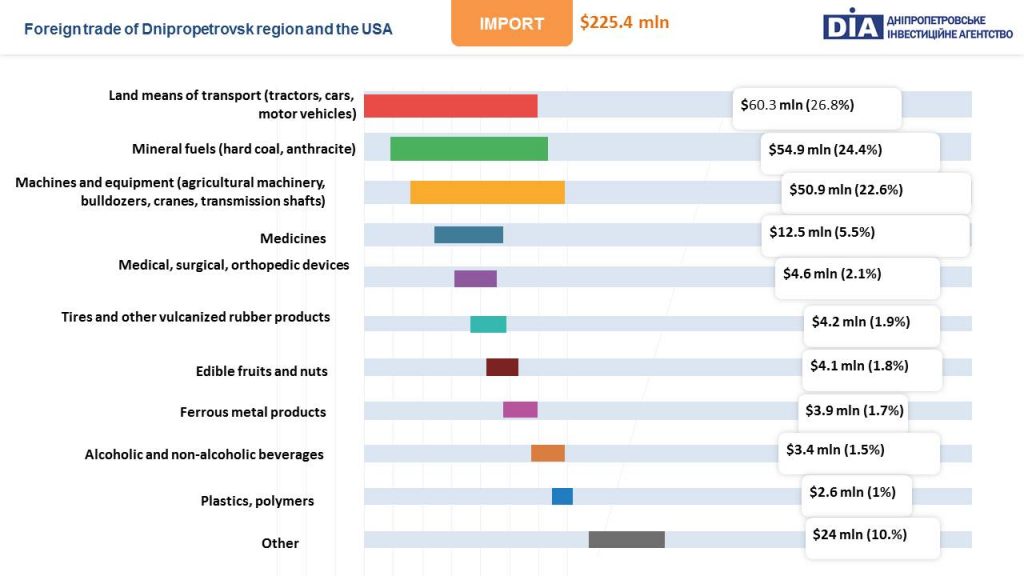 Import operations were carried out by 408 importer enterprises.
TOP-5 importer enterprises (ranking by the volume of imported products):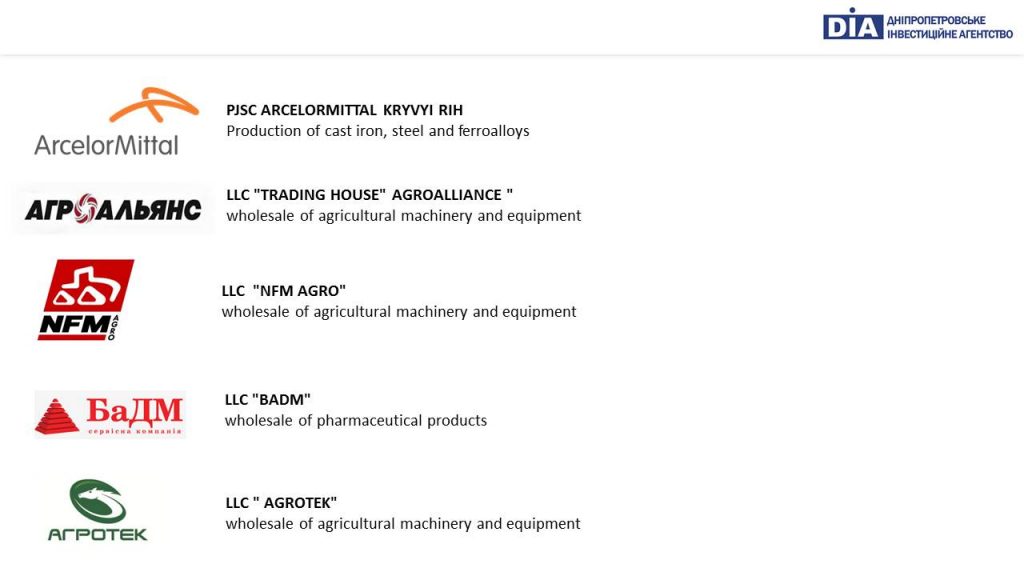 Among the promising areas for export to the USA are products of metallurgy, equipment for railway locomotives, spacecraft, organic agricultural products and natural products of light industry.