Since the beginning of the military aggression of the Russian occupiers, the Ministry of Infrastructure has continued to work systematically to improve the logistics of humanitarian goods from abroad.
Thus, from the first days of the war, the regime of maximum assistance in the delivery of humanitarian goods to the affected regions, as well as goods for the needs of the Armed Forces was introduced. In addition, the departure and entry of truck drivers carrying humanitarian aid has been facilitated.
"In particular, since the beginning of the full-scale phase of the war: 12,107 drivers have been processed and allowed to cross the border through the" WAY "system; 3,809 drivers have already crossed the state border and returned with cargo for the Armed Forces and humanitarian cargo," the ministry said.
One of the most important areas of work was the deployment of logistics hubs, thanks to which humanitarian goods are delivered on time and distributed to the hottest spots in Ukraine from Poland, Italy, Hungary, Slovakia and Romania.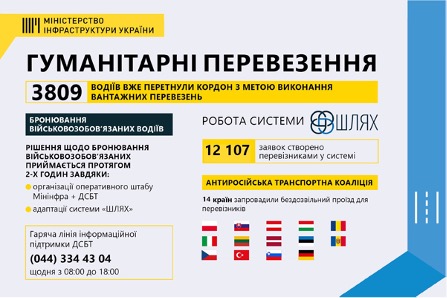 "Representatives of the Ministry of Infrastructure of Ukraine and road hauliers coordinate the logistics and regularity of transport from these hubs to Ukraine. From the main hub in Poland, 30-50 vehicles are sent per day," the statement said.
Realizing the complexity of the situation in which Ukraine found itself, a number of EU countries have introduced the most simplified regime for the delivery of humanitarian goods to Ukraine. 14 countries have formed a so-called anti-Russian transport coalition.
"Currently it is Poland, Slovakia, Austria, Hungary, Romania, Germany, Italy, Lithuania, Latvia, Estonia, Slovenia, Moldova, the Czech Republic and Turkey. It is a question of release of the Ukrainian carriers from any additional conditions, in particular necessity of registration of permissions for the international freight transportations through the specified countries. A number of EU countries have exempted Ukrainian carriers from paying for the use of their countries' roads, "the ministry said.
In the first days of March, more than 3,000 applications were sent for unauthorized travel for humanitarian aid to Poland or in transit through its territory.
Source: https://www.rbc.ua/ukr