Since the beginning of the Russian military aggression against Ukraine, the Kingdom of Belgium has provided significant assistance – defense, political, humanitarian and financial. The country's government condemns Russian aggression and supports all restrictive measures against Russia introduced by the European Union. Also, Ukraine has the support of Belgium regarding future membership in the EU and NATO.
More than 60 thousand citizens of Ukraine received the status of temporary protection on Belgian territory, which was extended until March 2024 by the EU decision.
Belgium has already frozen €50.5 billion belonging to 1,229 individuals and 110 legal entities subject to financial sanctions after Russia's invasion of Ukraine. The Belgian authorities declared personae non gratae and expelled 21 Russian diplomats from the country due to suspicions of their involvement in spy activities.
The Belgian Senate is working on recognizing the Russian Federation as a terrorist country, considering the creation of an international special tribunal to prosecute Russian war criminals, as well as recognizing Russian private military criminal groups such as Wagner as terrorist organizations. A resolution is expected to be adopted in January 2023.
The Kingdom of Belgium and Ukraine have agreed to cooperate in various areas, in particular, to spread the ban on Russian propaganda. For example, Belgium is providing €150,000 in aid to support Ukrainian culture and will help supply generators for cultural and media institutions.
The Belgian authorities provided €8 million for non-military needs of the Armed Forces of Ukraine. The funds will be used for the following needs: first aid equipment (including first aid kits), winter clothing, night vision goggles, pharmaceuticals, etc.
Belgium has already provided Ukraine with ten underwater drones capable of detecting all underwater threats and two mobile laboratories that can be deployed near a chemical, bacteriological, radiological or nuclear incident. Laboratories can also be deployed to areas of natural disasters where hospitals and maternity hospitals have been destroyed. The country also gave Ukraine a grant contribution of €4.96 million to a special account administered by the International Monetary Fund.
Throughout the war, the Belgian government has transferred €76 million of military aid to Ukraine. The aid for the AFU includes mortars, Volvo Fassi N10 trucks, assault rifles, anti-tank grenade launchers, missiles for APCs, small arms ammunition, heavy machine guns and other items. In addition, it is planned to provide Ukraine with additional military aid in the amount of €12 million – the list of arms includes large-caliber machine guns and ammunition for them, as well as non-lethal equipment for the winter. At the same time, about 100 Belgian military instructors will join the European military assistance mission to Ukraine.
The Belgian side will continue to provide the necessary assistance to Ukraine in the energy, electricity and gas sectors.
Belgium remains an important trade partner of Dnipropetrovsk region. The high level of partnership relations is evidenced by the bilateral analysis of foreign activities. Belgian companies are most interested in iron ores and concentrates, mineral fuels, ferrous metals and their products, other non-precious metals, etc. The volume of export of goods from Dnipropetrovsk region amounted to $38.9 million, which is 5.9% of the indicator of Ukraine.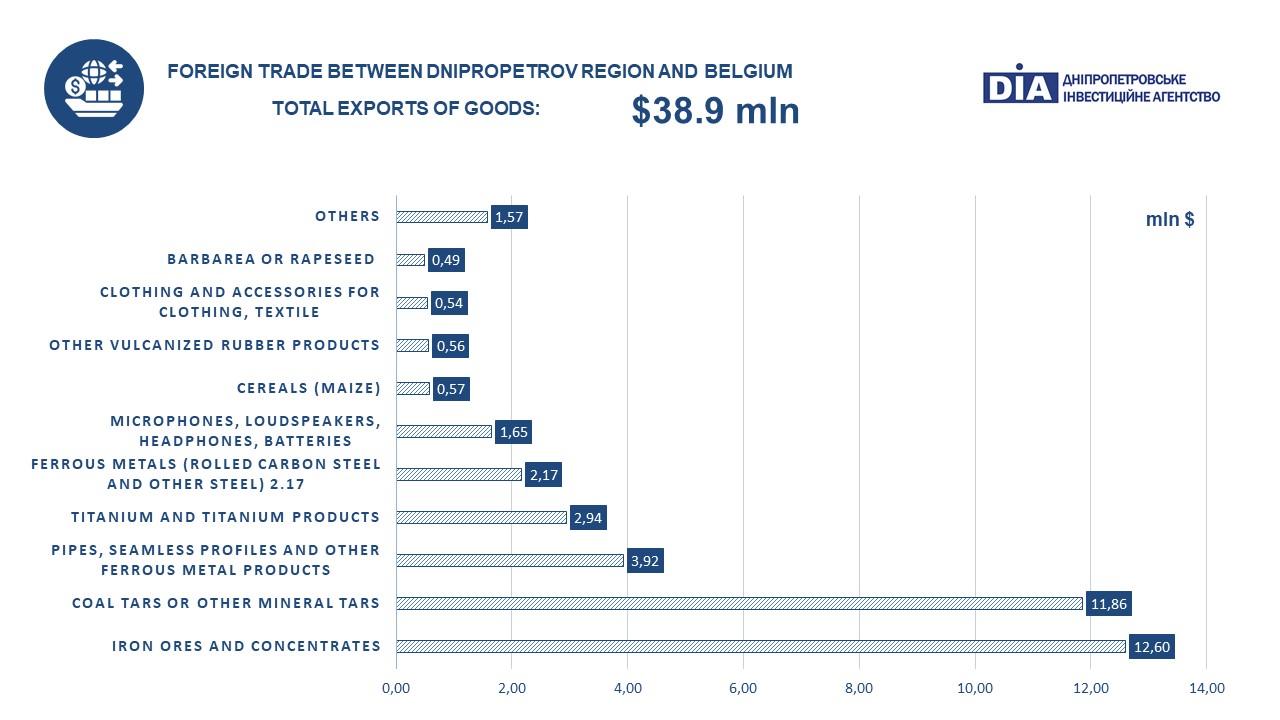 52 enterprises of Dnipropetrovsk region exported their products to the Belgian market, these are enterprises of mining and metallurgical complex, processing industry and agriculture.
According to the volume of exported products TOP-5 enterprises of exporters are the following: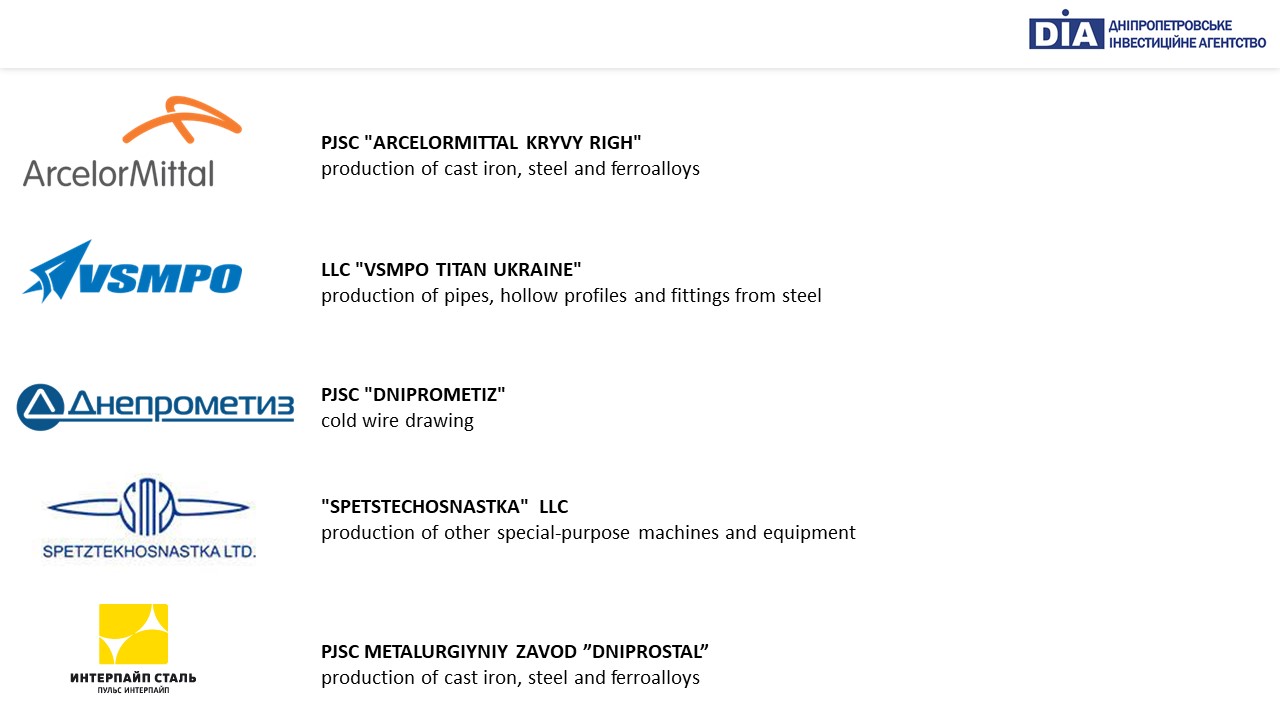 In turn, 151 importing enterprises of the region mostly bought Belgian goods, namely: medicines, plastics, polymers, machinery, equipment, tanning extracts, etc. Imports of goods from Belgium to Dnipropetrovsk region increased by 39.4% and amounted to $64.12 million. The region's share in Ukraine's imports of goods from Belgium exceeds 8%.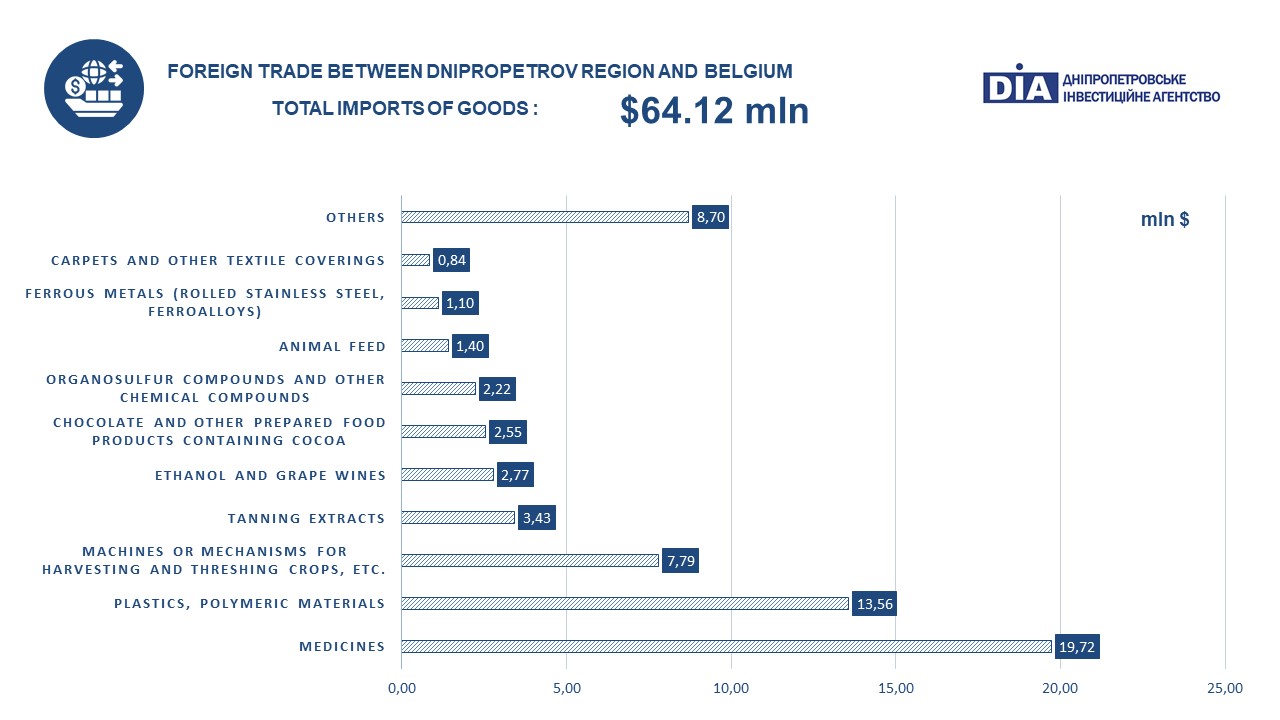 By the volume of imported products TOP-5 importers are the following: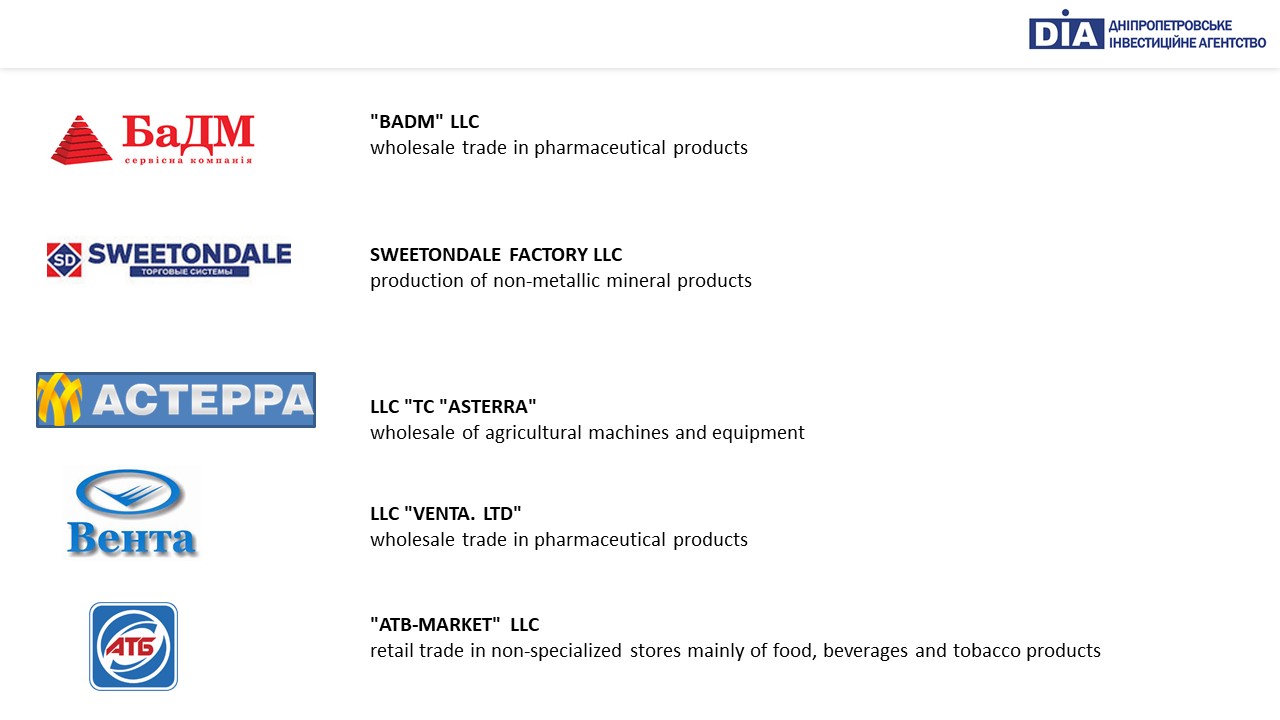 Import operations were mainly carried out by chemical, processing, food industry, machine-building and trade enterprises.
Source: Information for the article was taken from public online sources and the website of the Main Department of Statistics in Dnipropetrovsk region.