The Zaporizhzhia police recorded about 40 objects of destroyed civilian infrastructure in the Polohivsky direction.
Over the past day, the enemy attacked the civilian population of Gulyaipole, Orikhove, Preobrazhenka and other settlements. There were no reports of wounded civilians.
Lugansk region: Over the past day, Russian troops fired at the territory of the region 4 times.
As a result of shelling, 6 objects were damaged. After the shelling, two houses, a shopping center and garages caught fire in Lisichansk.
The police also received 21 messages from citizens about the destruction of houses and apartments, premises of a joint-stock company and a store building as a result of shelling by the occupying forces in the cities of Severodonetsk, Lisichansk, Rubizhne and Popasna.
Kherson region: Destroyed and damaged houses: the Russian military fired at the village of Novogrygorivske.
Russian troops continue to destroy the houses of civilians in the Kherson region. The Novogrygorivske village of the Vysokopilska territorial community was subjected to intensive artillery shelling by the enemy army. The hits were directly on people's households. As a result, houses are damaged and destroyed, now they are uninhabitable. Fortunately, there are no civilian casualties.
The occupiers shelled 12 settlements of the Donetsk region in a day – there are dead and wounded.
The Russians hit with X-22 missiles, C-300 air defense systems, artillery, and rocket systems. The police seized evidence of Russian crimes.
Over the past 24 hours, five settlements in the Mykolaiv region were under shelling – the police document every fact of Russian aggression.
The regional center, Bashtanka, Berezneguvate, Lymany and Lepetykha fell under enemy attacks. 10 private houses, cars, a private enterprise and other property of citizens were damaged. There are casualties among the civilian population.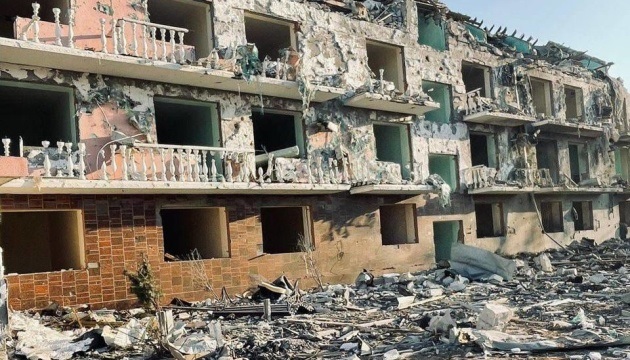 As a result of rocket attacks by Russian troops in the Bilgorod-Dnistrovsky district of the Odessa region, 18 people were killed, 30 people were injured.
In the Kharkiv region, as a result of shelling by Russian troops, four people were killed and five were injured in a day.
Photo materials are taken from the official information resources of the National Police of Ukraine, the Deputy Head of the Office of the President and the Head of the Kharkiv Regional Military Administration.