On July 15, around 10:00 p.m., the occupiers launched rocket attacks on the city of Dnipro.

Kh-101 missiles were launched from Tu-95 MS strategic aircraft from the northern part of the Caspian Sea. Four missiles were shot down by the forces and means of air defense, according to the Air Command "East".

Several rockets hit the industrial enterprise, according to preliminary data of the Dnipropetrovsk military administration, there are dead and wounded, the extent of the destruction is being determined.
The police documented 13 facts of the destruction of housing of local residents by Russian troops.
Police officers document the destruction of infrastructure in the territory of the settlements of the Luhansk region, the facts of looting, the seizure of administrative buildings and other war crimes committed by the Russian army.
Over the past day, 13 facts of destruction of housing of local residents, an office building, a store, and other property of citizens were registered. The death of a woman as a result of one of the artillery attacks was also registered.
Today, Russian troops attacked Mykolaiv. The buildings of two higher educational institutions, an apartment building were destroyed, the windows of other nearby high-rise buildings were damaged. The final information on the destruction, damage and casualties is being specified.
Police and rescuers are currently on the scene. Every fact of war crimes committed by the Russian aggressor is recorded.
The police fix the crimes of the Russian army – the enemy fired at the educational institutions of Kharkiv.
The missiles hit the civilian infrastructure of the city. Educational institutions in the Industrialny and Kholodnogirsky districts were damaged. There are no previous casualties.
The shelling took place on July 15 around 3:00. As a result of the rocket hit, the roof, windows and facades of educational institutions, as well as nearby buildings, were partially destroyed, tram tracks were destroyed.
During the day, Russia hit the Donetsk region 29 times with prohibited weapons.
There are wounded and dead among the civilian population. 19 settlements of the region were under enemy fire. The housing sector, enterprises were destroyed, crops were destroyed. Police documented Russian war crimes.
As a result of the shelling, civilians were injured and died.
49 civilian facilities were destroyed: 29 residential buildings, an educational institution, enterprises and wheat fields.
During the day, the Russian military shelled the Kryvyi Rih region in the Dnipropetrovsk region, a field with wheat caught fire.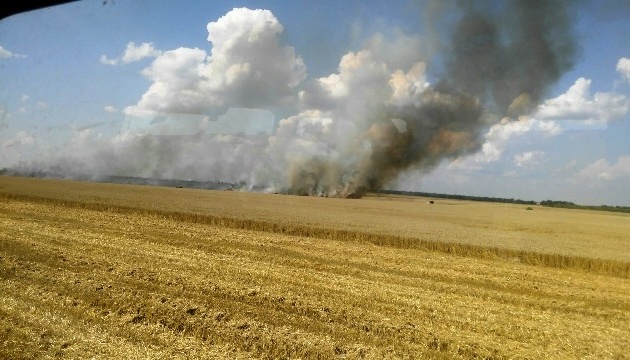 On Friday, Russian troops shelled the city of Bakhmut in the Donetsk region from multiple launch rocket systems, injuring six people.