Diplomatic relations between Georgia and Ukraine were established in 1992, since then the trade and partnership relations have been actively developing.
The countries signed 105 bilateral and multilateral agreements, including the Free Trade Agreement. Ukraine is one of the major trading partners of Georgia. It is also worth noting that Georgia is among the TOP-5 prospective countries for the development of Ukrainian exports, according to the Export Strategy of Ukraine for 2017-2021.
Considering the possibilities of a potential partnership, the Dnipropetrovsk Investment Agency (DIA) analyzed the foreign economic relations of Dnipropetrovsk region with Georgia over the past year.
 Total trade turnover (goods and services) of Dnipropetrovsk region with Georgia in 2018 amounted to $ 89.7 million and compared to 2017, it is  increased by $ 10 million or by 11%.
Export of goods from the region is amounted to $ 73 million, an increase of $ 1.8 million, or 2.5%, compared with 2017. At the same time, import of goods from Georgia over the same period has increased by 45%, or by $ 6.7 million, amounting to $ 15 million. The trade surplus in favor of Dnipropetrovsk region was $ 57.9 million.

Ferrous metals (21.1% of global imports of Georgia) and their products, plastic products, paper and cardboard (17.8% of global imports of Georgia), electric cars are in the TOP-10 of exported products from the region.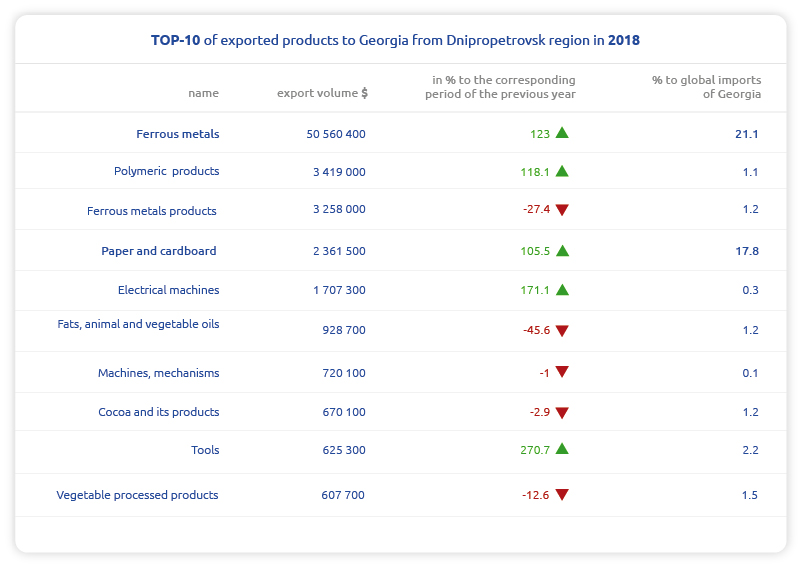 In 2018, export of new goods from Dnipropetrovsk region began, such as: pharmaceutical products, tea and coffee, photographic or cinematographic goods, textile fibers, and also processed feathers and down.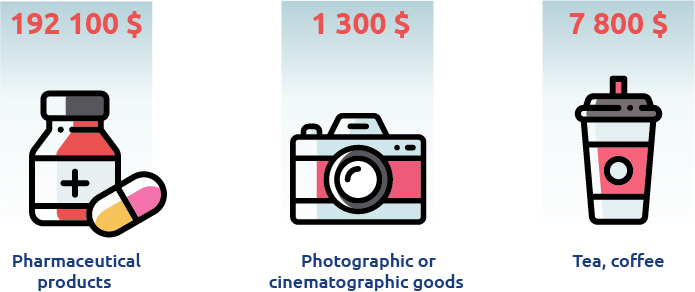 The record export growth to Georgia over the past year showed: special fabrics (exports has increased by 117 times), toys (an increase of 38 times), oilseeds (an increase of 31 times), stone, gypsum, cement products (an increase of 6 times)

Among the TOP-5 commodity groups imported by Dnipropetrovsk businessmen from Georgia, the largest volume is: alcoholic and non-alcoholic beverages and vinegar; ore and slag (increased by 29581 times), as well as essential oils (increased by 48 times).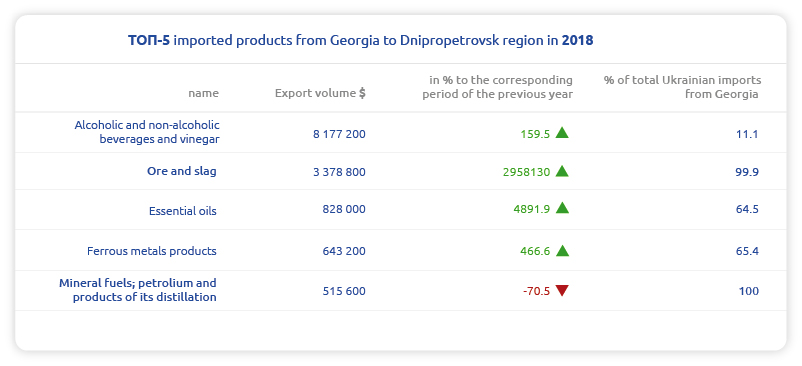 In 2018, import of new goods from Georgia to the Dnipropetrovsk region, such as: railway locomotives, various food products, vegetables, electric machines was started.
The record import growth from Georgia over the past year was in the following categories: polymer products (import increased 79884 times); ore and slag (an increase of 29581 times), essential oils (an increase of 48 times); means of land transport, except for railways (an increase of 8 times).

Ukraine and Georgia, within the framework of the Free Trade Area, adhere to the principles of strategic partnership and are ready to involve bilateral ties, develop common opportunities and jointly master new markets. Important areas of cooperation are the fuel and energy sector, including the development of the Euro-Asian Oil Transport Corridor (EAOTC) project, agro-sector, transport, primarily in the freight transport segment, health care, tourism, and development of SMEs.
 The Trade Mission to Georgia with the emphasis on one of the important areas of cooperation will take place from 10 to 12 September 2019 for SMEs of the agricultural sector, Ukrainian food producers.