Traditionally neutral countries are reacting to the Kremlin regime's unprovoked and unmotivated war on the European continent against Ukraine. Switzerland, which has declared a position of neutrality for centuries, has declared its determination to develop closer ties with the EU and NATO in the field of security and defense, as well as to strengthen its own military forces. From the first days of the war, Switzerland condemned Russia's aggression, provided Ukraine with humanitarian aid, including medical and firefighting equipment, and hosted more than 60,000 evacuated Ukrainians. Thousands of Swiss marched on the streets condemning the aggression and demanding that the government support Ukraine. Likewise, thousands have opened their homes to refugees from Ukraine, to whom the Swiss government has provided collective visa-free protection.
And in October 2022, the Swiss Federal Council announced that it had joined the latest European Union sanctions against Russia in connection with the pseudo-referendums in the temporarily occupied territories of Ukraine. Switzerland also froze the assets of Sberbank, and now the russian bank is prohibited from providing funds, economic resources and technical services. On November 2 this year, Switzerland imposed sanctions against Iran because of the supply of drones to russia.
On October 20, 2022, Swiss President Iñazio Cassis visited the liberated from russian invaders Borodianka and Ivankiv in Kyiv region and met with Zelensky. Cassis said that Switzerland was preparing a new package of humanitarian aid for Ukrainians. Also, Ukraine and Switzerland signed agreements on cooperation in the search for missing persons. In 2022-2023 it is planned to deliver special equipment, which will help the state expert-criminalistic center. During the visit of Swiss delegation to Ukraine a Memorandum on partnership in the field of digital transformation was signed. Thus, Switzerland will give a $16 million grant within the framework of the EGAP program for the development of digitalization in Ukraine. The funds will be used to develop new digital services and services needed by Ukrainians during the full-scale war. A portal and application "Diia" has already been created with the support of EGAP. The Ministry also launched many important services, including COVID certificates, "eMaliatko", "ePidtrymka", etc.
Injured Ukrainian children will be able to receive medical assistance in Switzerland, the Federal Department of Foreign Affairs of the country announced. Approximately 155 Ukrainian children, whose health condition is of concern, have already come to Switzerland for treatment.
The Federal Ministry of Defence, Civil Defense and Sport and the city of Basel provided equipment worth a total of 5.2 million Swiss francs ($5.68 million). In total, Switzerland will deliver: 20 construction vehicles; three fire engines; one small car for transporting people and materials; two mobile installations for collecting and cleaning contaminated water; two containers for operational command, including equipment for lifting and moving cargo, lighting equipment and power generators.
The Swiss government is giving Ukraine 100 million Swiss francs ($107 million) for projects to support the urgent restoration of energy infrastructure and alleviate the unstable humanitarian situation. Switzerland is helping to buy energy sources and spare parts for Ukraine and is participating in the repair of railway fastening systems (for the transportation of heavy goods such as grain). It also provides humanitarian assistance to people most affected by the war in Ukraine and helps to prepare for winter, such as fixing windows and providing insulation and food.
The Swiss Agency for Development and Cooperation (SDC) has sent humanitarian aid to Ukraine consisting of 40 generators and 40 heaters.
Since the beginning of russia's war against Ukraine, Switzerland has already sent more than 680 tons of humanitarian aid and 4,750 tons of food to our country.
Development of mutually beneficial trade and economic cooperation remains the top priority of the two countries. Analysis of export and import operations of Dnipropetrovsk region with Switzerland also demonstrates a high level of partnership relations, because this state is an important investment and trade partner of the region. There are 13 companies with Swiss investments in the region, which invested $45,7 million in the economy of the region.
According to the results of 2021 the volume of exports from Dnipropetrovsk region increased 2.3 times ($7.99 million), which amounted to 4.5% of Ukraine's volume to Switzerland. Among the goods that are in greatest demand among Swiss consumers are ferrous metals and ferrous metal products, furniture, grain crops, parts of railway locomotives, etc.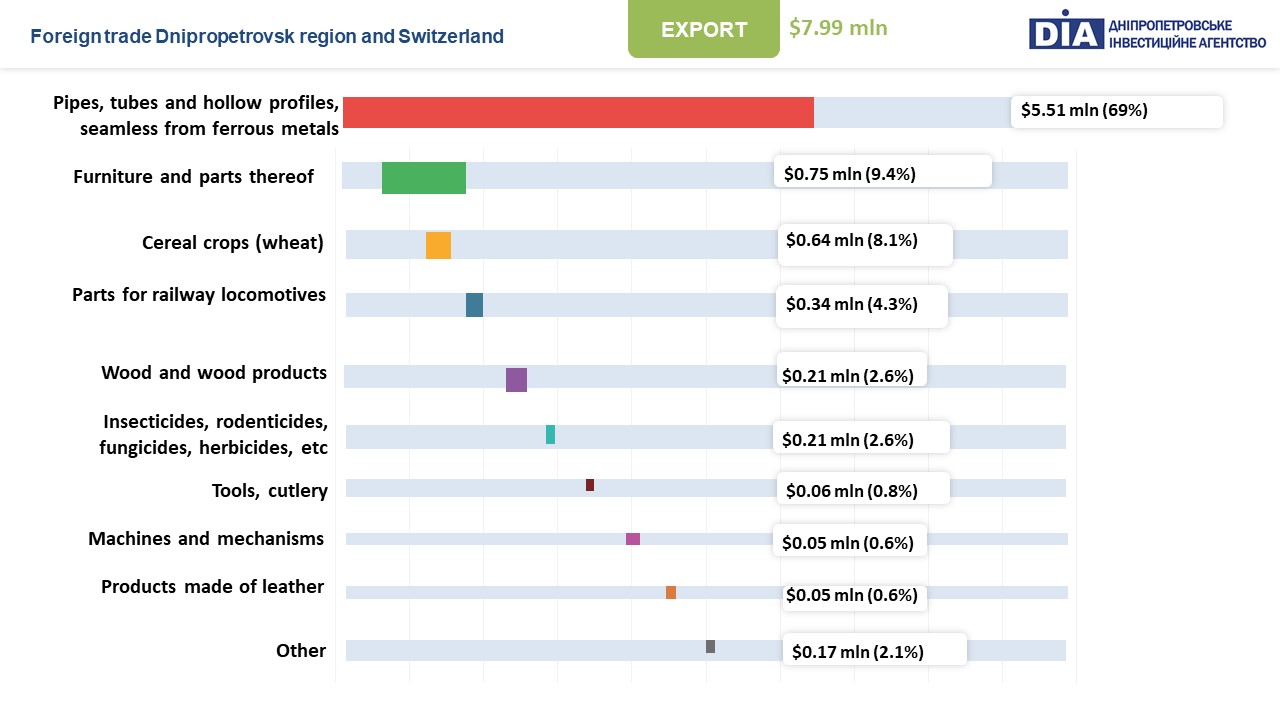 Export operations were carried out by 23 companies from Dnipropetrovsk region.
The main exporting companies are enterprises of metallurgical complex, agro-industrial complex and processing industry.
TOP-5 exporting companies (ranking by volume of export products):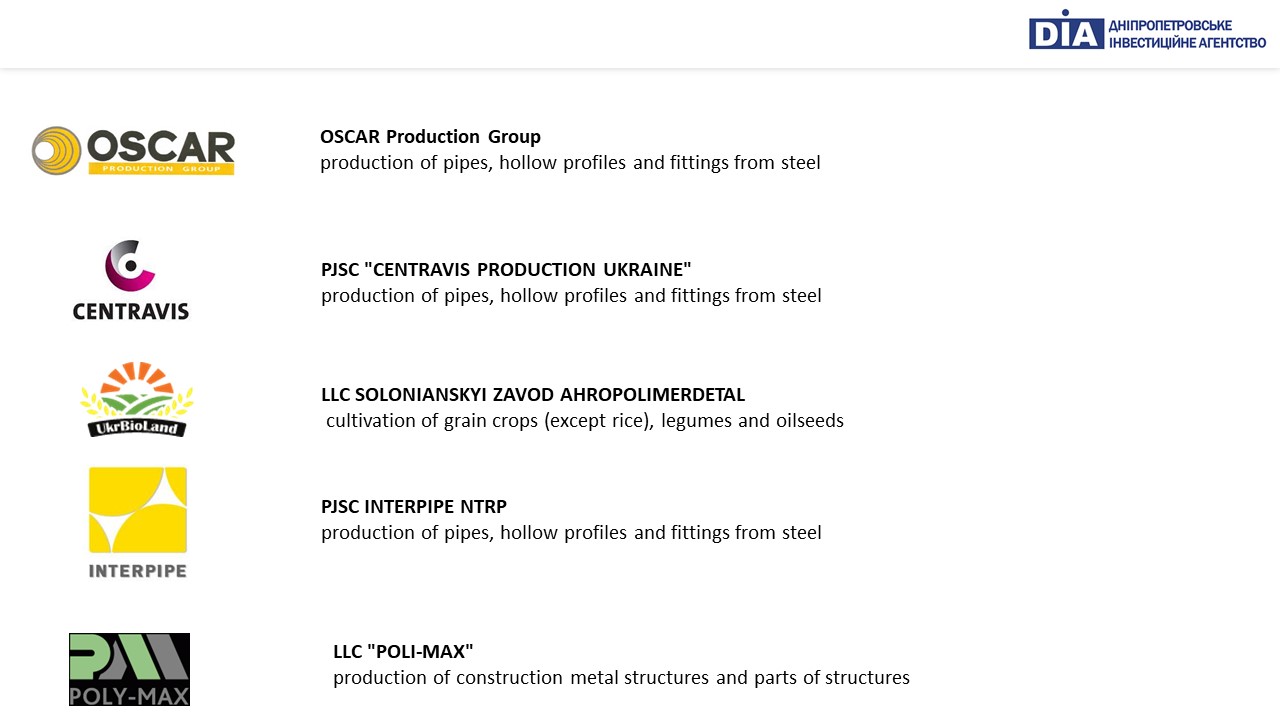 Imports of goods from Switzerland toDnipropetrovsk region amounted to $22.04 million (0.9% of Ukraine's imports from Switzerland) and increased by 1% compared to 2020. Dnipropetrovsk region purchased more medicines, gold, machinery, equipment, ferrous metals and other.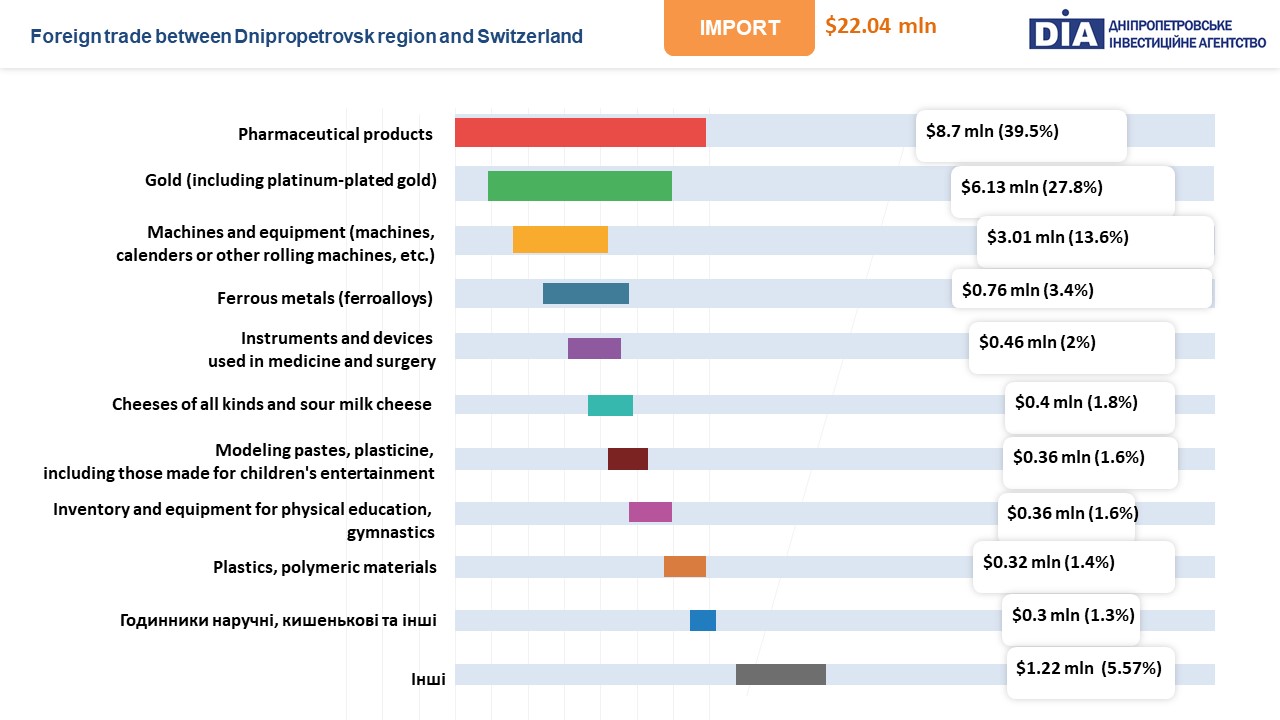 Import operations were carried out by 163 importer enterprises.
TOP-5 importing enterprises (ranking by the volume of imported products):