Dnipropetrovsk region is in the TOP-10 of the international ranking of FDI Intelligence magazine, which is a division of the Financial Times. FDI Intelligence is the world's largest foreign direct investment (FDI) analysis center. fDi Magazine provides intelligence about foreign direct investment trends and flows.
In summer 2019, the Dnipropetrovsk Regional Investment Agency (DIA) of the Dnipropetrovsk Regional Council initiated cooperation with FDI Intelligence to include Dnipropetrovsk region in the ranking "European Cities and Regions of the Future 2020/21", which demonstrates the economic, financial and business potential of cities and regions.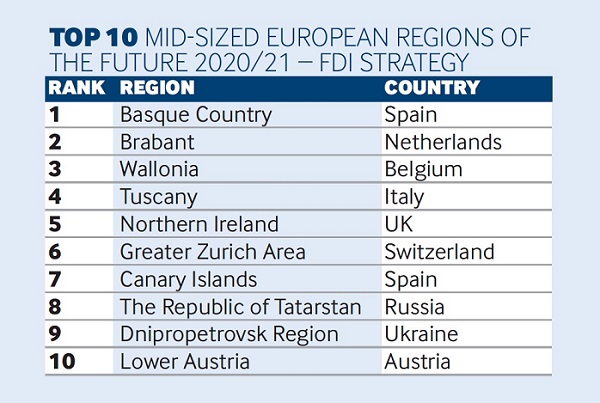 «Dnipropetrovsk region ranked 9 in the category "Mid-Sized European Region of the Future 2020/21 for FDI Strategy". It is a qualitative indicator of the effective activity of the authorities in attracting investment in the region and post-investment support. The key factors of such result are the strategy for attracting FDI and other areas of economic development, preferences for investors, as well as identification of priority sectors of the economy that are rapidly developing and have the potential for investment inflow. These sectors are presented in "Investment Guide 2019". The key to establishing effective cooperation with potential investors is multimedia resources. In DIA functionality it is an investment portal and interactive investment map of the region. Consolidated efforts of DIA and success stories of implemented investment projects in the region have become a guarantee of such a positive result," said Valentina Zatishnyak, Director of DIA.
To create a shortlist for 'fDi's European Cities and Regions of the Future 2020/21, the fDi Intelligence division of the Financial Times collected data using the specialist online FDI tools – fDi Benchmark and fDi Markets. Data was collected for 505 locations (319 cities, 148 regions and 38 LEPs), under five categories:
Economic Potential;
Human Capital and Lifestyle;
Cost Effectiveness;
Connectivity;
Business Friendliness.
In addition, surveys were collected under a sixth category, FDI Strategy, for which there were 161 submissions. In this category, locations submitted details about their strategy for promoting FDI, which was then scored by fDi's judging panel.
You can find out more about the FDI Intelligence ranking by reference.