As of 01.10.2019, the number of foreign investors in the region is 841 companies from 53 countries. Fig.1 shows 15 leading countries by the number of respective companies.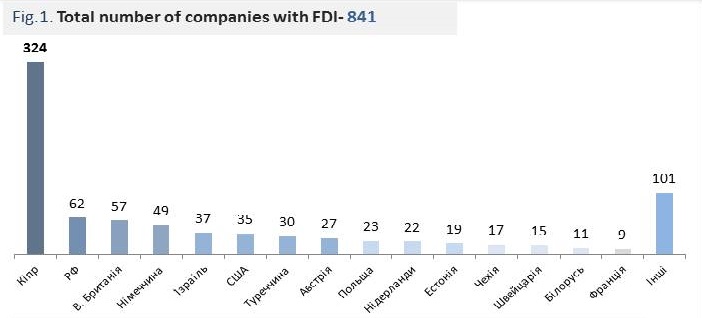 Foreign direct investment in Dnipropetrovsk region at the end of 2018 amounted to $3,6 bln (Fig.2), 80% of which was made by 40 companies.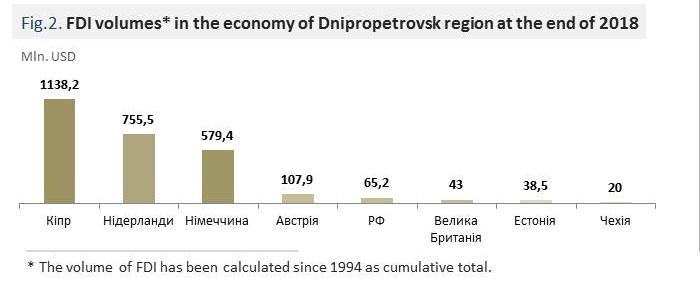 In 2018, foreign direct investment in the region inflowed from 31 companies from 15 countries and made up $ 32.5 mln. 
In 2018, 623 non-resident companies of Ukraine made capital investments into their own production for the amount of $ 1,86 bln (Fig.4), 80% of which were invested by 86 foreign companies from 15 countries of the world (Fig.5). 


The image of Dnipropetrovsk region as a reliable investment partner is confirmed by the activity in the region of reputable and recognizable global companies such as:
MAS Seeds Ukraine
ArcelorMittal Kryvyi Rih
Glas Troesch Dnipropetrovsk
CAPAROL Dnipro
Procter&Gamble Ukraine
HeidelbergCement Ukraine»
Lesaffre group (PJSC « NADYEZHDA »)
Bimbo QSR Ukraine
АGRO КМР
Marzek Etiketten + Packaging
Polaris (LLC «PolStar »)
Linde gaz Ukraine