From the first day of full-scale Russian military aggression against Ukraine, our state has received unprecedented support from the world. This includes economic assistance, military assistance, and humanitarian support from governments and organizations from different countries and continents. Australia is no exception, condemning the actions of the aggressor country for its unprovoked and unjustified attack on Ukraine.
Australia has imposed 476 sanctions, including on many oligarchs close to Putin, as well as on 33 companies, including Russia's banking sector. In addition, Australia has introduced a ban on aluminum exports to Russia, as the aggressor country is 20% dependent on the supply of these products from Australia. By limiting the supply of aluminum, the partner country of Ukraine has put Russian producers in a stalemate, as aluminum is used in the aviation and military industries. Also, Australia imposed a 35% duty on all imports from Belarus and Russia, which essentially made products from these countries uncompetitive in the Australian market. Thus, trade at the bilateral level was reduced to almost zero and any contact with Russia was blocked. The Australian government has been quick to join the full embargo on oil, coal and gas imports. 
Australia supports Ukraine's energy security by providing at least 70,000 tons of thermal coal. These supplies will help preserve coal-fired power plants, which work to meet the needs of industrial enterprises and the needs of the population.
Australia's broad approach in differentiating humanitarian aid to different categories of Ukrainians affected by Russian aggression is quite important. The Australian Government is currently providing $65 mln in emergency humanitarian aid. This contribution will protect women, children, the elderly and the disabled.
The Australian Radiation Protection and Nuclear Safety Authority will deliver 60 pallets of medical supplies, three pallets of radiation monitoring equipment and personal protective equipment to Ukraine.
As part of military aid, the Australian Government has supplied weapons worth more than $285 mln. Already 6 155-mm M-777 howitzers, 40 Bushmaster armored vehicles and 28 M113 armored personnel carriers are working on the front against the occupiers. In addition, the Ukrainian Armed Forces received anti-tank weapons, combat drones and reconnaissance drones. Today, the Australian military in the UK is training the Ukrainian military.
The development of mutually beneficial trade and economic cooperation remains an important priority of the two countries.
Analysis of export and import operations of Dnipropetrovsk region with Australia also shows the growing level of partnership. Compared to 2020, exports of goods from Dnipropetrovsk region increased 7.7 times and imports 12 times.
According to the results of 2021, the volume of exports of goods from Dnipropetrovsk region amounted to $11.07 mln, which was 18.2% of Ukraine's volume to Australia. Among the goods in demand among Australian consumers are ferrous metals and articles thereof, ships, lighting equipment and others.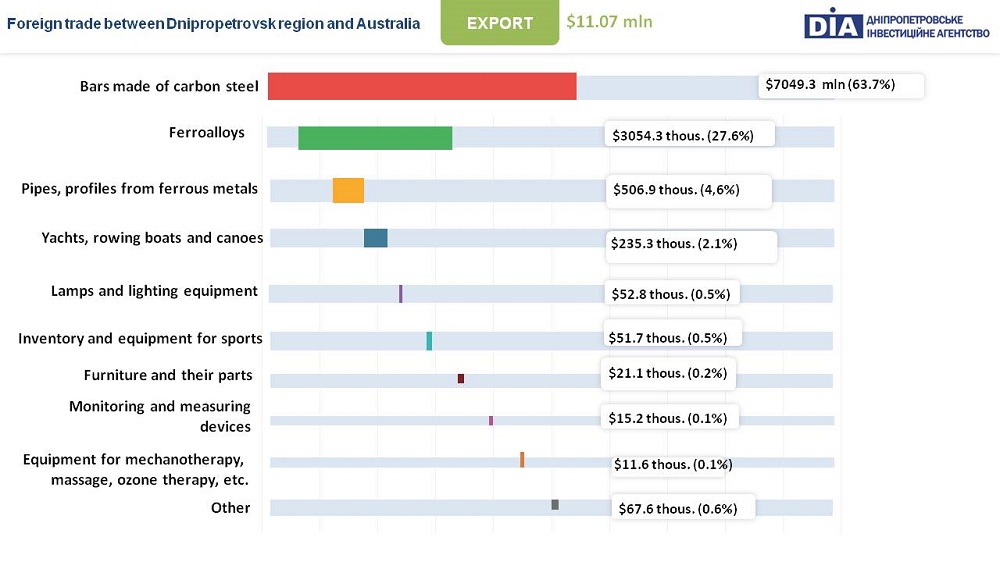 Export operations were carried out by 11 enterprises from Dnipropetrovsk region.
The main exporting companies are enterprises of the metallurgical complex and processing industry.
TOP-5 exporting companies (ranking by volume of export products):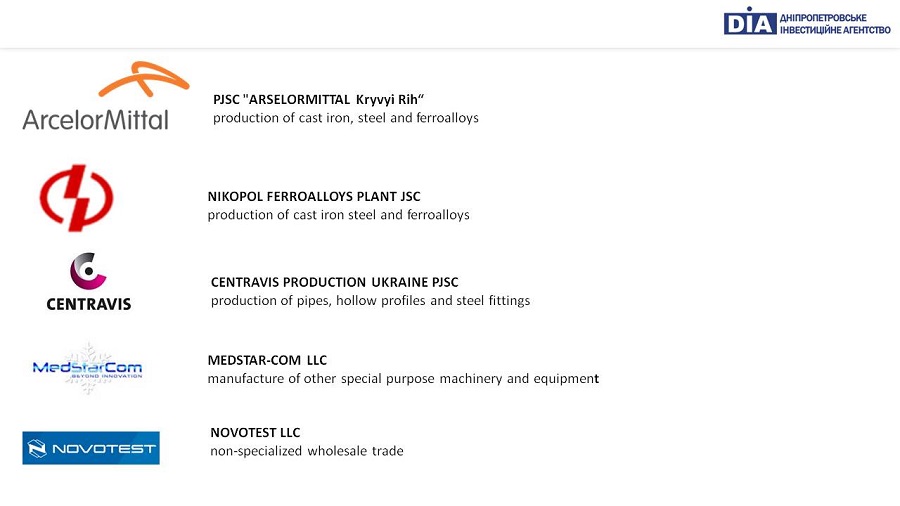 Imports of goods to Dnipropetrovsk region amounted to $63.9 mln (41.4% of Ukraine's imports from Australia). Dnipropetrovsk region mostly bought fuels, minerals, precious metals, pharmaceuticals, alcoholic beverages and more.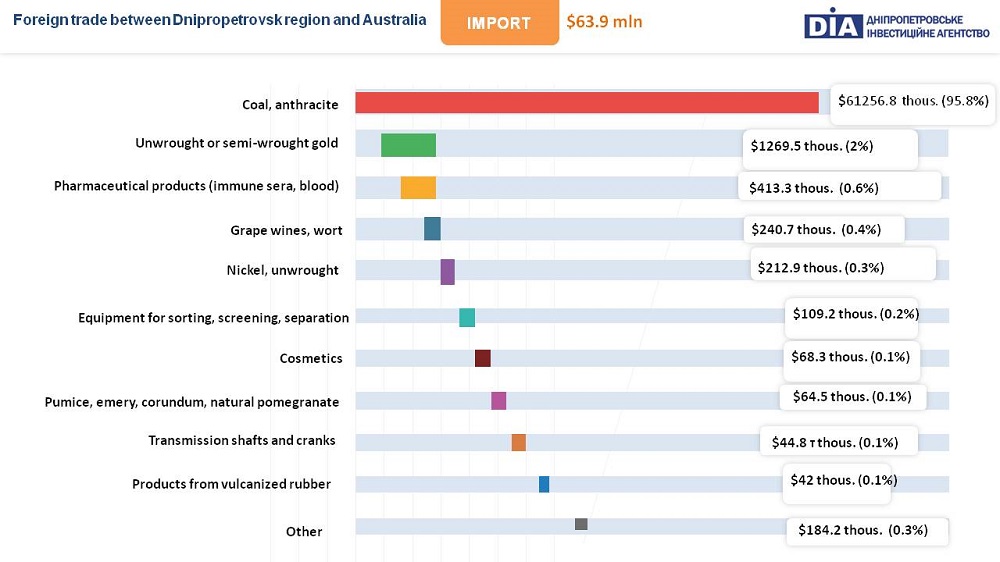 Import operations were carried out by 29 importing companies.
TOP-5 importers' enterprises (ranking by volume of imported products):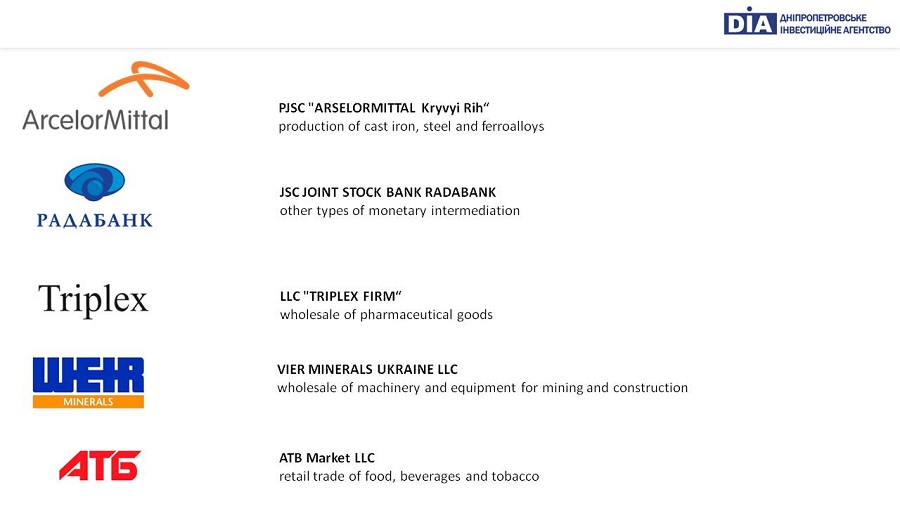 Among the promising areas for export to Australia are metallurgical products, ships, lighting equipment and light industry products.