From the very beginning of the Russian military aggression, Germany has been providing invaluable and very important assistance to Ukraine – defense, political, humanitarian and financial. German President Frank-Walter Steinmeier, who visited Kyiv in October on an official visit, said that Ukraine can count on the comprehensive support of the German authorities. On the third day of the full-scale invasion of Russia, Ukraine received more than 20 tons of humanitarian aid from Germany. In March, the German Ministry of Finance allocated €38.5 million to Ukraine to avoid a humanitarian disaster.
German Chancellor Olaf Scholz condemned Russia's attack on Ukraine in the strongest possible terms. "This is a clear violation of international law and is not justified in any way. Russia must immediately stop this military action," the German Chancellor demanded.
Germany is strengthening sanctions against the Kremlin regime and intends to help bring those guilty of war crimes in Ukraine to justice. The German federal government has declared 40 Russian diplomats persona non grata, following the emergence of information about crimes committed by the Russian military against the civilian population in Bucha and other towns and villages under occupation.
The majority of German residents favor the continuation of sanctions against the Russian Federation, even in spite of rising energy and food prices.
In order to restore the Ukrainian energy system, the Federal Ministry of Foreign Affairs of Germany will provide immediate emergency assistance in the amount of €1 million, which will be deposited into the Energy Support Fund of Ukraine, in response to repeated Russian attacks on Ukraine's energy infrastructure.
In such difficult times for Ukraine, the help of Germany is colossal and very tangible. The country received the largest number of refugees from Ukraine. Only officially, the German authorities recorded the arrival of more than 980 thousand people, where all comfortable conditions were created for them. In addition, numerous charitable organizations have been established in Germany. One of them is the Ukrainischer Hilfsstab. It is an association of the Ukrainian community in the north of Germany, which operates in the field of information work, humanitarian aid, collection of funds and things, organization of demonstrations, reception of refugees and medical aid.
The German government has allocated an additional €1 billion from its budget for 2023 to support Ukraine – the funds will be used to protect against Russian cyberattacks and collect evidence of Russian war crimes.
The Federal Agency for Technical Assistance (THW), with the financial support of the German Ministry of Foreign Affairs, provided assistance for Ukrainian rescuers: 14 generators of various capacities for the units of the State Emergency Service in the Donetsk, Kyiv, Luhansk, Chernihiv and Cherkasy regions.
13 communities in Ukraine received filters for cleaning fresh water from rivers and lakes, wells and water pipes. In total, 23 communities will receive 50 mobile filtering systems. The project is carried out by the German Society for International Cooperation with the financial support of the EU Representation in Ukraine and the German government.
As part of the interregional partnership and with the assistance of Lower Silesia (Poland), Dnipropetrovsk Region received help this year from the German regions of Brandenburg and Saxony, which donated tents, heaters and lighting kits for tents, beds, pillows, blankets, towels, bed linen, thermoses, folding benches and tables, medicines (analgesics, medicines for colds, asthma, thyroid gland, stomach, nervous system), antiseptics, dressing materials and kits for treating the wounded.
In order to provide military support to Ukraine, from February 24, 2022, under the auspices of the Norddeutschen Hilfsstabs, a group was formed for the continuous supply of necessary military equipment to the Ukrainian military – high-tech equipment and means of communication: radio stations, quadcopters, thermal imaging devices and night vision devices. To date, about 10,000 pieces of equipment have been purchased and promptly distributed among 500 Ukrainian units and individual soldiers, including helmets, protective vests, laptops, thermal imagers, walkie-talkies, uniforms, shoes, knee and elbow pads, sleeping bags, etc. in the amount of almost €1 million.
Germany is the third-largest military donor to Ukraine. The country provided significant military aid to our state: 3,000 Panzerfaust 3 cartridges; 14,900 anti-tank mines; 500 STINGER and 2,700 STRELA missiles; 16 million cartridges for small arms; 100 MG 3 machine guns with 500 spare barrels and shutters; 100,000 hand grenades; 350 thousand detonators; 23 thousand combat helmets; 178 cars (trucks, minibuses, SUVs); 100 tents; 12 generators, etc., including medical supplies and fuel. 30 Dingo armored vehicles, missiles for IRIS-T SLM anti-aircraft systems, 18 sensors and generators of radio-electronic jamming to combat UAVs, 18 reconnaissance UAVs, 5 heavy-duty semi-trailer trucks and other machinery and equipment.
The IRIS-T air defense system, which Ukraine received from Germany, is already in use in the southern direction. By the end of the year, Ukraine will receive three more such complexes.
Also, the Armed Forces received additional assistance from German partners: 350,000 food kits, 50 medical vehicles and medicines.
Among the aid planned from Germany is €7.6 million for the search for Ukrainians who disappeared as a result of the full-scale invasion of Ukraine by Russian troops, and will also help train Ukrainian forensic experts and investigators.
German Chancellor Olaf Scholz said that the best way to restore the world economy is to end the war in Ukraine. He said this during a speech at the G20 summit in Indonesia on November 15.
The analysis of export and import transactions between Dnipropetrovsk region and Germany also demonstrates a high level of partnership relations, because the specified state is one of the key investment and trade partners of the region. Germany ranks 3rd among importers from Dnipropetrovsk region and 8th among exporters to EU countries. There are 50 companies with German investments operating in the region, which have invested $741.5 million in the region's economy.
According to the results of 2021, the volume of exports of goods from Dnipropetrovsk region increased by 25.6% ($213.4 million), which was 7.4% of the volume of Ukraine to Germany. Among the goods that have the greatest demand among German consumers are ferrous metals and ferrous metal products, iron ores and concentrates, furniture, parts for railway locomotives, etc.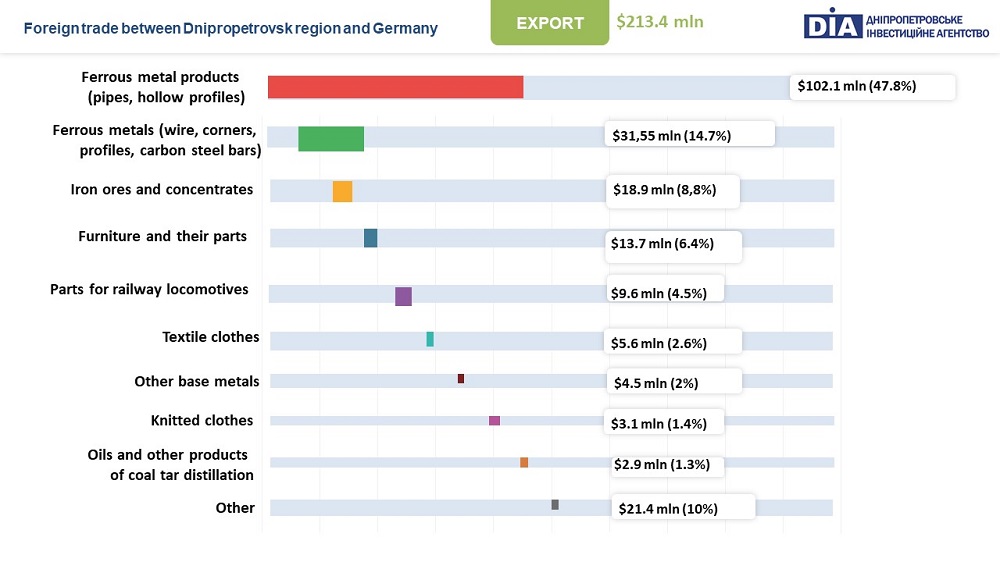 Export operations were carried out by 201 enterprises from Dnipropetrovsk region.
The main exporting companies are enterprises of the mining and metallurgical complex and the processing industry.
TOP-5 exporting enterprises (ranking by volume of export products):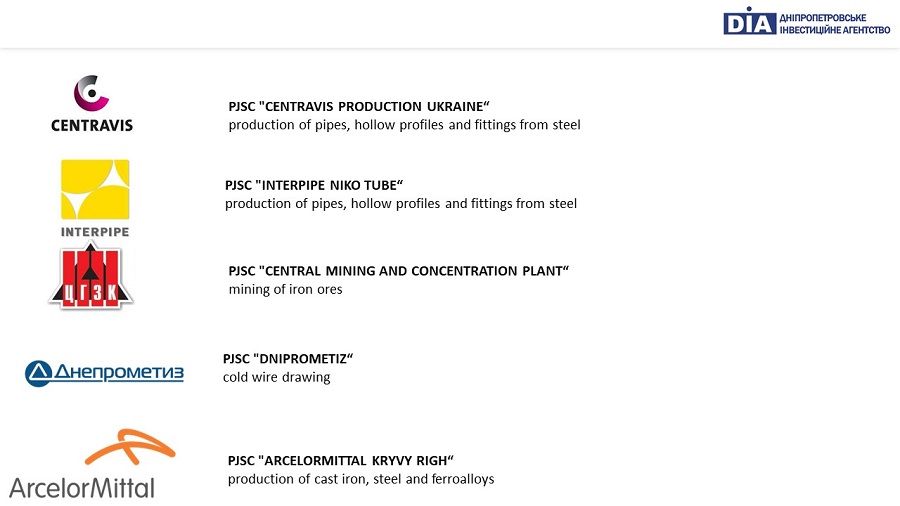 The import of goods from Germany to Dnipropetrovsk region amounted to $402.3 million (6.4% of Ukraine's imports from Germany) and increased by 21.4% compared to 2020. Dnipropetrovsk Region mainly produces medicines, machines, equipment, means of land transport, plastics, polymers, paper and cardboard, and others.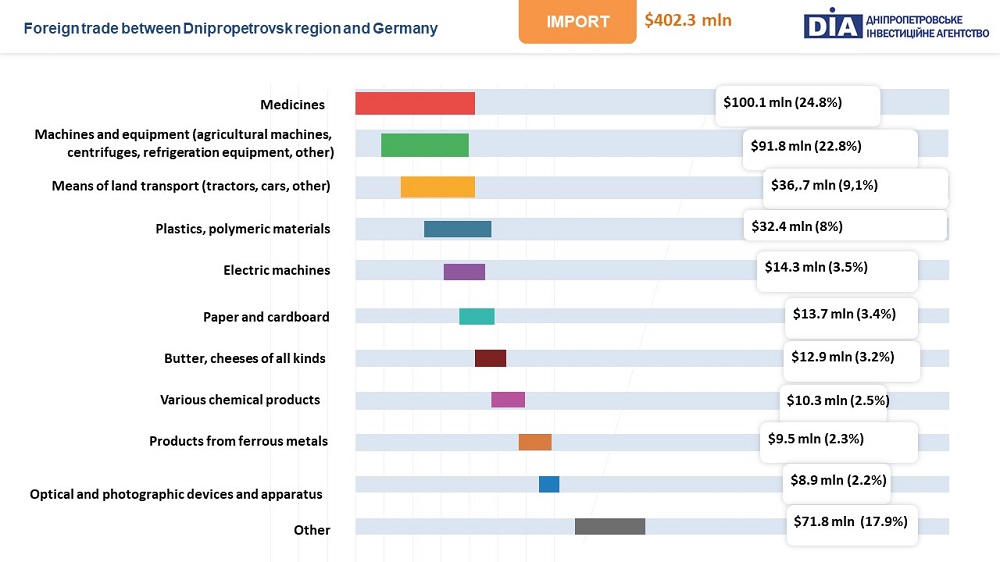 Import operations were carried out by 777 importer enterprises.
TOP-5 enterprises of importers (ranking by volume of imported products):