The Israel government is trying to maintain neutrality in the war between Ukraine and Russia, citing close ties with both countries. At the same time, they verbally support Ukraine, admiring its victories at the front against the army, which is many times superior in numbers.
Israel has been providing comprehensive aid to Ukraine since the first days of the full-scale invasion, and Israelis overwhelmingly support Ukraine. In March of this year, the National Emergency Medical Service of Israel handed over four armored ambulances to Ukraine. They are used to evacuate the wounded from the most dangerous areas.
Israel provided Ukraine with personal protective equipment and protective equipment for Ukrainian rescue and emergency services. This will become an important part of Israel's efforts to provide humanitarian aid to Ukraine.
Mobile brigades of Israeli doctors continue to help in the points most affected by the atrocities of the Russian army, in particular in Buch, Borodyanka and small settlements.
Psychologists from various services in Kyiv were trained in Israel under the Israel Trauma Coalition program. This program is designed specifically to work with veterans and war victims. The training was made possible thanks to the assistance of the Embassy of Israel in Ukraine and the MASHAV agency.
The volunteer refugee assistance center in Haifa provided support to more than a thousand Ukrainian families. The main goal of the center is to support Ukrainian refugees and provide humanitarian aid, food, clothing and other basic items. The volunteer center also helps Ukrainians adapt to Israel.
With the beginning of Russia's full-scale war against Ukraine, about 13,000 people came to Israel. Employment and basic social insurance are available for Ukrainian refugees.
In August, the Embassy of Israel in Ukraine handed over 50,000 packages of ready meals with heating elements to the Armed Forces of Ukraine. Israel opened a humanitarian airlift to help Ukraine. Six planes delivered medicine, medical equipment and food for Ukraine.
In addition, Israel created a field hospital near the Ukrainian-Polish border for adult and small migrants and local residents. At the same time, 60 patients can be here, who will be provided with various medical care.
20 Ukrainian servicemen who were seriously injured during hostilities with the Russian invaders will undergo a course of treatment in medical institutions of the Middle Eastern country. Treatment of the wounded includes prosthetics and rehabilitation.
To combat Iranian drones, Ukraine received Israeli anti-UAV devices. In this way, Israel demonstrates a change in its position, because in May Israel rejected the request of the United States to allow Berlin to supply Ukraine with anti-tank missiles produced in Germany using Israeli technology and license. Ukraine receives Israeli military equipment through Poland. Currently, the Government and the Ministry of Defense of Israel do not block the supply of the mentioned equipment to Ukraine.
The development of mutually beneficial trade and economic cooperation also remains an important priority of the two countries.
The analysis of export and import operations of Dnipropetrovsk region with Israel demonstrates a high level of partnership relations, because the specified state is an important trade and investment partner of the region. There are 59 Israeli companies operating in the region, which have invested $6 million in the region's economy.
According to the results of 2021, the volume of export of goods from Dnipropetrovsk region increased by 56.6% ($106.09 million), which accounted for 14.5% of the volume of Ukraine to Israel. Among the goods that have the greatest demand among Israeli consumers are ferrous metals and their products, grain crops, tannery extracts, etc.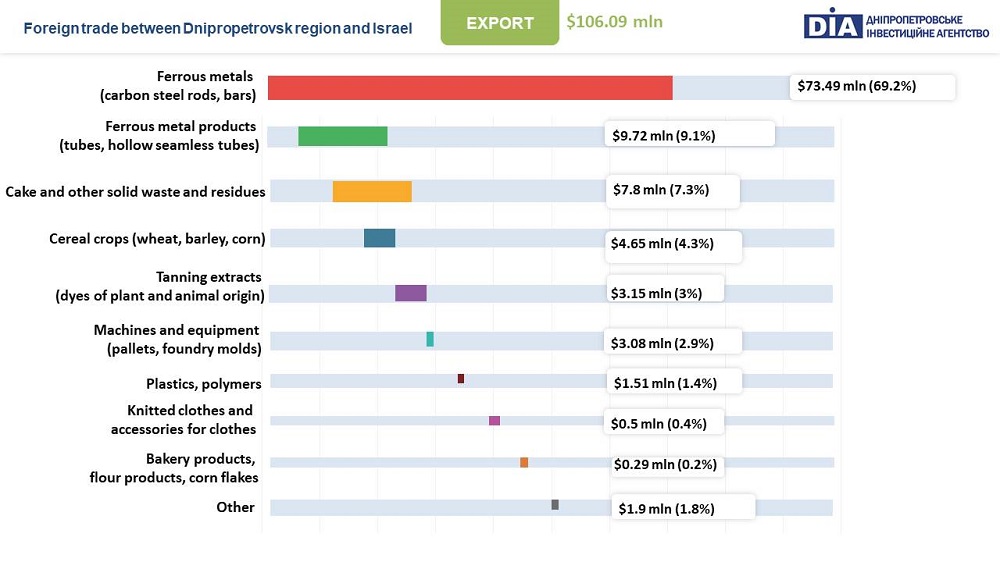 Export operations were carried out by 73 enterprises from Dnipropetrovsk region.
The main exporting companies are enterprises of the metallurgical complex, agro-industrial complex and processing industry.
TOP-5 exporting enterprises (ranking by volume of exported products):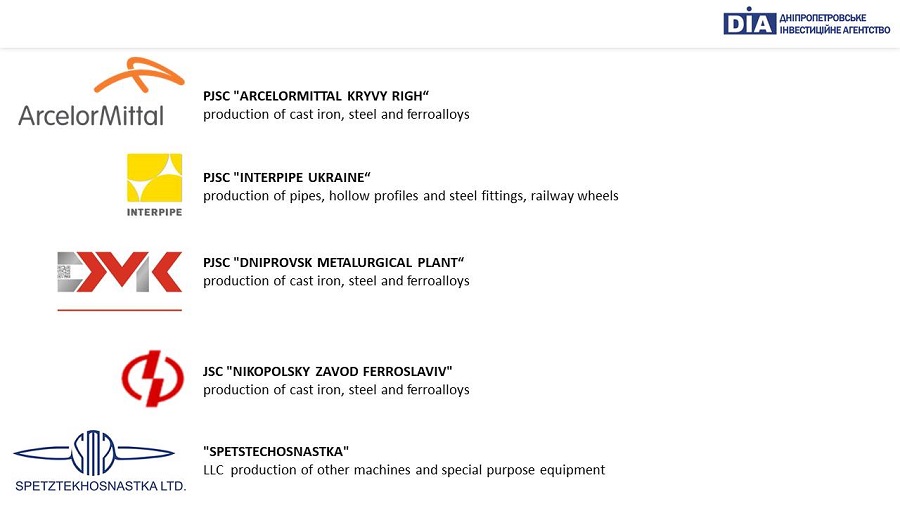 The import of goods from Israel to Dnipropetrovsk region amounted to $7.83 million (3.5% of Ukraine's imports from Israel) and increased by 2 times compared to 2020. Dnipropetrovsk region traditionally bought inorganic chemical products, tools, knife products, oil and products of its distillation, plastics and polymers, edible fruits and nuts, etc.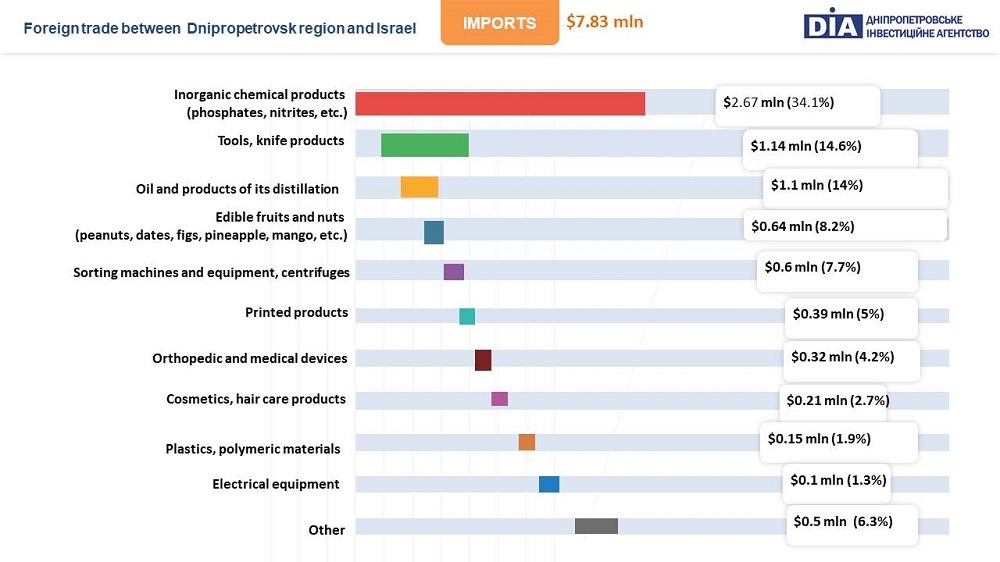 Import operations were carried out by 76 importer enterprises.
TOP-5 enterprises of importers (ranking by volume of imported products):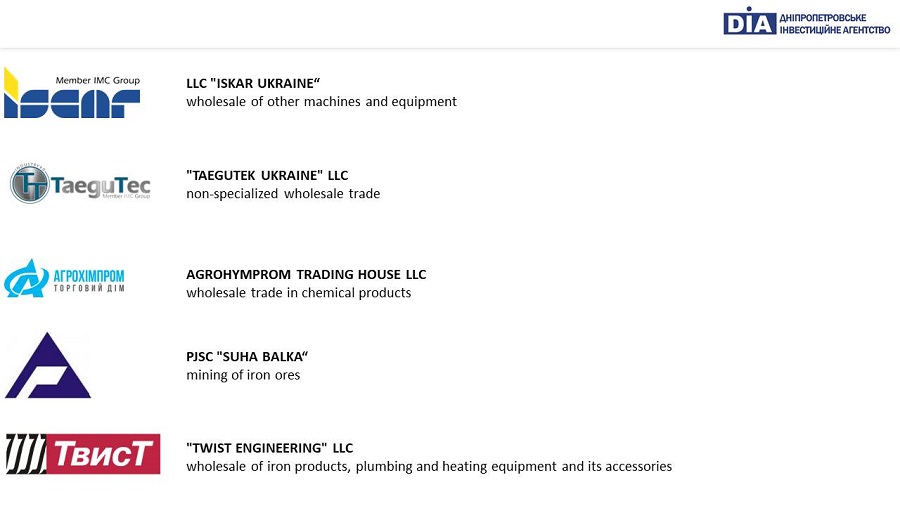 Among the promising directions for export to Israel are products of the metallurgical complex, organic products of the agricultural sector, and goods of light industry made of natural materials.