Latvia together with other Baltic states has been and remains a reliable partner of Ukraine. In support of our state Latvia transfers a significant part of its own weapons and military assets, urgent humanitarian aid.
In the capital of Latvia, Riga and other cities, Ukrainian flags are flying, Ukrainian national symbols can be seen everywhere and events in support of Ukraine are being held, the largest of which took place on March 5. About 30 thousand citizens and guests of the capital of Latvia took part in the procession in support of our state.
In April, the Latvian Saeima adopted a statement on Russian aggression and war crimes, recognizing the Russian military aggression against Ukraine as genocide. In the statement, the Foreign Affairs Commission of the Latvian Saeima drew attention to numerous testimonies and evidence of brutal mass crimes of the Russian army against civilians in Ukraine. In order to form a relevant evidence base, Latvia formed a Joint Investigation Group to investigate Russian war crimes in Ukraine, which involves representatives of the State Security Service, State Police, Prosecutor-General's Office and State Border Service. In addition, Latvia has banned all Russian TV channels on its territory until the end of the war and the return of Crimea to Ukraine.
Latvia has created an effective infrastructure to help 32,000 Ukrainians who have found shelter in this country because of Russian military aggression in Ukraine. To support Ukrainian refugees Latvia allocated €7.87 million for 2022 and €964.9 thousand for 2023. Most of the funds, about €5.76 million, of this amount is intended to provide refugees with housing.
The Latvian government has sent to Ukraine 30 trucks of humanitarian aid with personal protective equipment, medical equipment and medicines, ammunition and dry rations. Latvians also collected more than €1.5 million for Ukraine and purchased 500 tons of diesel fuel for the Armed Forces of Ukraine.
Significant assistance to Ukraine is provided by the Ukrainian diaspora. In particular, the Confederation of Ukrainian Organizations of Latvia "Viche" organized the shipment of two trucks with humanitarian aid to Ukraine, including military uniforms, thermal imagers, radios, long-term storage food, baby food, pet food, and more.
In May Kryvyi Rih received humanitarian aid from Latvia. The city received 20 tons of cargo containing cereals, sugar, flour, canned goods, nuts, raisins.
"Thanks to the support and well-coordinated cooperation of international partners with the Dnipropetrovsk regional council, we have the opportunity to support people in difficult moments and effectively address the issues of providing displaced people with food. Groceries for internally displaced persons will be handed over by deputies of the regional council. Now our armed forces are holding the front. We must hold the rear. I am grateful to my friends for their caring and willingness to help our people! By our joint efforts and good deeds we are bringing the Victory of Ukraine closer!", – said the chairman of Dnipropetrovsk regional council Mykola Lukashuk.
Latvia is among the European leaders in military assistance, which has already reached one-third of the country's military budget – €250 million. The national armed forces of the Latvian Republic have transferred seven vehicles to the Ukrainian Armed Forces to strengthen their military and medical support capabilities. Latvia handed over to Ukraine Stinger man-portable air defence systems with surface-to-air missiles.
The Latvian government decided to allocate 45,000 euros for the implementation of a rehabilitation programme in Latvia for Ukrainian servicemen wounded during Russia's aggression against Ukraine.
Moreover, Ukraine and Latvia are working on an agreement to confiscate russian state property abroad. According to officials, this will help quickly involve many other countries that hold Russian funds and are still hesitant to decide whether to confiscate them in favor of victims of the Russian war.
The development of mutually beneficial trade and economic cooperation remains an important priority for the two countries.
The analysis of export and import transactions of Dnipropetrovsk region with Latvia demonstrates a high level of partnership, because the state is an important trade and investment partner of the region. There are 9 Latvian companies operating in the region, which have invested $5,3 mln in the economy of the region.
According to the results of 2021, the volume of exports from Dnipropetrovsk region increased by 30.7% ($1.2 million), which amounted to 4.6% of Ukraine's volume to Latvia. Among the goods that are in greatest demand among Latvian consumers are ferrous metals and their products, parts of railway locomotives, furniture, etc.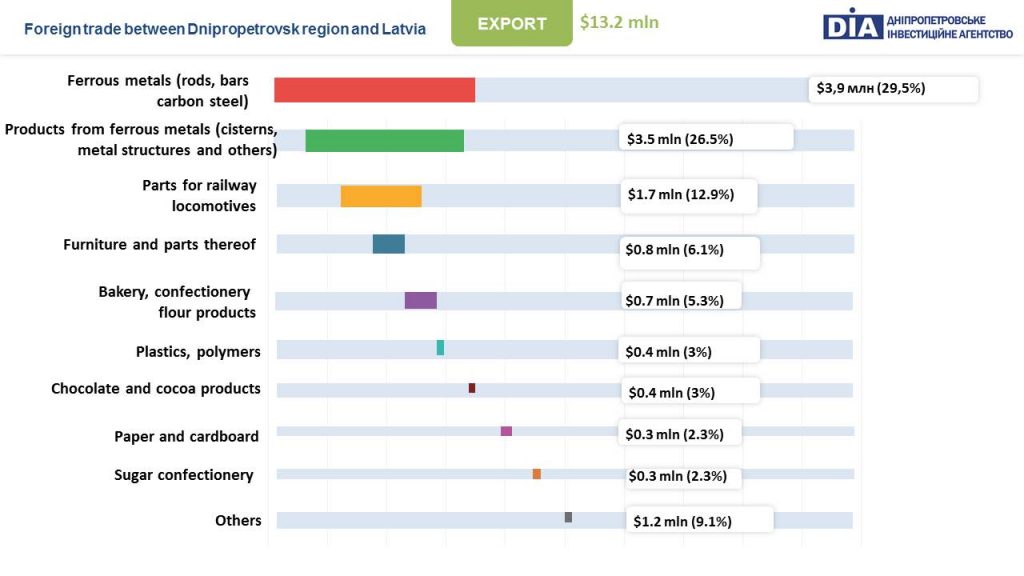 Export operations were carried out by 96 companies from Dnipropetrovsk region.
The main exporting companies are enterprises of metallurgical complex, agro-industrial complex and processing industry.
TOP-5 exporters (ranking by the volume of exported products):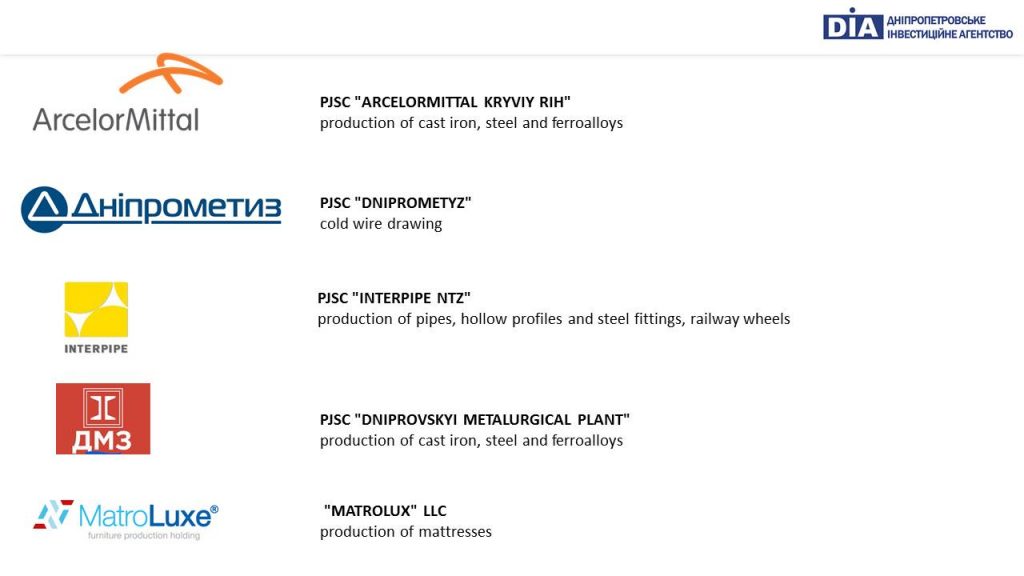 Imports of goods from Latvia to the Dnipropetrovsk region amounted to $41.1 million (19.2% of Ukraine's imports from Latvia) and increased by 7.3% compared to 2020.
Dnipropetrovsk region traditionally bought:
medicines;
plastics, polymer products;
prepared and frozen fish;
coffee, tea;
others.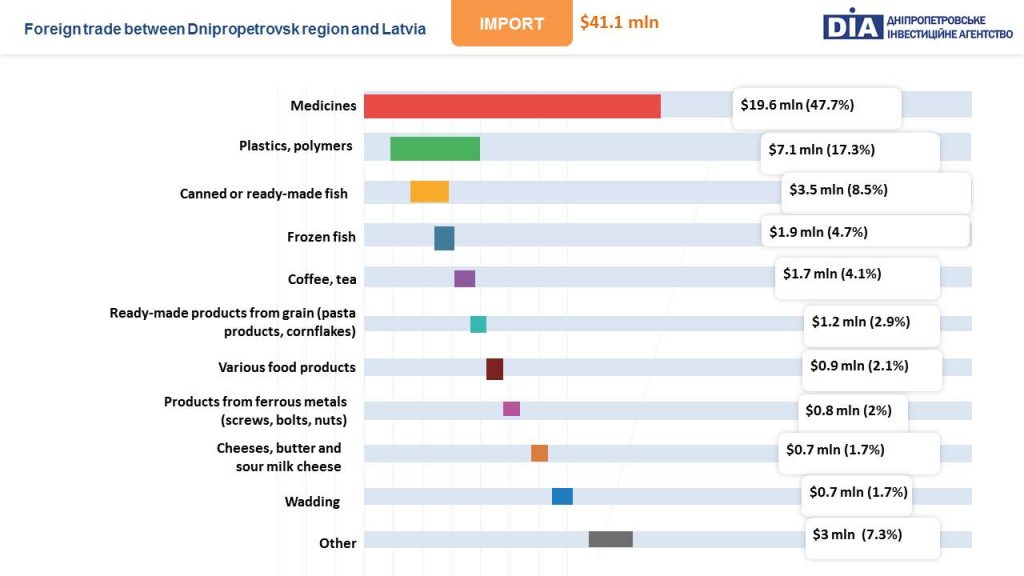 Import operations were carried out by 61 importer enterprises.
TOP-5 importers (ranking by the volume of imported products):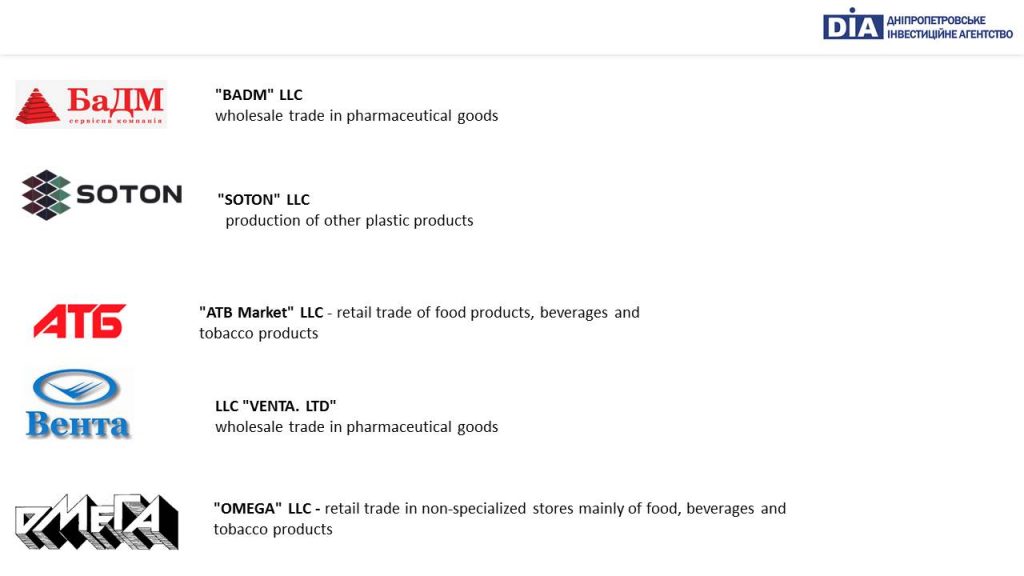 Among the perspective areas for export to Latvia are products of the metallurgical complex, equipment for railway locomotives, furniture, organic products of the agricultural sector and light industry goods made of natural materials.