The full-scale attack of the aggressor country demonstrated to Ukraine not only the support of most Western countries, but also Russia's efforts to influence the countries of Africa, Asia, and Latin America. More than 20 African states, including the Kingdom of Morocco, took a neutral position, avoiding criticism of Russia's actions and open support for the integrity of Ukraine at the UN.
For example, during the vote at the UN General Assembly last March and this year for a resolution "condemning Russian aggression in Ukraine," Morocco abstained from voting. But later, during the voting of the resolution on October 12, Morocco joined the group of countries that openly supported the Ukrainian territorial integrity and non-recognition of the pseudo-referendums.
Following Morocco's declaration of "respect for the territorial integrity, sovereignty and national unity of all UN member states," the kingdom participated in a Ramstein meeting of over 50 Ukrainian allies to discuss increased military aid to the Ukrainian government.
Morocco is now taking a more confident position in Russia's war against Ukraine. The people and authorities of Morocco support the Ukrainian people. The Kingdom will send Ukraine spare parts for T-72B tanks and will become the first African country to join military assistance to the AFU. Morocco now has some 40 T-72B tanks in service with the Royal Moroccan Armed Forces received from Belarus, 54 Chinese MBT-2000 tanks, and some 350 obsolete M60A1/M60A3 tanks.
The development of mutually beneficial trade and economic cooperation remains an important priority of the two countries. Morocco is one of the 5 largest trade partners of Ukraine in Africa (after Egypt, Algeria, Tunisia and Libya).
Significant opportunities for industrial cooperation exist in the modernization of port infrastructure, construction and repair of ships, particularly fishing boats, as well as training in these industries; large-knot assembly of buses and agricultural machinery in Morocco. Morocco is interested in exchanging experience in the development of agricultural areas.
In 2021 the volume of trade in goods amounted to $607.283 million, including: Ukrainian exports to Morocco amounted to $482.764 million (+24% compared to the previous period), imports of Moroccan goods to Ukraine – $124.519 million (+35% compared to the previous period).
The main products of Ukrainian exports are: cereals (55%), cars (17.9%), the remains and waste of the food industry (11.7%), ferroalloys and rolled steel (9.5), plastics (4.4%), tobacco (3.8%).
The main imports from Morocco are fertilizers (47.7%), textile clothing (8.8%), electrical machinery (5.4%), knitwear (4.3%), fish and seafood (3.7%).
The analysis of export and import operations of Dnipropetrovsk region with Morocco also demonstrates a growing level of partnership relations, because this state is an important trade partner of the region.
According to the results in 2021, the volume of exports from Dnipropetrovsk region increased 3.5 times and amounted to $40.29 million (8.3% of the volume of Ukraine in Morocco). The goods that are in greatest demand among Moroccan consumers are ferrous metals and ferrous metal products, agro-industrial products and other.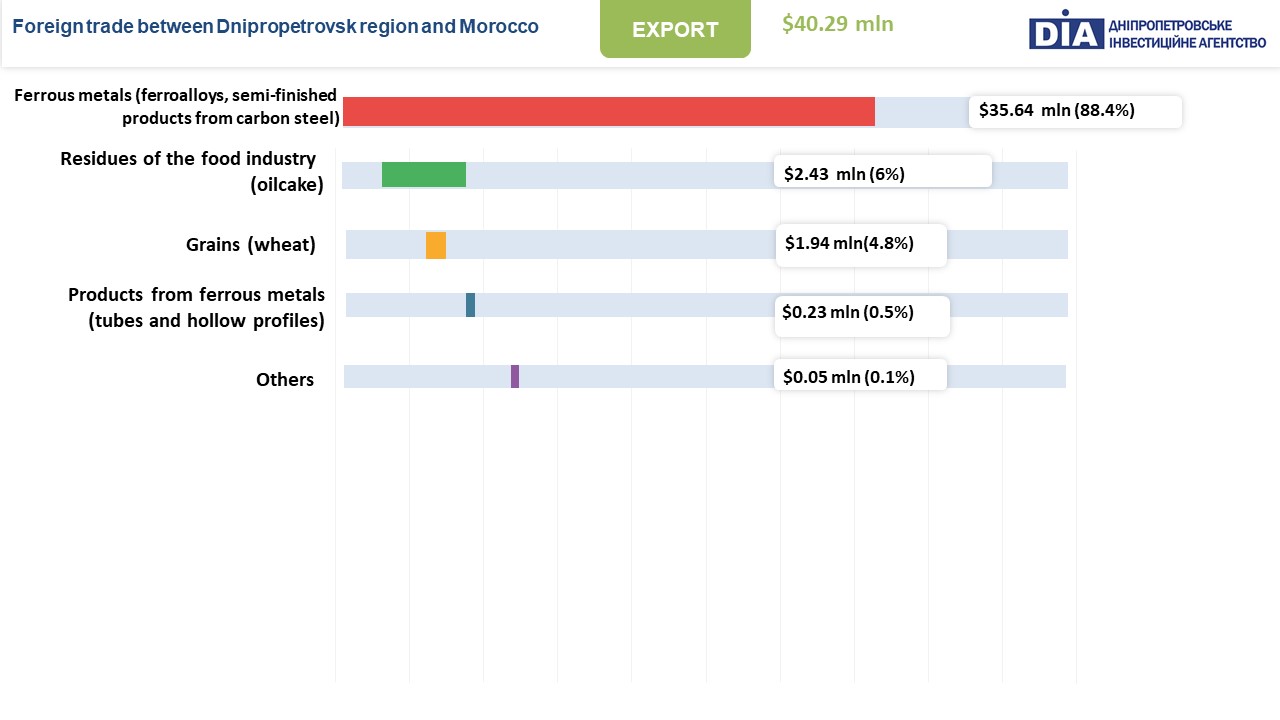 Export operations were carried out by 16 companies from Dnipropetrovsk region.
The main exporting companies are enterprises of the metallurgical complex, agro-industrial complex and processing industry.
TOP-5 exporting companies (ranking by volume of export products):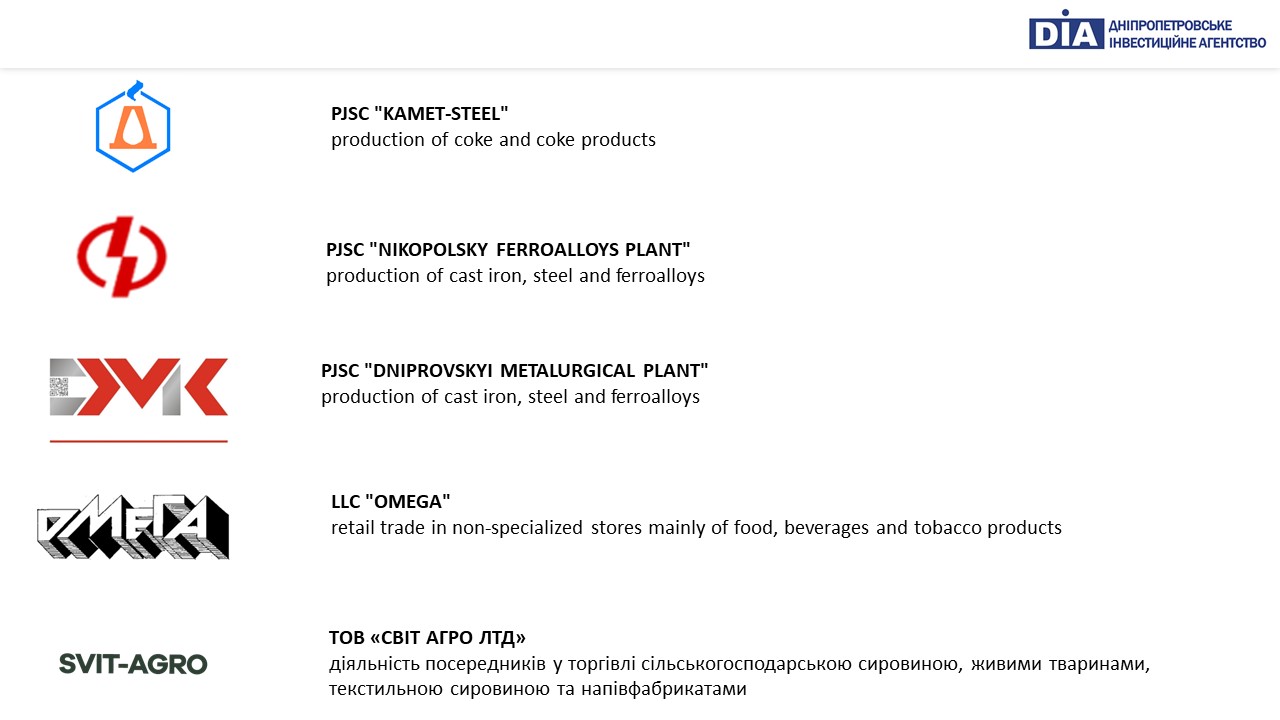 Imports of goods from Morocco to Dnipropetrovsk region amounted to $0.07 million (0.06% of Ukraine's imports from Morocco) and decreased by 41.6% compared to 2020. Dnipropetrovsk region bought more machines and mechanisms, electrical machinery, light industry products and other.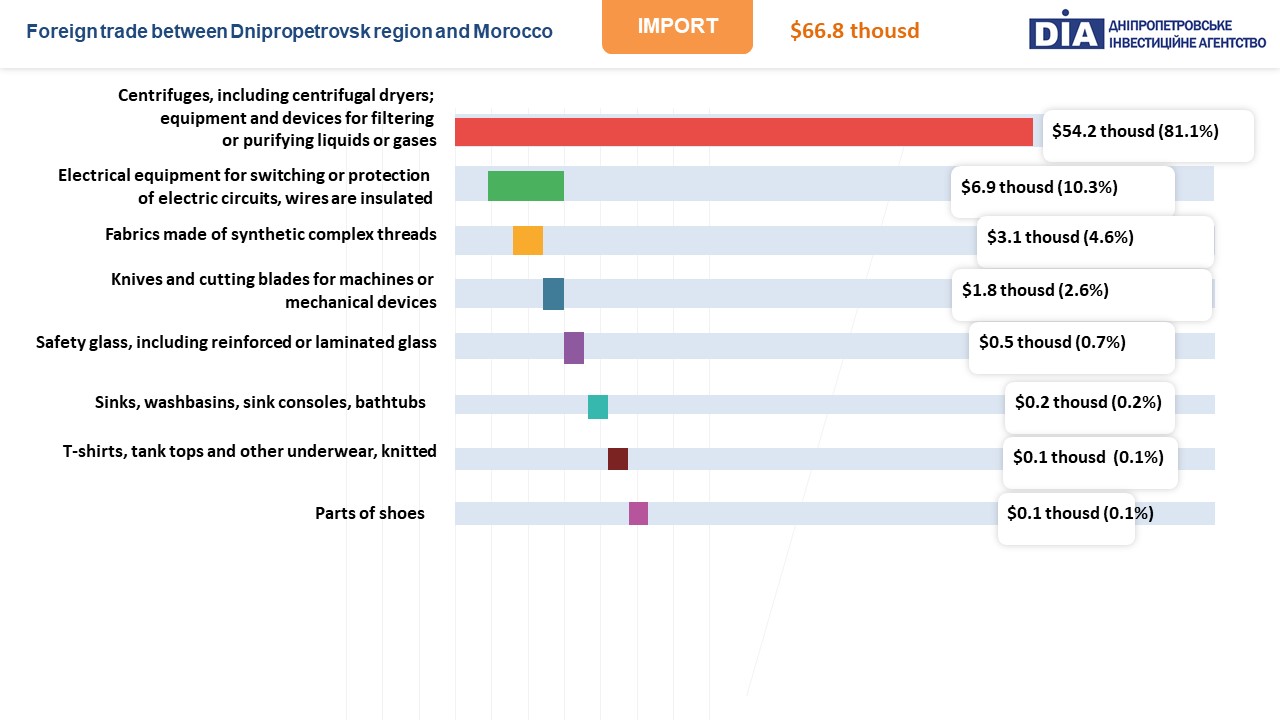 Import operations were carried out by 21 importer enterprises.
TOP-5 importer enterprises (ranking by the volume of imported products):