Since the first days of the war, the Slovak Republic has provided invaluable military, economic and humanitarian aid to Ukraine. Due to the Kremlin's military aggression against Ukraine, Slovakia reduced the staff of the Russian embassy and expelled 35 Russian diplomats and three employees of the Russian embassy from the country.
On the way to European integration of Ukraine, Slovakia consistently supports our country, including during discussions within the EU Council regarding the need to quickly grant Ukraine the status of a candidate for EU membership.
Slovakia, together with Ukraine, Poland, Lithuania, Latvia, Romania, Estonia and Hungary launched a new format of cooperation between countries – the "Kyiv Initiative". The new format is considered as a platform for discussing common security challenges for the region of Central and Eastern Europe in the context of Russian aggression against Ukraine.
The President of Slovakia, Zuzana Chaputova, visited Ukraine and visited Irpin and Borodyanka, which were destroyed by Russian troops. "In Borodyanka and Irpen, I saw with my own eyes the traces of devastation brought to Ukraine by Russian soldiers. I believe that when this horror ends, Ukraine will blossom again. How today flowers bloomed among the destroyed houses in Borodyanka or Irpen," Chaputova noted.
International experts, including two investigative teams from Slovakia, are working in the Kyiv region, documenting war crimes committed by the Russian occupation army.
Doctors from the Slovak Humanitarian Medical Organization "STEP-IN" arrived in Ukraine to support and strengthen the team of Ukrainian specialists. They work in mobile brigades, which will provide medical humanitarian aid to forcibly displaced persons from different settlements of Ukraine for 6 months. Representatives of the international organization "STEP-IN" help Ukrainian doctors to be better prepared for emergency situations, especially during war.
Since February 24, about 400,000 Ukrainian refugees have arrived in Slovakia. This is a huge number for Slovakia with a population of 5 million people. Today, 70,000 Ukrainian refugees remain in Slovakia, they have been granted asylum and provided with decent conditions. Charitable funds, collection points for humanitarian aid, websites where victims can ask for support have been opened in the country.
Slovak non-governmental public organizations transported more than 700 tons of humanitarian aid to Ukraine, which amounted to €1.5 million and included necessary food, medical goods and medicines, and hygiene items.
The Prime Minister of Slovakia, Eduard Heger, called for the permanent abolition of the import duty on all Ukrainian exports to the countries of the European Union. This step is designed to help increase Ukraine's exports to the EU and ease the plight of Ukrainian manufacturers and exporters in the face of Russia's military invasion.
The Government of Slovakia has approved a proposal for the free transfer of military materials worth more than €2 million to Ukraine. In particular, it is about 10 million liters of diesel fuel, 2.4 million liters of aviation gasoline and 12,000 120 mm ammunition. Slovakia has already provided aid to Ukraine in the amount of more than €10 million.
The Slovak Republic also handed over to Ukraine four Mi-17 helicopters and one Mi-2 helicopter, a S-300 air defense division, as well as ammunition for the Grad rocket launcher system, 8 Zuzana 2 self-propelled howitzers. Most importantly, Ukrainian military equipment will be repaired and modernized in Slovakia.
In addition, Slovakia will hand over 30 combat vehicles to Ukraine. President Zuzana Chaputova announced this during her speech at the second summit of the Crimean Platform. "We will not stop. We will continue to provide aid, including military aid, 30 combat vehicles," she said.
The analysis of export and import operations of the Dnipropetrovsk region with Slovakia also demonstrates a high level of partnership relations, because the mentioned state is one of the key trade partners of the region. Slovakia ranks 4th among exporters from the Dnipropetrovsk region among EU countries.
According to the results of 2021, the volume of exports of goods from the Dnipropetrovsk region increased by 3.8 times ($421.4 million), which accounted for 42.2% of the volume of Ukraine to Slovakia. Among the goods that are in demand by Slovak consumers are iron ores and concentrates, parts for railway locomotives, ferrous metals and ferrous metal products, etc.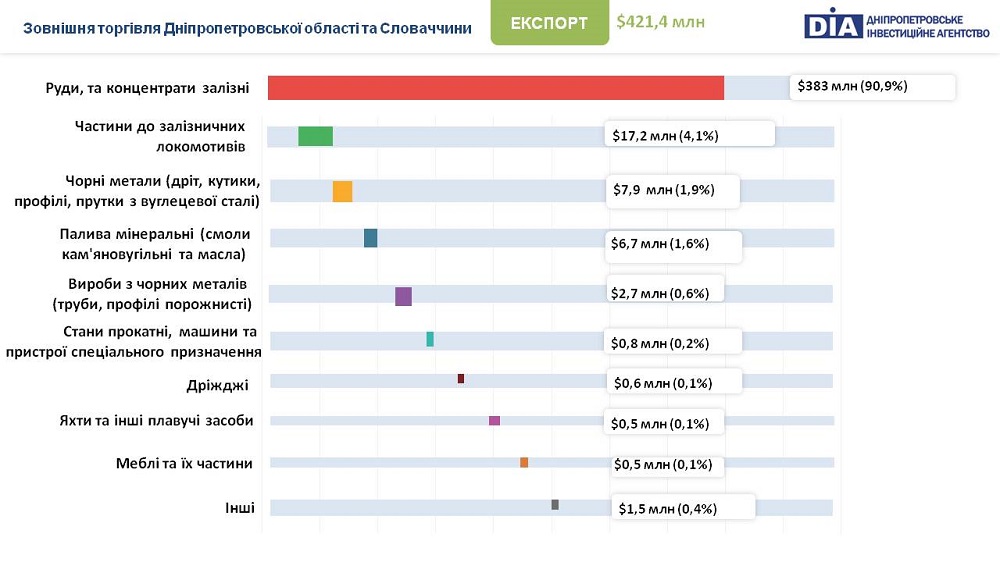 Export operations were carried out by 57 enterprises from the Dnipropetrovsk region.
The main exporting companies are enterprises of the mining and metallurgical complex and the processing industry.
TOP-5 exporting enterprises (ranking by volume of export products):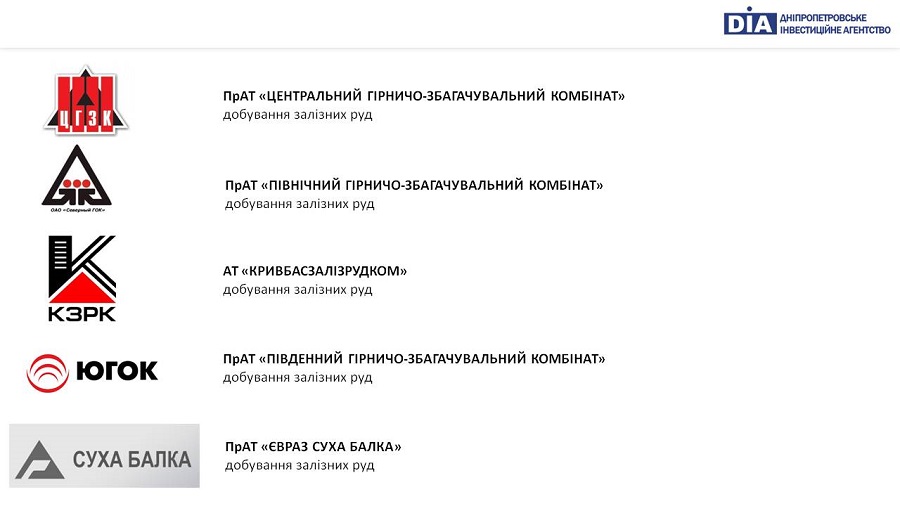 The import of goods from Slovakia to the Dnipropetrovsk region amounted to $44.5 million (4.8% of Ukraine's imports from Slovakia) and increased by 6.2% compared to 2020. Dnipropetrovsk region bought the most rubber, rubber, machines, equipment, plastics, polymers, ferrous metals, medicines and other things.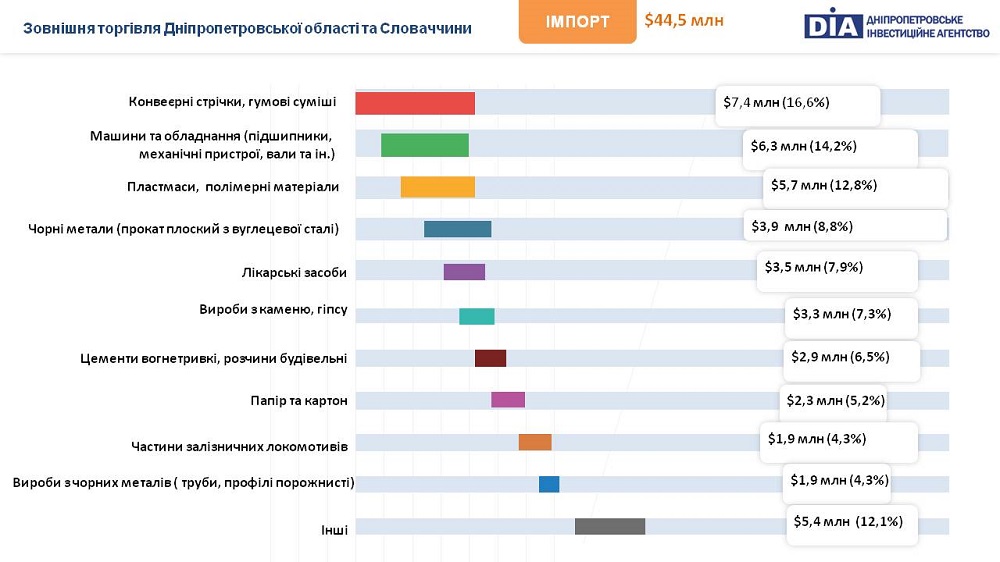 Import operations were carried out by 133 importing enterprises.
TOP-5 enterprises of importers (ranking by volume of imported products):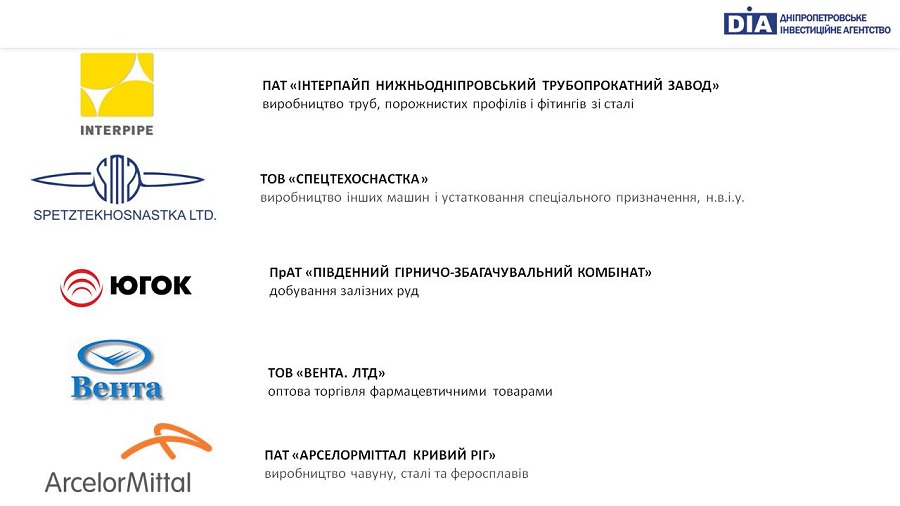 Among the promising directions for export to Slovakia are products of the mining and metallurgical complex, equipment for railway locomotives, organic products of the agricultural sector and goods of light industry from natural materials.