Since the first day of Russia's full-scale military aggression against Ukraine, our state has received unprecedented support from the world. The Kingdom of Spain was no exception, providing political, humanitarian and financial support as well as military equipment to Ukraine.
Spain actively supports EU sanctions against Russia. The Spanish authorities are arresting the property of Russians, against whom the EU and the United States have imposed sanctions. A total of 34 items of movable and immovable property belonging to 14 citizens of Russia have been arrested in the country; we are talking about four expensive yachts, one port berth and 29 residential properties.
Spain Ministry of Foreign Affairs expelled 25 diplomats and employees of the Russian embassy in Madrid after the atrocities in Bucha.
Famous Spanish brands are leaving the Russian market, including Inditex, which closed 502 stores in Russia: Zara, Bershka, Pull & Bear and others. The company employed more than 9 thousand people. Kering Group, which owns luxury brands such as Gucci, Balenciaga and Yves Saint Laurent, has also announced the closure of its stores in Russia.
In April, Pedro Sanchez, prime minister of Spain, and Mette Frederiksen, prime minister of Denmark, visited liberated Borodyanka as part of their visit to Ukraine. "Shocked by the horrors and atrocities of Putin's war seen on the streets of Borodyanka, we will not leave Ukraine alone," Pedro Sanchez commented.
The town of Fuentes de Andalucía in southern Spain, with a population of 7,200, was renamed "Ukraine" for a week to express solidarity with Ukrainians amidst the armed aggression of Russia. Also, the municipal government of Fuentes de Andalucía initiated programs to collect humanitarian aid for Ukraine. Since the beginning of the war, Spain has sheltered more than 137,000 Ukrainian citizens who were forced to leave because of the war unleashed by Russia and has admitted dozens of Ukrainian warriors for treatment and rehabilitation. About 40,000 of them have already received documents. The country has a fairly large Ukrainian diaspora, so many Ukrainians come to visit relatives, friends or acquaintances. There are charitable foundations, collection points for humanitarian aid and websites where victims can ask for support. The Spanish government has approved a decree allocating €52.8 million to autonomous communities to pay direct financial aid to Ukrainian refugees. It is assumed that each adult Ukrainian refugee will receive direct assistance of €400 per month, and minors – on €100. The funds will be paid for a maximum of six months.
The Kingdom of Spain has provided Ukraine with a €31 million humanitarian package, the largest commitment Spain has ever given to an individual country. In addition, Spain is considering providing €250 million of aid to Ukraine through a multilateral trust fund that provides direct budget support to our state. In particular, €100 mln is the Spanish Treasury under the World Bank guarantees, another €100 mln under the guarantees of the International Bank for Reconstruction and Development, and €50 mln will go to food security and cities.
Spanish GTS operator Enagas sent to Ukraine equipment and materials necessary to resume the operation of the gas transmission network. This includes emergency couplings of different diameters, which enable the elimination of leakages on main gas pipelines; compact mobile compressors – for the operation of pneumatic equipment during repair work; special portable lighting equipment for work in darkness hours.
Spain has already sent 10 planes with weapons, military equipment and humanitarian aid to Ukraine. Seven of the planes have delivered offensive weapons to Ukraine, while the other three have delivered defense materials and humanitarian aid. The Kingdom of Spain sent to Ukraine 200 tons of ammunition and other materials, 30 trucks loaded with military material and 20 armored vehicles, as well as 1,370 grenade launchers, 700,000 rounds of rifle and machine gun ammunition. In particular, the territorial defense of Ukraine received lightweight Spanish Instalaza C90 rocket-propelled grenade launchers.
Benefactors from Spain purchased important vehicle equipment for the State Border Guard Service of Ukraine and 23 specialized emergency medical vehicles. The vehicles are equipped with equipment for resuscitation of the wounded, medicines and other important cargo. All vehicles have been transferred to the front line.
The development of mutually beneficial trade and economic cooperation remains a top priority for the two countries.
Analysis of export and import operations of Dnipropetrovsk region with Spain also demonstrates a growing level of partnership relations. In comparison with 2020, export of goods from Dnipropetrovsk region has doubled, and import increased by 12%.
In 2021 the volume of exports from Dnipropetrovsk region amounted to $145.9 million (8.7% of Ukraine's volume to Spain). Among the goods that are in greatest demand among Spanish consumers are ores, ferrous metals and articles made of them, fats and vegetable oils, etc.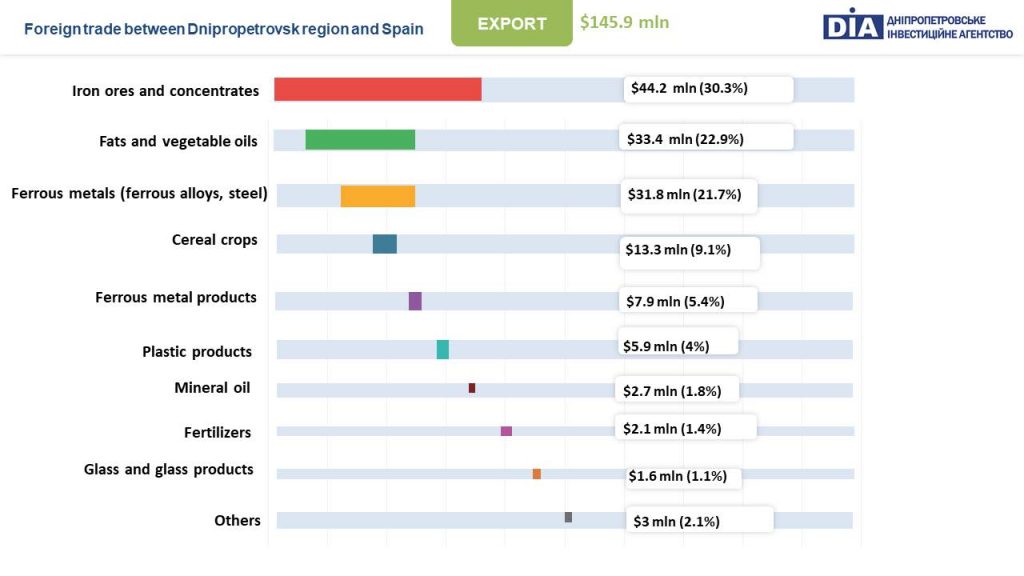 Export operations were carried out by 69 companies from Dnipropetrovsk region.
The main exporting companies are enterprises of the metallurgical complex, agro-industrial complex and processing industry.
TOP-5 exporting companies (ranking by volume of export products):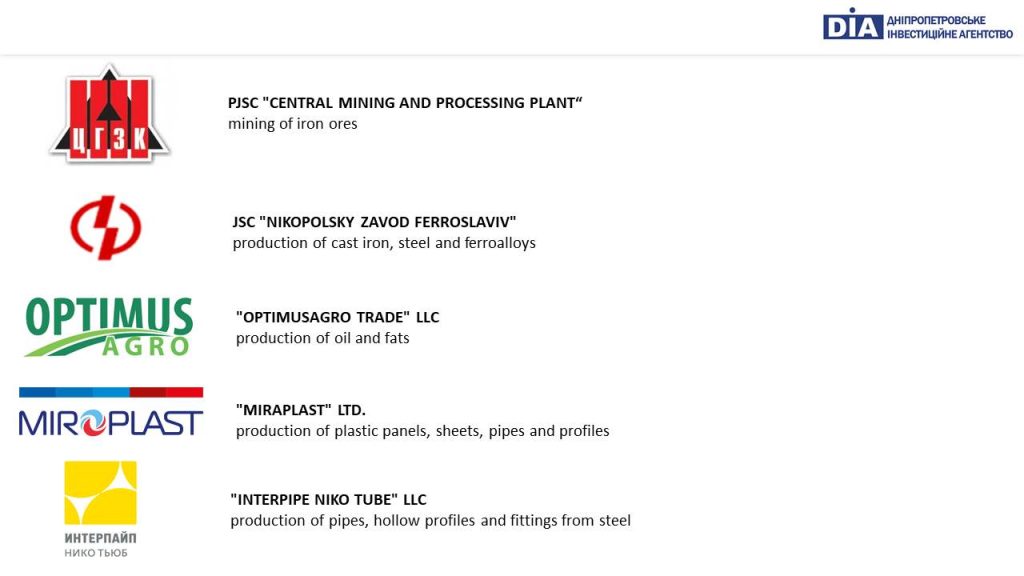 Imports of goods to Dnipropetrovsk region amounted to $69.3 million (7.1% of Ukraine's imports from Spain). Dnipropetrovsk region bought more pharmaceutical products, alcoholic and non-alcoholic beverages, tannin extracts etc.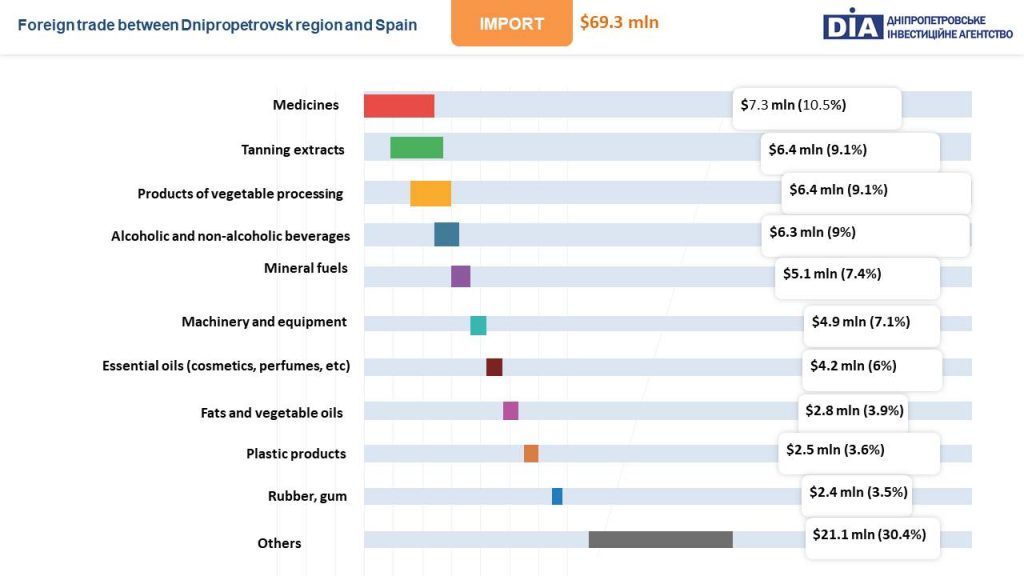 Import operations were carried out by 235 importer enterprises.
TOP-5 importing enterprises (ranking by the volume of imported products):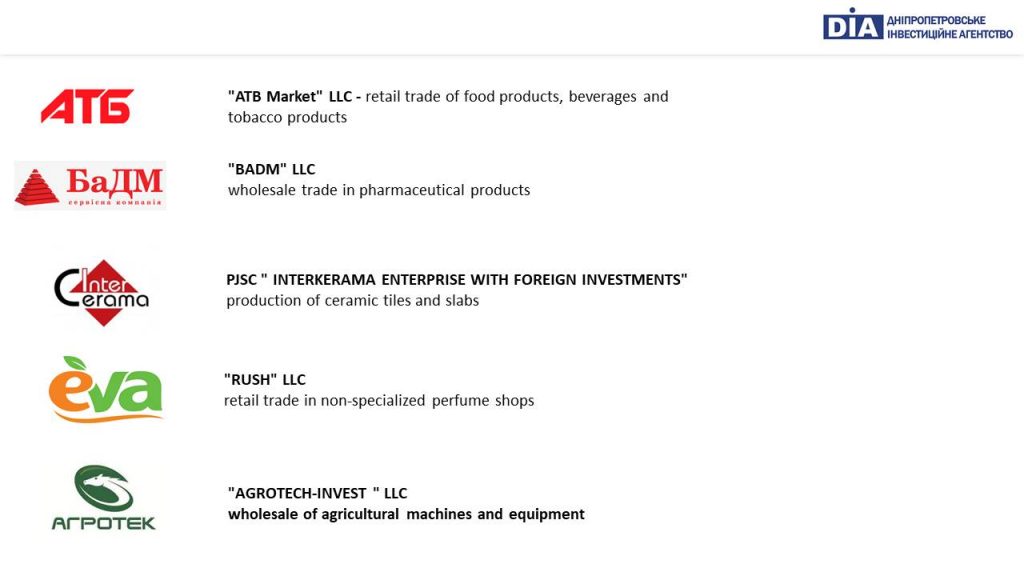 Among the promising areas for export to Spain are the products of mining and metallurgical complex, organic products of the agro-industrial sector and light industry products made of natural materials.