Finland has been providing invaluable military, economic and humanitarian aid to Ukraine since the first days of the war. The government of the country condemns Russian aggression against Ukraine and fully supports all restrictive measures against Russia implemented by the European Union.
On September 1, Finland reduced the number of visas issued to citizens of the Russian Federation to one-tenth of the usual number. The Minister of Foreign Affairs of Finland Pekka Haavisto said that in this way the country wants to show that at a time when Ukrainians are suffering, normal tourism should not continue as usual.
54% of Finns believe that even though prices have risen, tougher sanctions should be imposed on Russia because of its full-scale invasion to Ukraine.
Transport and Communications Agency of Finland Traficom did not allow about 30 private flights of Russian citizens into the airspace of the country. The reason for the refusal to fly is the EU sanctions, which prohibit Russian air carriers to use airports and airspace of the European Union.
On October 3, the Ministry of Foreign Affairs of Finland summoned the Russian ambassador "to express a strong condemnation of the fake referendums and the announcement of the illegal annexation of the occupied Ukrainian regions by Russia, which is a flagrant violation of Ukraine's sovereignty, territorial integrity and the UN Charter." Earlier, Finland expelled two Russian diplomats from the country, canceled the visa of another.
In July of this year, the country's government allocated €70 million to support Ukraine, €30 million for humanitarian aid, €35 million for development programs, €5 million for temporary housing. Half of the funds are covered by the current decision, the second half is planned to be allocated at the end of 2022 or in 2023.
Of the new aid package, €15 million will go to humanitarian needs, and €8 million will go to the UN fund that helps civil society organizations in Ukraine. Another €5 million will go to the World Food Program, and €2 million to the UN Population Fund, which helps people affected in southern and eastern Ukraine. Additionally, €15m will be allocated to pay salaries to education employees.
Finland will also provide modular houses for 200 Ukrainians who have lost their homes. It is possible to live in them throughout the year. Another 10 armored containers for temporary accommodation are provided for the needs of rescue services in places close to the combat zone. They will be delivered through the EU Civil Protection Mechanism. This aid is planned to be delivered before winter.
Since the beginning of Russia's full-scale war against Ukraine, about 25,000 refugees have arrived in Finland, where they have been given asylum and decent conditions. In the Finnish town of Kirkkonummi, Ukrainian refugees are provided not only with humanitarian aid, but also organize leisure activities, offer patriotic tattoos and photo sessions.
Since the first days of the full-scale war, Finland has been supplying Ukraine with various weapons and equipment. The Armed Forces of Ukraine have already received Krh 85 92s heavy mortars, ITK 61 anti-aircraft guns, anti-tank guns, assault rifles, ammunition, helmets, bulletproof vests, 70,000 ready-to-use dry rations and more. Finland has allocated nine military aid packages to Ukraine for a total of 104 million euros.
In addition, Finland sent its servicemen to the British-led program to improve the combat efficiency of our Armed Forces, to train Ukrainian troops..
Analysis of export and import operations of Dnipropetrovsk region with Finland also demonstrates a high level of partnership, because this state is an important trading partner of the region.
According to the results of 2021, the volume of export of goods from Dnipropetrovsk region increased by 6.8 times ($16.02 million), which was 14.5% of the volume of Ukraine to Finland. Among the goods that are in the greatest demand among Finnish consumers are ferrous metals and products made of ferrous metals, natural and artificial fur, machines, mechanisms, furniture, etc.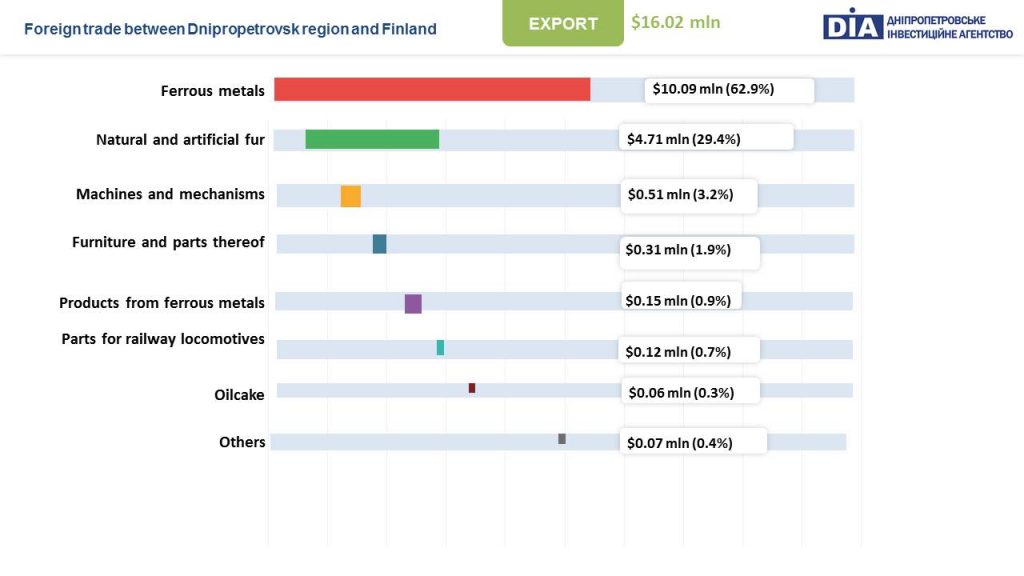 Export operations were carried out by 24 companies from Dnipropetrovsk region.
The main exporting companies are enterprises of metallurgical complex and processing industry.
TOP-5 exporters (ranking by volume of export products):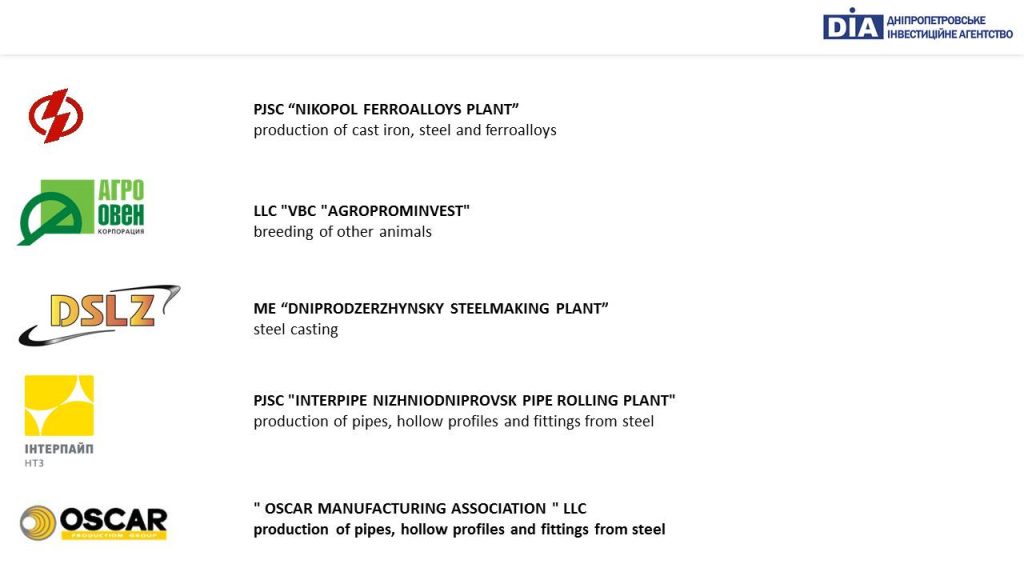 Imports of goods from Finland to Dnipropetrovsk region amounted to $36.85 million (12% of Ukraine's imports from Finland) and increased by 30% compared to 2020. Dnipropetrovsk region bought more of gum, rubber, machinery, equipment, plastics, polymers, ferrous metals, medicines and others.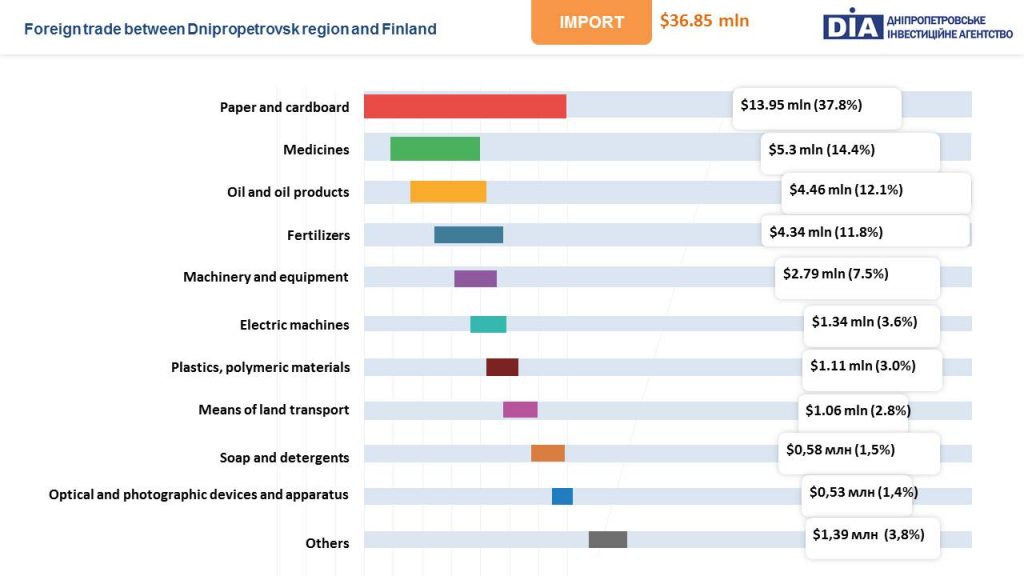 Import operations were carried out by 81 importers.
TOP-5 importers (ranking by volume of imported products):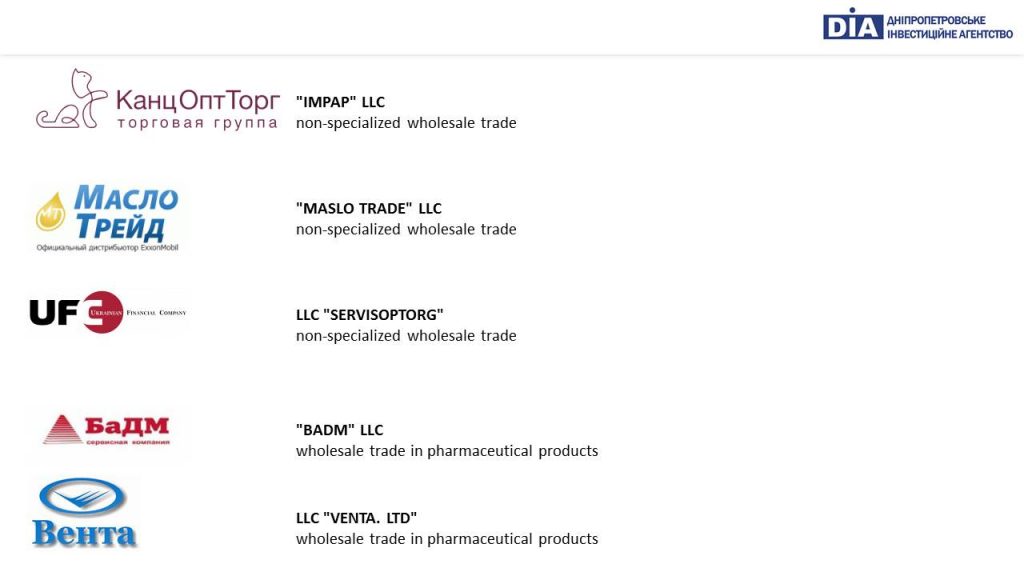 Among the promising areas for export to Finland are products of metallurgical complex, equipment for railway locomotives, organic products of agricultural sector and light industry goods made of natural materials.