The first quarter of this year marked the beginning of Russia's military aggression against Ukraine. The destruction of logistics routes, supply chains of finished products, the destruction of enterprises by shelling by the occupiers, significantly affected the results of foreign trade operations.
Thus, the foreign trade turnover at the end of March 2022 amounted to $3.2 bln (11.5% of Ukraine's total), which decreased by 16.8% compared to the corresponding period of 2021, due to Russia's military aggression against Ukraine. The positive balance is $948.6 mln.
According to the results of the 1st quarter of 2022, exports decreased by 20% compared to the same period last year and amounted to $2093.5 mln. Almost 15% of Ukraine's exports account for the Dnipropetrovsk region.
The largest share of exports were ferrous metals and their products 49.4% ($1034.8 mln), as well as ore, slag 35.8% ($749.2 mln). Although exports of ore and slag decreased by 34.3% compared to the same period last year, the share of Ukraine's exports remains at almost 60%.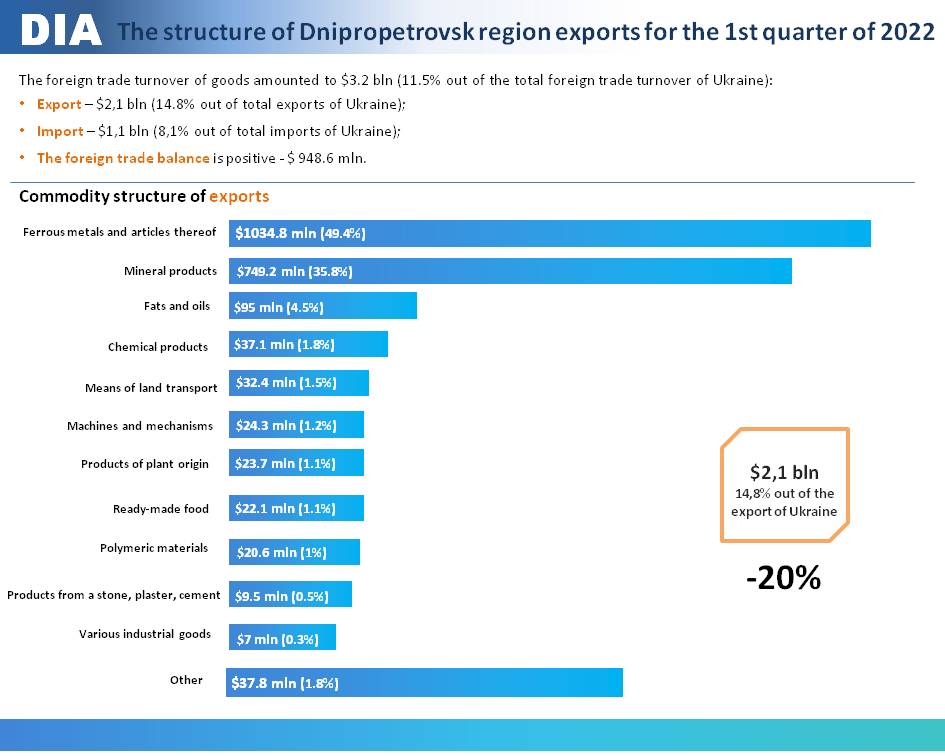 Despite Russia's full-scale war against Ukraine, there is an increase in exports of the following products:
hides and skins, untreated or tanned 7.9 times ($3.2 mln);
chemical industry products by 61% ($37.1 mln);
ferrous metal products by 30% ($161.3 mln);
live animals by 10.2% ($7.3 mln);
plastics and polymers by 7.2% ($20.6 mln).
Imports of goods from the world for 3 months of 2022 amounted to $1144.9 mln (8.1% of Ukraine's imports) and decreased compared to the previous period by 2.2%.
Mineral and chemical products, machinery and equipment remain the most popular among domestic consumers.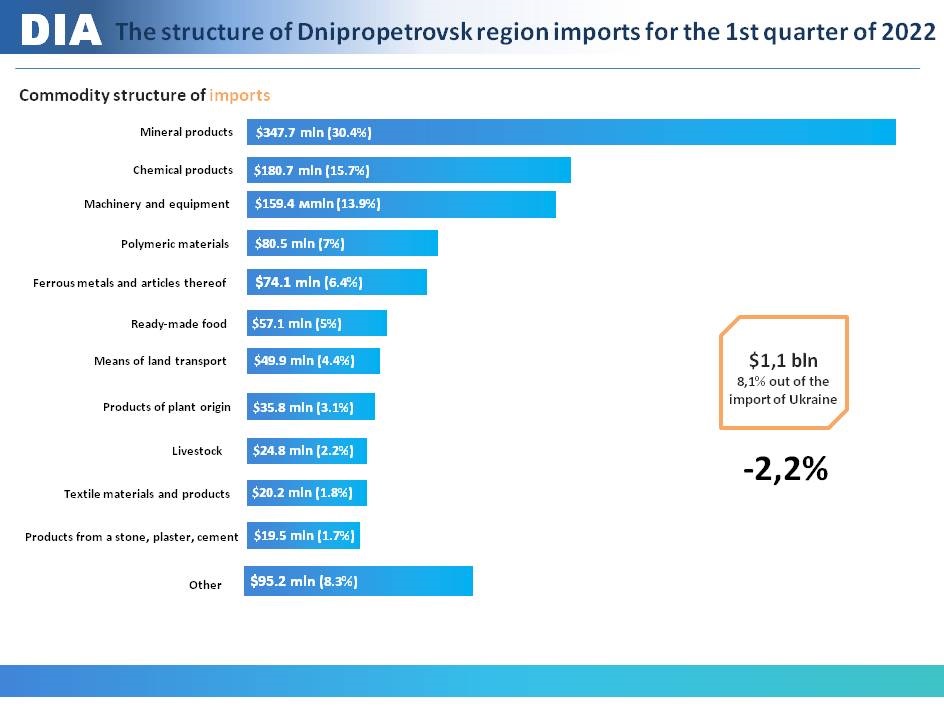 Compared to the same period last year, imports increased, in particular:
mineral fuels by 73.3% ($328.4 mln);
pharmaceutical products by 10.6% ($108.4 mln);
natural or cultured pearls, precious and semiprecious stones by 10.9% ($3.1 mln).
Foreign trade operations were conducted with partners from 144 countries.