On April 19, 2021 in Dnіpropetrovsk Regional Council Chairman Mykola Lukashuk held a working meeting with newly appointed Extraordinary and Plenipotentiary Ambassador of the Federative Republic of Brazil to Ukraine Norton de Andrade Mello Rapesta and Honorary Consul Oleh Vasylenko. The meeting was attended by the director of the Dnipropetrovsk Regional Investment Agency (DIA) Valentyna Zatyshniak.
The parties discussed sixteen years of cooperation between Dnipropetrovsk region and Brazil, expressing satisfaction with the state of bilateral relations and emphasizing the significant potential of trade and economic cooperation.
It should be noted that the activity of trade relations between the region and Brazil is confirmed by the volume of foreign trade, which in 2020 amounted to $30.6 mln.
The largest part of exports is covered by trade in ferrous metal products. Since 2020, Brazil began to buy more ore and slag. Our entrepreneurs are traditionally interested in means of land transport, seeds and oilseeds, as well as alcoholic and non-alcoholic beverages.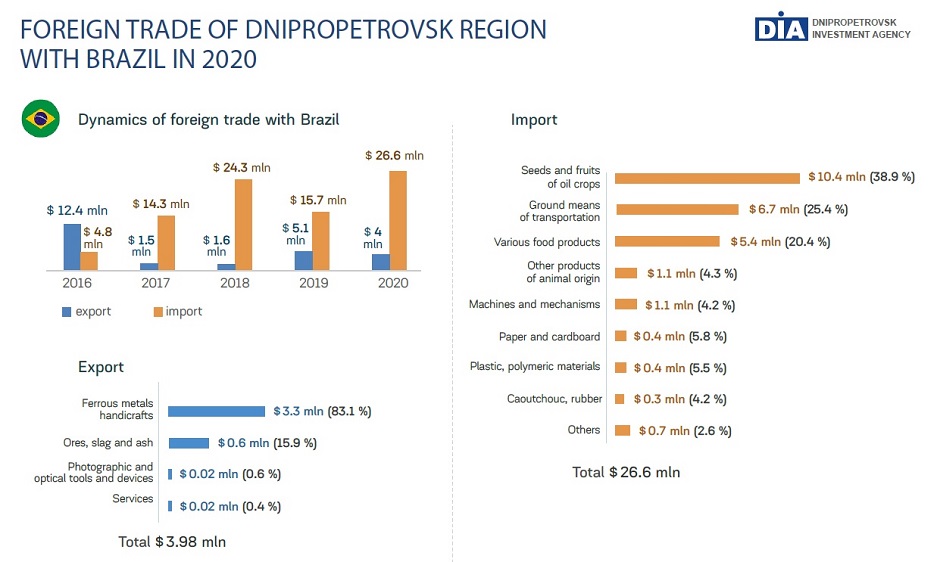 Brazil's trading partners in the Dnipropetrovsk region are represented in the fields of metallurgy, agro-industrial complex, retail, food industry. Among the largest partner companies are ArcelorMittal Kryvyi Rih, Agrotek, Interpipe, Miroplast, Agroalliance and others.
Among the ambitious and priority plans for the current year is to hold a joint business forum with the participation of entrepreneurs from Brazil and three regions of Ukraine – Dnipropetrovsk, Lviv and Kharkiv. During the event, entrepreneurs from both sides will be able to share experiences and identify investment attractive areas of cooperation.
During the meeting, the Brazilian diplomats were presented with the "Investment Guide", which highlights the investment climate of the region, analysis of the structure of the economy, key features and priority areas for investment, as well as areas for investment projects.