As of 1 January 2022 foreign direct investment (FDI) in Dnipropetrovsk region has carried out 1066 companies from 63 countries, for an amount of $7.3 billion (cumulative total).
Number of companies with foreign investment by country of the world, units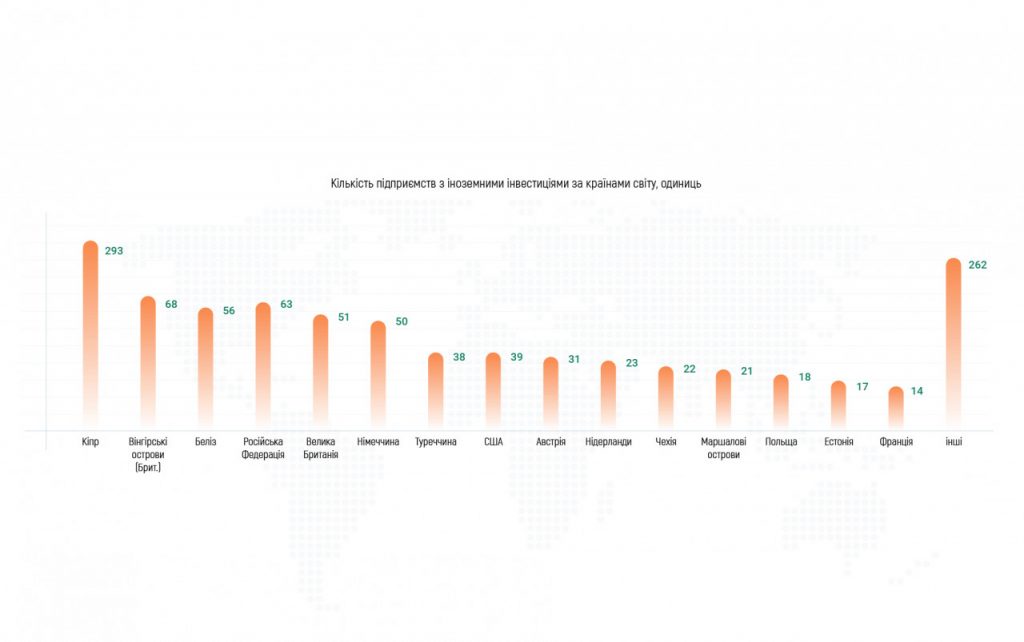 The industrial sector, with foreign direct investment of $5,408.6 million, is represented by 199 companies. The leaders in investments in this sector are enterprises of mining and processing industry – $3,393.1 mln and $1,916.7 mln respectively, which formed 73% of all foreign investments in Dnipropetrovsk region. The following enterprises are located on the territory of the region: PJSC "ArcelorMittal Kryviy Rih", PJSC "CENTRAVIS PRODUCTION UKRAINE", LLC "POLSTAR", PJSC "Linde Gas Ukraine" and others. The largest investors in this sector are Cyprus, Turkey, Germany, the Netherlands and the UK.

In the agricultural sector, foreign investments worth $93.6 million were made by 56 companies, including reputable and recognizable global brands, such as "MAS Seeds Ukraine" LLC, "Nadiya" LLC ("Lesaffre group"), "AGRO KMR" LLC, "Bimbo QSR Ukraine", an enterprise with foreign investment, and "Dairy House" LLC. The largest investor countries are France, Cyprus, Turkey and the Netherlands.

In the construction sector 66 enterprises invested $5.7 million. The largest enterprises include: "Glas Trösch Dnipropetrovsk" LLC, "Caparol Dnipro" LLC,  PJSC "Kryvyi Rih Cement", "ZAVOD SWEETONDALE" LLC. Cyprus, Israel, the Czech Republic and Austria invested the most.

The trade sector, with the volume of foreign direct investment of $882.9 million, is represented by 318 companies. These are both large retail chains, such as ATB, EVA, Varus and Comfy, and small retail facilities. The leaders in investment are Cyprus, Germany, and Great Britain.

There are 427 companies with foreign investments operating in the services sector on the territory of the region. The volume of FDI amounted to $903.3 mln. Foreign investments in real estate operations on the territory of the region were made by 139 companies, amounting to about $433.1 mln. Most investments were received from Cyprus, Germany, Israel and Belize. In 57 transport and warehousing companies $176 mln were invested. 37 foreign companies invested $15.3 mln in IT sphere. The largest companies in services sector are: "Deka Service" Ltd, "Škoda Transportation Ukraine" Ltd, "Metallurgtrans" Ltd, "ON Clinics DNIPRO" MEDICAL CENTER Ltd.