Since the beginning of the invasion of the Russian troops, the pyrotechnic units of the State Emergency Service went to clear mines in the Chernihiv region 1660 times. 25 thousand 160 explosive items have been neutralized.
45 pyrotechnicians from 7 regions and 17 units of special equipment are working on site.
Yesterday in the village of Lebyazhye, Chuguevsky district, Kharkiv region, as a result of shelling by Russian artillery, a residential building and an outbuilding caught fire.
During the day, Russian shells killed two Severodonsk residents, and five more were wounded. People were just preparing food in the yard when suddenly the shelling started. Two residents of Sirotinoye were seriously injured. All the wounded are in hospitals in Donbass.
Only during May 29, Russian infidels destroyed more than 12 houses in Severodonetsk, 18 in Lisichansk, 10 in Vrubovka and a house of culture, three in Zolote, 2 in Nirkove, 2 in Nikolaevka, and two in Viktorovka.
The enemy does not stop shelling the south of our country. During the past day, the firefighters of the Nikolaev region eliminated the fire that arose as a result of enemy shelling.
In particular, as a result of the hit of ammunition and their fragments, a fire broke out in a pharmacy and a store on Svoboda Square in the city of Novy Bug, Bashtansky district.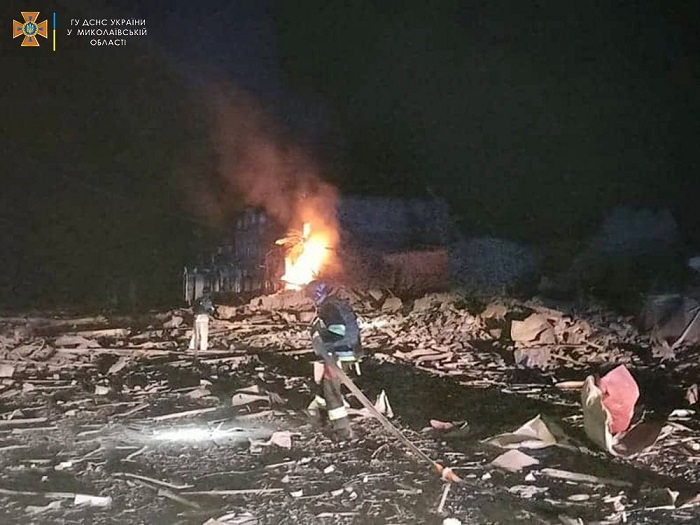 In general, during the day, the rescuers of Kharkov put out 6 fires caused by shelling – residential buildings were destroyed.
About 50 objects of destroyed civilian infrastructure – the police are documenting the consequences of shelling in Zaporozhye.
As a result of the armed aggression, the Russian army servicemen damaged the houses of the residents of Gulyai-Polye, shops and other local facilities. Information about the victims was not received.
During the day, the Russians destroyed 27 residential buildings and critical infrastructure facilities in the Donetsk region.
The invaders shelled eight settlements. There are dead and wounded civilians. The police have documented the consequences of Russia's war crimes.
Photo materials are taken from the official information resources of the State Emergency Service and the National Police of Ukraine.