10 weeks (!) That's how much the UN estimates that there will be enough food in the world. This situation is due to the blockade of Ukrainian ports by Russian invaders. And the situation will only get worse, because the share of Ukrainian food in the world is significant.
The Association "Ukrainian Club of Agrarian Business" emphasizes that in our country in 2021 was grown 42.1 mln tons of corn, 32.2 mln tons of wheat, 16.4 mln tons of sunflower seeds, 9.4 mln tons of barley, 3.5 mln tons of soybeans, 2.9 mln tons of rapeseed. Among the livestock industry, the largest volumes in the production of poultry meat, which in 2021 was produced 1.6 million tons.
"These grown volumes significantly exceed the domestic needs of Ukraine. That is why Ukraine is a major global exporter of agricultural products. This allowed to generate $27.3 billion in export revenue in 2021, which is 40% of Ukraine's total export revenue, "said Svitlana Lytvyn, an analyst at UCAB.
The largest contributors were sunflower oil (23% of export revenue), corn (22%), wheat (19%), rapeseed (6%) and sunflower meal (6%).
But not only Ukraine but also the world will benefit from agri-food exports, as our country has a significant share in world exports.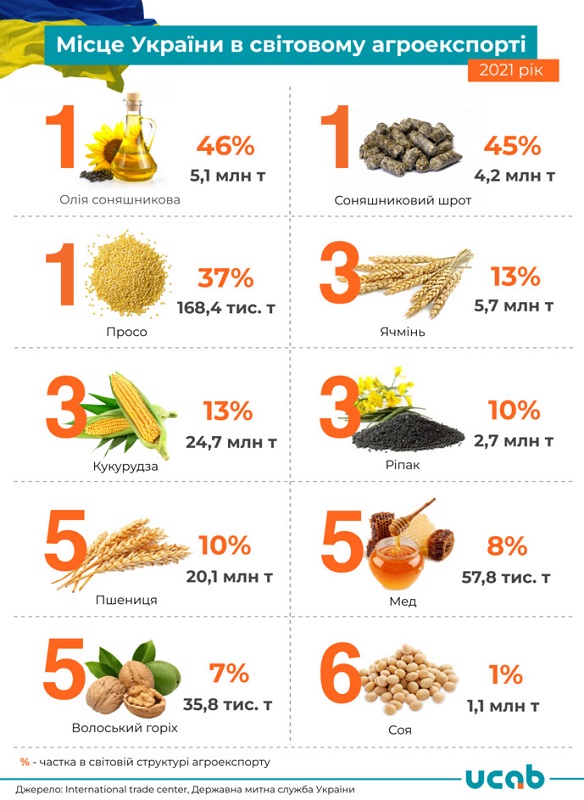 According to UCAB, in 2021 Ukrainian agricultural products were exported to 191 countries.
The top 5 largest exporters in the world were China (16% of Ukrainian export earnings), India (7%), the Netherlands (6%), Egypt (6%) and Turkey (5%).
"Although the list of the largest importers of agricultural products includes mostly developed and well-off countries, among the importers there are countries that do not buy huge volumes of products, but are significantly dependent on supplies, primarily Ukrainian grain," adds Svitlana Lytvyn.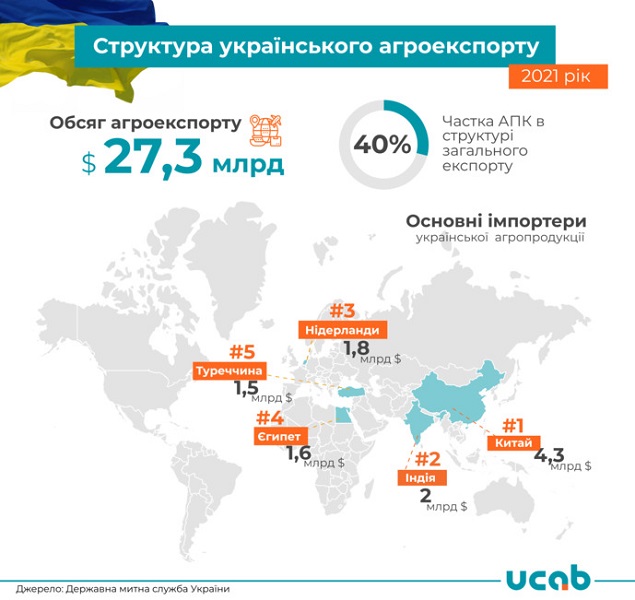 Due to the limited supply of grain from Ukraine on the world market, prices have already begun to rise, but with the start of the new season, this growth may be even more noticeable.
"Accordingly, the countries (primarily the African continent) will not be able to buy the necessary grain, which could lead to famine. In addition, rising grain prices will lead to higher prices for all other product groups, "said the UCAB analyst.
Therefore, it is extremely important for the joint efforts of the world community to achieve the unblocking of Ukrainian seaports and preserve global food security, as alternative export options, unfortunately, do not allow establishing shipments in the required volumes.
Source: https://agroportal.ua/