The modern world of digitalization requires a high-quality information presence and with the onset of 2020, it has become especially important to receive relevant information in a convenient format, as briefly and efficiently as possible.
Open data are the basis for trend analysis, formation of successful economic models and identifying areas for creating businesses and implementing business projects. Toward this goal, DIA experts have changed the conceptual approach to displaying information about the region in the newly-created open data Module «DIAgram».
Transforming a large amount of primary data into an accessible and convenient format, the Module demonstrates indicators by country, product and dynamics of foreign trade, as well as attracted investment in the region. Along with that «DIAgram» consolidates information on enterprises in the region that have been active in foreign economic operations and have also invested in their own production.
The Module consists of three main blocks, presented below.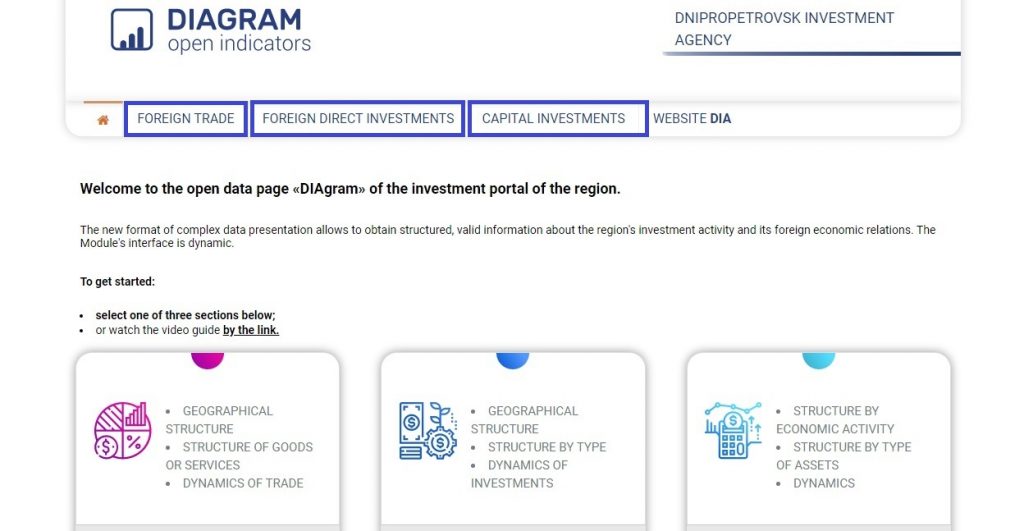 Our goal is to be understandable to foreign partners, therefore «DIAgram» is available in three languages according to user's preferences – Ukrainian, Russian or English.
It is worth noting that the format, in which the necessary data are provided, their volume and relevance, displays the trends of investment and foreign economic development of the region. In addition, the information presented as wide as possible greatly facilitates the process of developing both strategic documents and determination of investment priorities as well.
The DIAGRAM open data Module is available at the link: diagram.dia.dp.gov.ua
On the website of Dnipropetrovsk investment agency, you can also get acquainted with a detailed video instruction in order to effectively master the functionality of the Module.