A number of Ukrainian pet products manufacturers and the USAID Competitive Economy Program have joined forces to promote pet products in the markets of Europe, the United States and Canada.
To support the national pet products companies, active participants of the market have created Ukrainian Pet Alliance – an association of successful Ukrainian pet products brands that sell their goods around the world. The authors of the initiative note that the pet products industry is actively growing worldwide.
According to the study of the American Pet Products Association (APPA), last year the sales reached their all-time high for the segment development. In the USA only it was $123.6 billion.
The mission of the new institution: to support industry of pet products in Ukraine and increase the competitiveness of Ukrainian pet products in the world markets. Cooperation with distributors is the main channel for expanding markets and the approval of the positive image of Ukrainian producers of pet products.
In March 2022 the Ukrainian Pet Alliance was presented at the "Global Pet EXPO 2022" in Orlando (USA).
The initiators of the project are looking for active companies, seeking to reach a new level of development and export. To become a part of the Alliance you need to be a Ukrainian producer of pet products or a service provider for pets. Among the requirements is also noted business activity. The company must be willing to share experience and learn from partners, participate in alliance meetings (offline and online), go to international exhibitions and aim to export products to new markets.
To join Ukrainian Pet Alliance you should fill in the application form.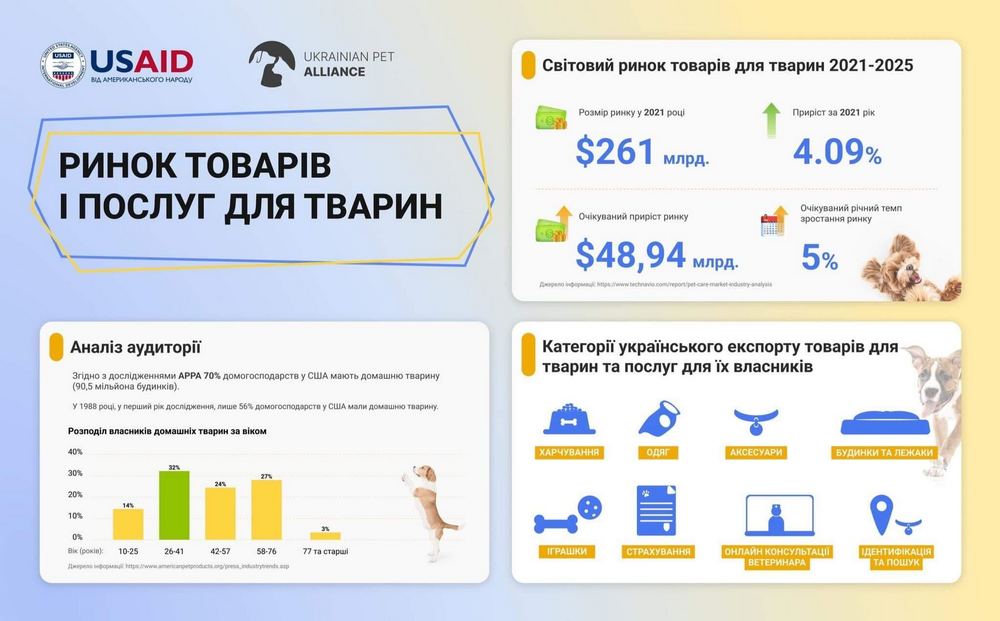 Source: www.export.gov.ua