Background
Before the current crisis, Ukraine had a vibrant and growing technology scene. Unfortunately, the illicit invasion by Russian forces has disrupted progress and forced many founders to move overseas.
Technology entrepreneurship represents a way out of the economic challenges that are facing the country, now, and as it emerges from the terrible situation it finds itself in.
Startup founders need a solid ecosystem to thrive in, and we call on the whole startup community, including investors to offer support to startups through this program.
How it works.
Ukrainian technology startup founders are invited to submit their decks for review. We will offer feedback wherever possible, match mentors, suggest partners and finally support investment discussions. Given the urgency of the situation, we are intending starting with a very light structure which will allow us to commence operation immediately.
Startups
We are looking to support talented founders with a viable business model, whether they are building their startup in Ukraine or elsewhere. In this initiative, we can only support startups that are using technology to address significant challenges and with a large market opportunity.
Investors and sponsors
It is vital we boost the Ukrainian economy by supporting a thriving ecosystem. We encourage all forms of capital; Sponsorship, small subsistence payments for early stage participants and larger investments for startups with proven business models. Investors, contact diana.velychko@payspacemagazine.com or paul.dowling@dreamstake.net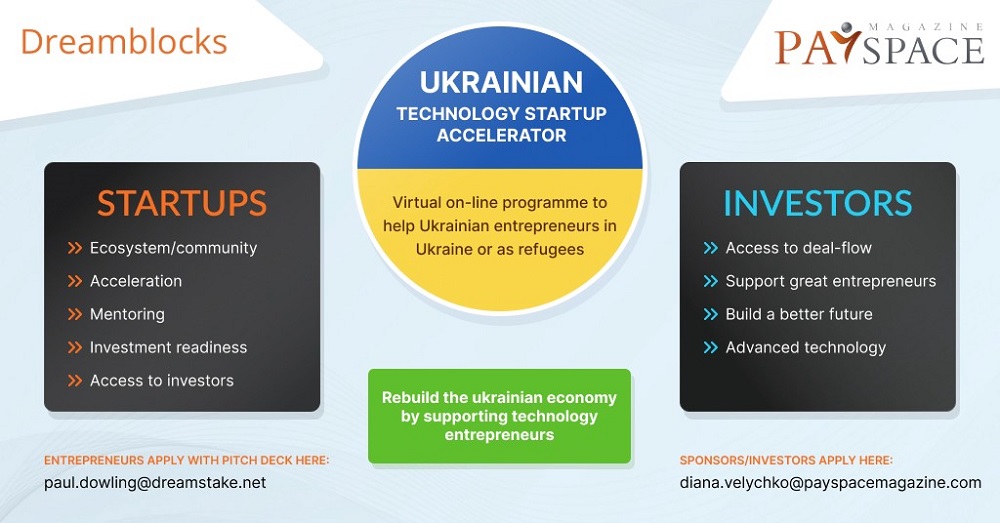 Dreamblocks
Dreamblocks is a supporting ecosystem for founders tackling existential challenges. The organisation has unrivalled experience of accelerating technology startups in areas such as health, AI, quantum computing and blockchain. We passionately believe in the power of entrepreneurship to transform society and bring communities prosperity and growth.
PaySpace Magazine
PaySpace Magazine Global is an expert digital media about innovative financial technologies. It covers fintech, retail, e-commerce, blockchain, cryptocurrency, banks, and startups.
On a daily basis, the editorial team of PaySpace Magazine Global presents the most meaningful news and unique insights about the payment industry worldwide.
Our readers have access to high-quality materials and research about the most significant fintech innovations and developments. Being the adepts of cashless ourselves, we examine and report on how people pay worldwide, how to use modern payment options, and how to keep up with the rapid pace of change in payments.
Startup founders respond with a deck to: diana.velychko@payspacemagazine.com or paul.dowling@dreamstake.net
Source: https://medium.com/