Every year in early March, the whole world celebrates International Open Data Day. Its goal is to encourage the use of socially important data sets for the comfort and safety of people, to enhance transparency, accountability and improve the efficiency of local government bodies, to create new useful products and interesting startups, increase the investment attractiveness of communities and regions, increase budget revenues, etc. …
Taking this opportunity, we would like to remind you about a completely new "product" of the Dnipropetrovsk Investment Agency – open data Module «DIAgram»..
The convenient format allows you to get acquainted with the foreign economic activity of Dnipropetrovsk region in a few minutes.
DIAgram makes it possible to find out the volumes of foreign trade, foreign direct and capital investments, as well as compare the indicators of the region with Ukrainian ones and get acquainted with enterprises that carried out their foreign economic activities.
DIAgram consists of three main blocks: foreign trade, foreign direct investment and capital investment.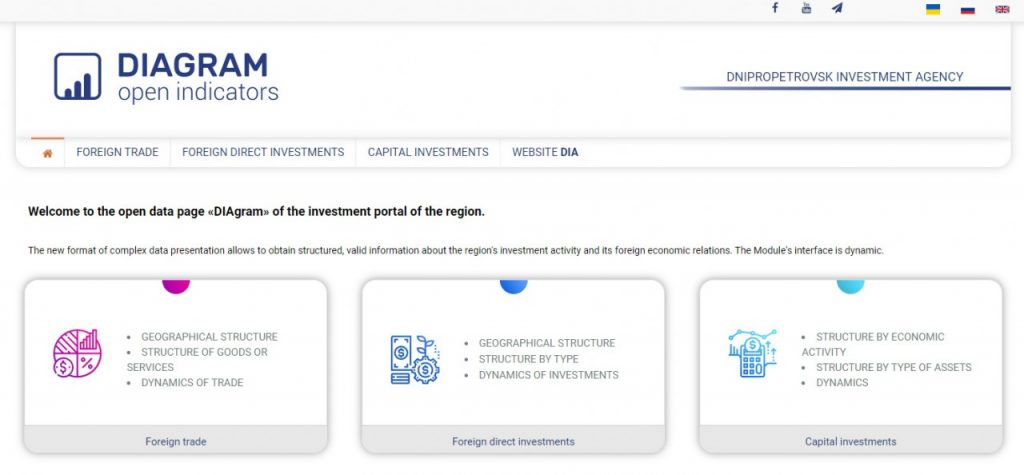 Our goal is to be understandable to foreign partners, therefore DIAgram is available in three languages – English, Ukrainian and Russian.
In addition, DIAgram is useful both for the professional community and for entrepreneurs and scientists.
So, follow the link diagram.dia.dp.gov.en and get to know the Dnipropetrovsk region!
On the website of Dnipropetrovsk investment agency, you can also get acquainted with a detailed video instruction in order to effectively master the functionality of the Module.